John Park, career instructor in the UO Department of Art's Digital Arts Program, has been awarded the Thomas F. Herman Award for Excellence in Pedagogy. One of the most prestigious teaching honors at UO, the award recognizes senior faculty members who have demonstrated outstanding achievement and expertise in a particular area of teaching. 
Park works at the intersection of creative pedagogy and technology. With communities migrating to an increasingly digital-dependent lifestyle, Park stresses the social, environmental, and economic implications of this shift to his students as well as in his own work.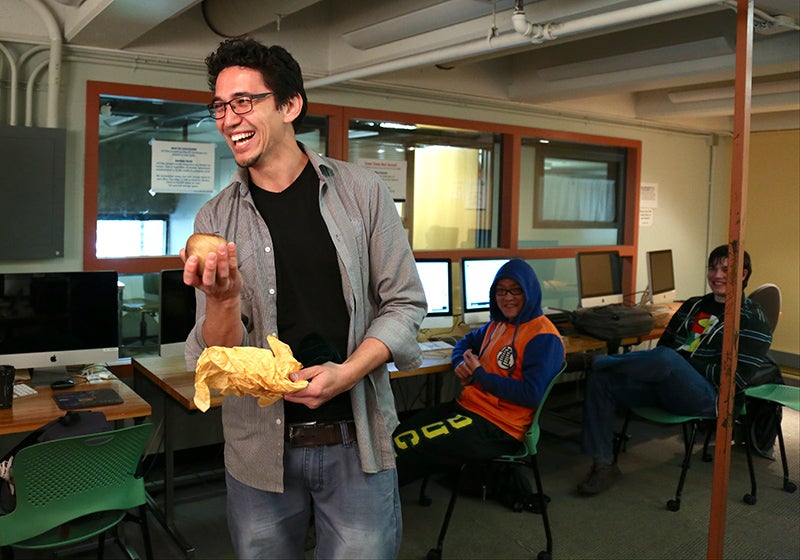 Above: Career Instructor John Park was awarded the 2015 Thomas F. Herman Award for Excellence in Pedagogy at a surprise presentation during his studio. Photo by Charlie Litchfield, Public Affairs Communications.
In his creative practice, Park has developed a vocabulary that merges the disciplines of dance and music through interdisciplinary collaboration with colleagues in other creative fields, with his own algorithmic art and with experimental animation.
He also instructs all his students in programming, which he considers the basic building block for the digital world.
"In the same way artists believe a strong foundation in drawing will give studio artists a lifelong pillar of methodology and new insights to thinking," he says, "I am convinced computer programming is analogous to young digital artists who are confronting a changing and often technological landscape. 'Program or be programmed' is a mantra that comes to mind."
As a teacher Park is dedicated to developing ever better means of delivering course content—from creating tutorial videos and online educational materials to engaging students in the creative process with meaningful class assignments and projects.
Park envisions an evolving creative practice where cultural and creative barriers blur and crumble to the point where an artist will simply be someone who understands movement, timing, narrative, and gesture.
He has also demonstrated the creation of digital course content for other faculty members, providing new pedagogical tools for colleagues and allowing greater learning opportunities for students outside his own classroom. He has worked with other faculty members and provided production resources to pilot flipped classroom models, where lectures are given outside the classroom via recorded video and projects are worked on in class with the guidance of the professor.
Park received his MFA in computer art from SUNY Buffalo in 2006 and his BA in multimedia design from UO in 2003. Park's diverse background in photography, 3D modeling, experimental animation, computer programming, and electronics hacking has led to a larger investigation of what the most appropriate uses of these technologies should be in today's cultural climate.
Links to work by Park's students include:
http://darts.uoregon.edu/tagged/3D
https://vimeo.com/114790261
http://pages.uoregon.edu/park/HTML_presentation/252.html
Links to Park's work include:
http://harmoniclab.org/?menu=gallery
http://carbonfeed.org/
https://www.facebook.com/pages/subUrban-Projections/205630172800514?fref=ts
https://player.vimeo.com/video/109211210