Honored as a man who epitomized the "highest ideal of the word 'teacher,' " Paul Buckner is remembered for his work in stone, metal, and wood and for his legacy of fine arts teaching.
Professor Emeritus Paul Buckner (1933-2014) passed away on Saturday, February 1, of a recently diagnosed illness, ALS. He was an important member of the Department of Art, the school, and the university community.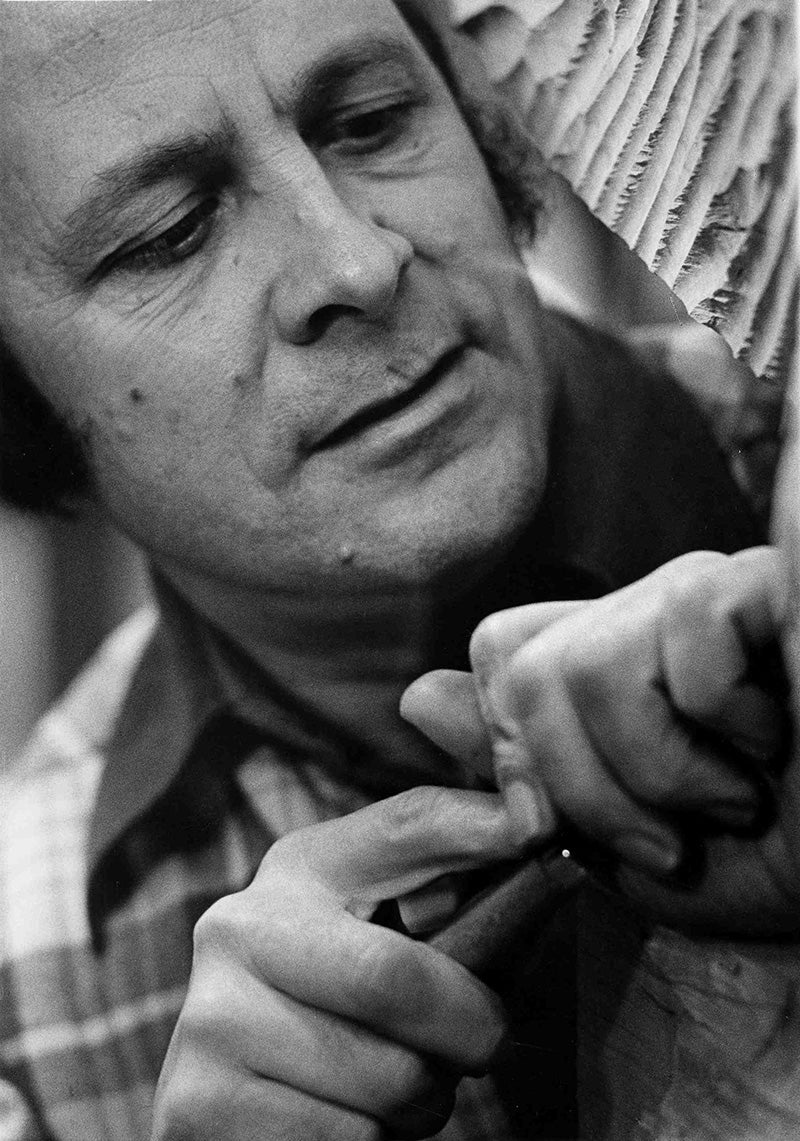 Above: Paul Buckner, professor emeritus of art,
University of Oregon. Photo by Hal Halberstadt, circa 1980s.
Buckner joined the UO faculty in 1962 and retired in June 1995. He was head of the sculpture area during much of his tenure. He developed the Figure Studies and Drawing and Modeling courses as well as his very popular Anatomy for Artists class.
His thirty-three years of teaching and sculptural practice have influenced the program and its students.  As he said, "the forms of the human figure are source enough for a life's work." (1994)
The UO presented Buckner with the 1995 Thomas Herman Award for Distinguished Teaching. His designs are seen on important University of Oregon awards, such as the President's Medal, the Frohnmayer Leadership Award, and the Pioneer Gala award for distinguished alumnus, James Ivory. "An artist who through his work brings forth new creations from the materials of life," is how he was known by his students and colleagues when presented with the UO's Herman Award, the top honor for distinguished teaching.
His creative work can be seen across the region with important artworks in over twenty-five collections including Timberline Lodge, Oregon; Olympic College, Bremerton, Washington; Salem Civic Center, Salem, Oregon; University of Oregon Museum of Art, Eugene; Scripps College, Claremont, California; Sacred Heart Hospital, Eugene, and numerous ecclesiastical and private collections.
Ken O'Connell, former head of the department and professor emeritus, said, "You don't just find Paul's work in museums and galleries. It is in prisons, state, county, and city buildings, banks, hospitals, churches all over the Northwest, and in monasteries and private homes." 
Employing drawing, woodcarving, and stone sculpture, Buckner's work was highly sought after. In fact, his work has been so popular that many of his public pieces were stolen and never returned. One of the lectures he gave about his work was a slideshow of the stolen work. He asked students to let him know if they ever see any of these valuable works.
In 1996, five of Buckner's former students organized a group exhibition in honor of his retirement. The exhibition featured work of forty-seven alumni along with works by Buckner. The exhibit was called "Thirty-three Years of Sculpture with Paul Buckner" and was held in Portland at Chetwynd Stapylton Gallery.
His one-man shows include exhibitions at the University of Oregon Museum of Art, now the Jordan Schnitzer Museum of Art, (1964, 1986); the Aalto Library, Mount Angel Abbey, Oregon, (1987); the Jadite Galleries, New York City (1988); the Olympic College Art Gallery, Bremerton, Washington (1992); and the Frye Art Museum, Seattle (1993). His work has been included in such group exhibitions as "Works in Wood by Northwest Artists" (1976) at the Portland Art Museum; "Mountain High III"(1981), Timberline Lodge, Oregon; and "Contributing Artists: The Oregon Art Community, 1839-1989" (1990) at the Oregon Historical Society in Portland as well as exhibitions in Washington, Ohio, Idaho, New York, and Illinois. 
Writers have included Paul Buckner in books, reviews, and magazines. He is included in articles published by American Artist (June 1980), and Sunstorm (June 1988), in the book Sculpture: A Studio Guide, by L. Widman, and Works in Wood by Northwest Artists, published by the Portland Art Museum.
Buckner said this about his work, "I have trained my whole life to be able to reach back to the forgotten things we are born knowing. Whether I will, in any measure, ever succeed, I don't know. I do know that in making things I take great joy." (1984).
Paul Buckner was born and raised in Seattle, Washington. He received a bachelor of arts degree from the University of Washington in 1959, and a Masters of Fine Arts degree from Claremont Graduate School in Claremont, California, in 1961. He spent a year of advanced study at the Slade School, University College, London, as a Fulbright scholar in 1961-62. He also served in the U.S. Coast Guard during the Korean War.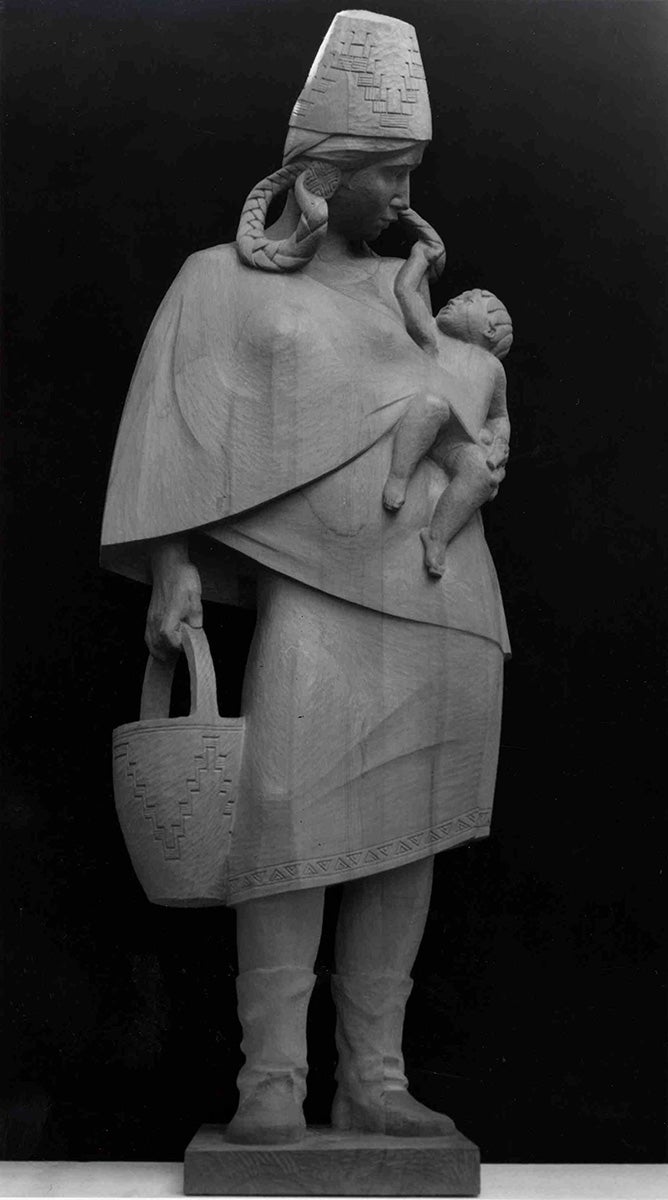 Above: Paul Buckner's, Indian Mother and Child (1989), is in the collection of Timberline Lodge, Oregon Carved in Alaskan cedar, the work stands 42 inches tall.
A fitting poem was written by Buckner in 1988:
These stones are finite,
Only the dance is eternal.
I am permitted to reflect on eternals,
It has to be enough.
He left us his work and his ideas, and they are a glorious reflection on form, life, and beauty. It is more than enough.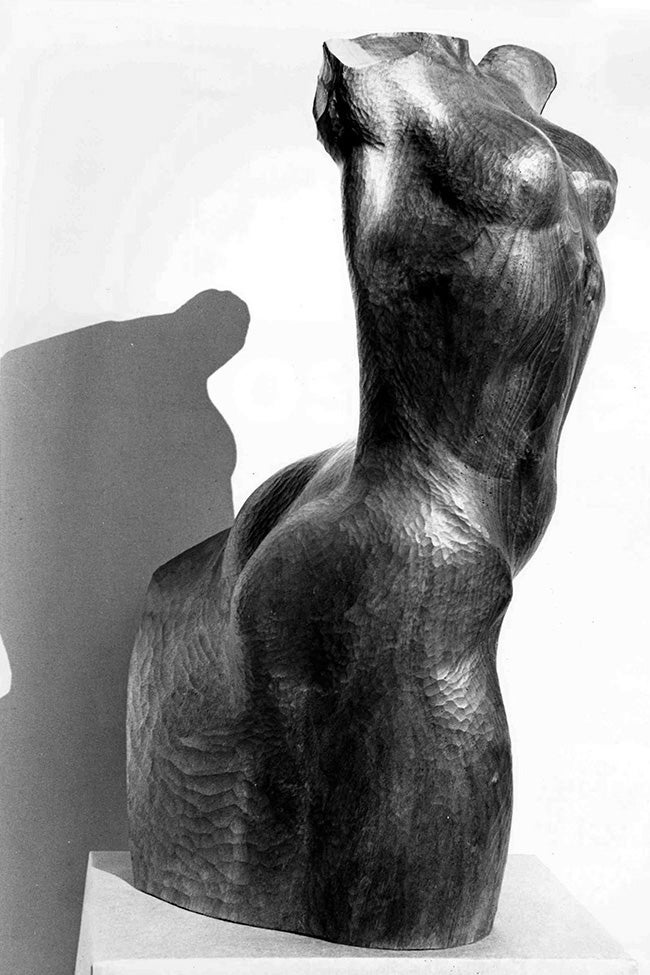 Above: Paul Buckner, Arabesque (1975), walnut, 26 inches x 16 inches x 10 inches.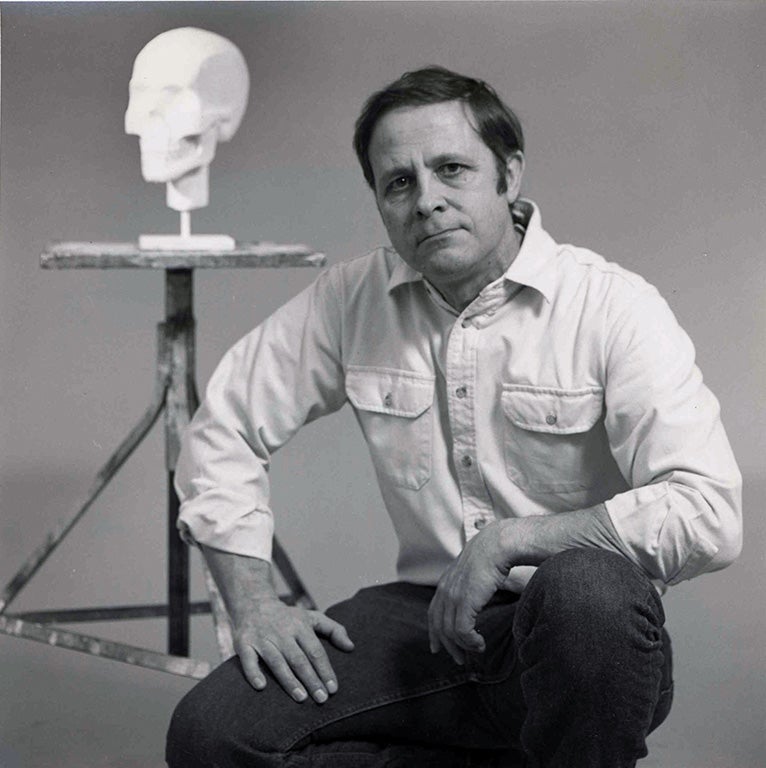 Above: Paul Buckner, circa 1979-80.