Erkki Huhtamo is an inquisitive man.
Professionally, he collects optical devices "such as magic lanterns, peep show boxes, phenakistiscopes, praxinoscopes, kinoras and other fascinating things," he says. "I use them in my research and teaching and also to illustrate my books."
Personally, he is absorbed by coffee. He roasts, grinds and even grows what he drinks ("something I could not even dream about doing in Finland," the Finland native says).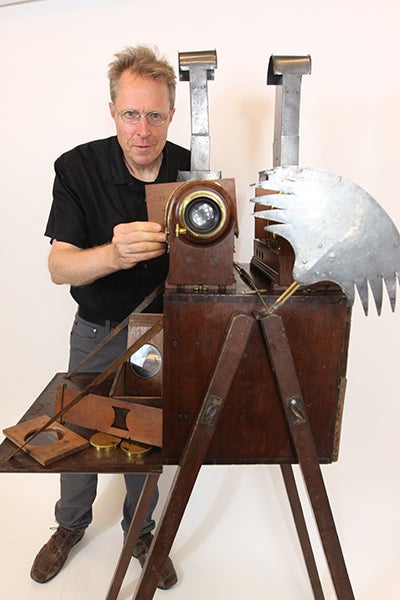 Above: Erkki Huhtamo with his L. J. Marcy dissolving magic lantern pair (Philadelphia, c. 1870). Photograph by David Leonard.
Academically, he has a PhD in cultural history and teaches design and media at the University of California Los Angeles.
On February 27, Huhtamo will share his fascination with "screenology" during a presentation in Lawrence Hall Room 177, with a reception at 5:30 pm and a lecture beginning at 6 pm. This interdisciplinary lecture is free and open to the public.
Widely published, Huhtamo's scholarship focuses on media archaeology, a nascent field that explores emerging media by examining past artifacts including "forgotten, neglected, and suppressed media-cultural phenomena," he says.
In his research, he seeks out "original historical documents such as broadsides, playbills, and posters to add" to his collection. He has exhibited his extensive collection, and also gives magic lantern shows using original nineteenth-century equipment and hand-painted slides, accompanied by musicians and live sound-effects artists.
Huhtamo's magic lantern shows are an outgrowth of his scholarship in media archaeology, a research area he helped found. He has published extensively on media culture and media arts, lectured worldwide, given stage performances, curated exhibitions, and directed television programs. He teaches in the departments of Design Media Arts, and Film, Television, and Digital Media at UCLA. His most recent book is Illusions in Motion. Media Archaeology of the Moving Panorama and Related Spectacles (The MIT Press, 2013).
His Eugene lecture will be based on his forthcoming book, Screenology, or Media Archaeology of the Screen, which demonstrates a way to research screens (such as broken ones on smartphones) and suggests a new approach for media studies.
This second annual A&AA Interdisciplinary Lecture is sponsored by the School of Architecture & Allied Arts with special thanks to the Department of the History of Art and Architecture, the Department of Product Design, the Art and Administration Program, and the Art and Technology Program for their support.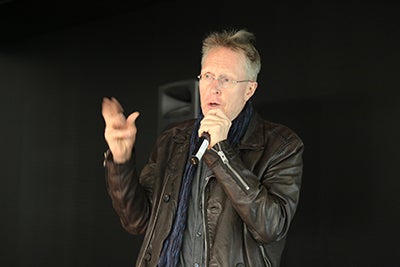 Above: Erkki Huhtamo speaks at the Institute of Advanced Media Arts and Sciences in Ogaki City, Japan, in 2014. Photo by Shunsuke Takawo, RCIC, IAMAS.