UO researchers recently completed a major national study on ways to best manage campus emergencies, the findings from which were spotlighted on The National Center for Campus Public Safety (NCCPS) website.
"The Umpqua Community College tragedy underscores the importance of campus emergency management programs," said Robert Parker, director of the Community Service Center (CSC), the program in the UO's Department of Planning, Public Policy and Management that completed the study.
The CSC research team was asked to assess emergency management needs at colleges and universities nationwide. Their goal was to identify current resources and gaps in those resources, then recommend ways to mitigate any deficiencies.
"This study identified a broad range of programmatic needs," Parker said. "Students were instrumental in identifying those needs through their research activities, which was a big challenge given the diversity of institutions we researched."
The team—comprising six graduate students and Parker, the faculty advisor—sent out a survey that resulted in 611 responses from schools in 45 states.
The researchers organized their findings around five themes: institutional engagement, training and exercises, plans and operational continuity, staffing and resources, and partnerships and assistance.
The scope of the research benefited the students as well as the findings.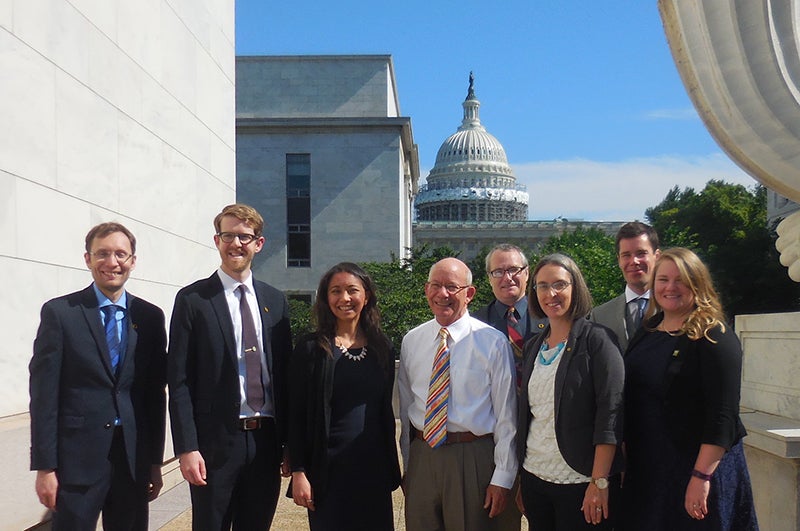 Above: From left, Mugs Scherer, Rory Isbell, Ali Lau, Rep. Peter DeFazio, Robert Parker, Krista Dillon (UO director of operations, Safety & Risk Services), Bentley Regher, and Amy Nelms. Photo courtesy Robert Parker.
"I gained valuable experience in data collection and analysis, as well as hands-on policy experience when we strategized how to best present our findings to policymakers in Washington DC," said Rory Isbell, who graduated in 2016 from UO with a master's degree in community and regional planning and a degree in law.
Parker noted that the project exposed students to areas of higher education they would not typically experience in school.
"We had support from several national professional associations that helped us identify broad trends, but also found that each school has its own unique programmatic challenges. Distilling this information into a set of national needs and recommendations was the project's greatest challenge," Parker said. "Students interacted with campus emergency management professionals throughout the country, and in the process developed skills and relationships that will benefit their careers."
The UO's Emergency Management program was an active partner in the effort, said Krista Dillon, director of operations for Safety & Risk Services at UO.
"Our campus will benefit as action items from this study begin to be implemented," Dillon said. "We will be involved in the first project stemming from this effort, which focuses on leadership training. Our goal is to share what has worked for us, learn from others, and improve our programs here on campus."
The team's draft recommendations included:
• Re-funding the US Department of Education's Emergency Management for Higher Education grant program
• Establishing an emergency management training program for executive leadership
• Establishing a working group focused on communication and resource coordination between campus emergency management officials and federal representatives.
Team members included Community and Regional Planning graduate students Emily Brown, Amy Henson, Rory Isbell, Ali Lau, Amy Nelms, Bentley Regher, and Mugs Scherer; and Community Service Center Executive Director Robert Parker. Their work was supported by a grant from the Bureau of Justice Assistance, a component of the Office of Justice Programs.
Download the report for more details.