A gigantic Styrofoam robot has commandeered a Colorado art gallery through March, thanks to Oregon artist and educator Michael Salter. An associate professor of art/new media at UO, Salter opened the solo show, "styrobot: nothing comes from nothing," at the Galleries of Contemporary Art at the University of Colorado at Colorado Springs on January 24. The show runs through March 22.
"styrobot: nothing comes from nothing" is a site-specific work created by Salter, who is director of digital arts at UO in the Department of Art. He created the exhibition in the UCCS campus gallery and worked with several UCCS classes while in residence through January.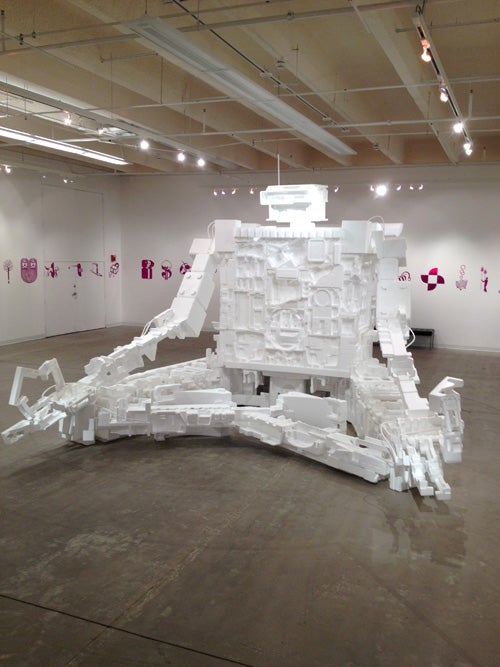 Above: Associate Professor Michael Salter's exhibition "styrobot, nothing comes from nothing" at the University of Colorado, Colorado Springs Gallery of Contemporary Art.
Salter is a self-proclaimed "obsessive observer," sifting through the avalanche of mass media and corporate branding to find poignant, absurd, and baffling pieces that become part of his work. His work bridges all disciplines from product and toy design to kinetic sculpture, logotypes, animation, and signage. The UCCS gallery collected donations of Styrofoam packing material for the creation of his project.
Speaking about his artistic inspiration and intent, Salter says, "Every city and town has a street – never downtown – lined with strip malls, fast food, and discount stores. Here, I am inspired. It is the most prolific evidence of our current culture. As an obsessive observer I am fascinated, repulsed, and hypnotized by the tidal wave of imagery that our visual culture crashes down upon us every day. I want to sort out the cacophony of visual noise and rethink meaning, motive, perception, and narrative. In the middle of this infinitely chaotic flow of information, I have a …desire for truth and beauty. …My work is an attempt to slow down, sort out, and focus information."
Salter has had solo exhibitions at Think.21 Gallery (Brussels, Belgium), Pulse Art Fair Miami, Rice Gallery (Houston, Texas), San Jose Museum of Art, Jeff Bailey Gallery (New York City), Lump Gallery (Raleigh, North Carolina), Ambrosino Gallery (Miami, Florida), and elsewhere.
The UCCS gallery hours are Wednesday through Saturday from noon to 5 p.m. More information is available on the gallery website or on Facebook.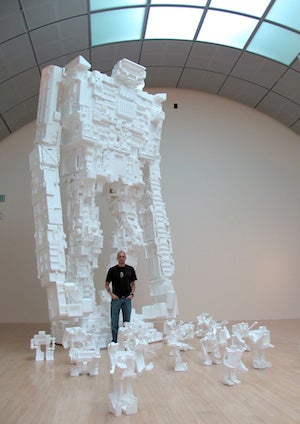 Above: Associate Professor Michael Salter stands with some of his "styrobots" at a show at the Jordan Schnitzer Museum of Art in Eugene.