Once a year, Lawrence Hall is transformed for Spring Storm, a senior show for students graduating from the School of Art + Design. This year's show features work from more than 100 seniors majoring in art, art & technology, and product design. The show is a culmination of their studies, spotlighting work that students develop with support from faculty mentors.
"Spring Storm is a celebration of the diversity of those efforts and ideas across Art + Design, all the catalytic interactions and the individual discoveries made during these seniors' college careers," says Laura Vandenburgh, head of the School of Art + Design.
This is the seventh year that Spring Storm has offered an intimate glimpse into what students in their senior year have accomplished. The wide range of student work on display represents all media areas—including ceramics, digital arts, drawing, fibers, jewelry, metalsmithing, painting, photography, printmaking, product design, and sculpture—and provides insight into their creative processes, material choices, and theoretical approaches to art and design.
The show runs through commencement so families, friends, and supporters can view the work this week and through June 17.
Scroll to view selections of work from the show and learn more about the student artists and designers.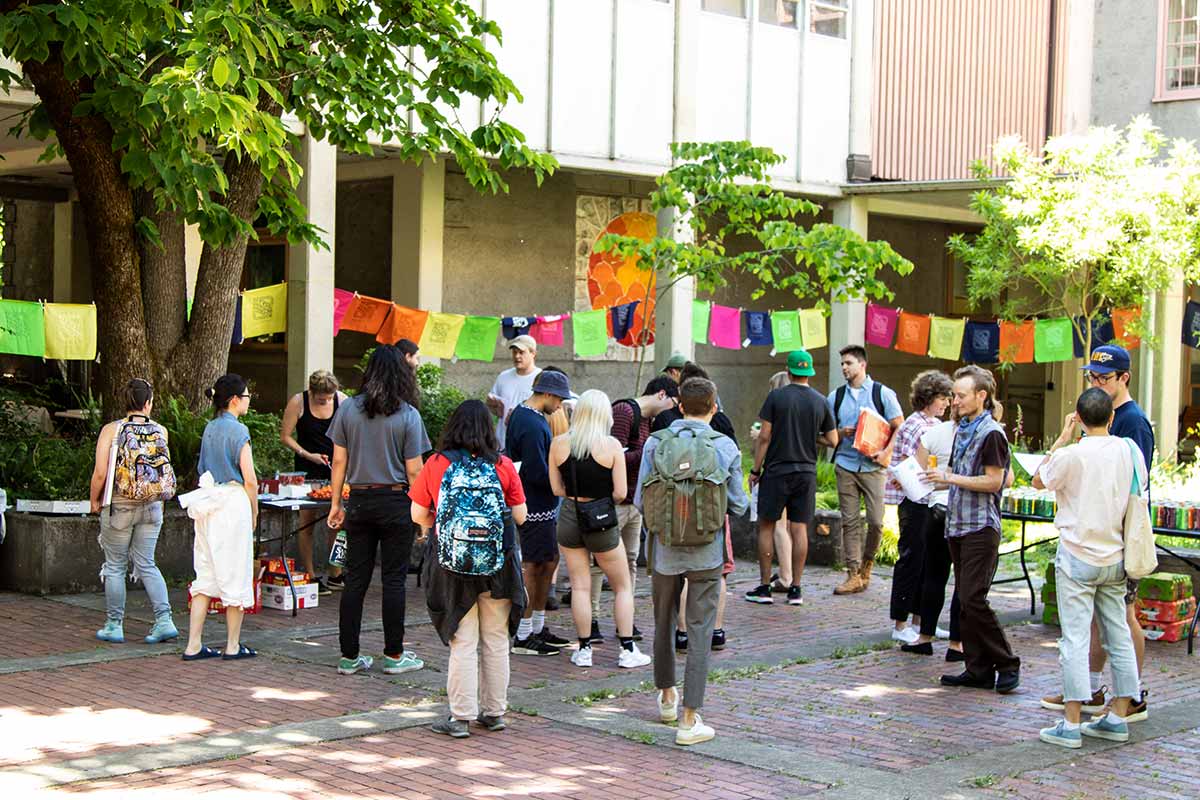 Students, faculty, and staff gathered for the annual Spring Storm opening reception in the Lawrence Hall courtyard. The event featured UO student groups tabling, including the Art + Design ARC, Kitchen Sync, EMU Visual Arts Team, Art Ducko, UO Fine Art Society, and JSMAC.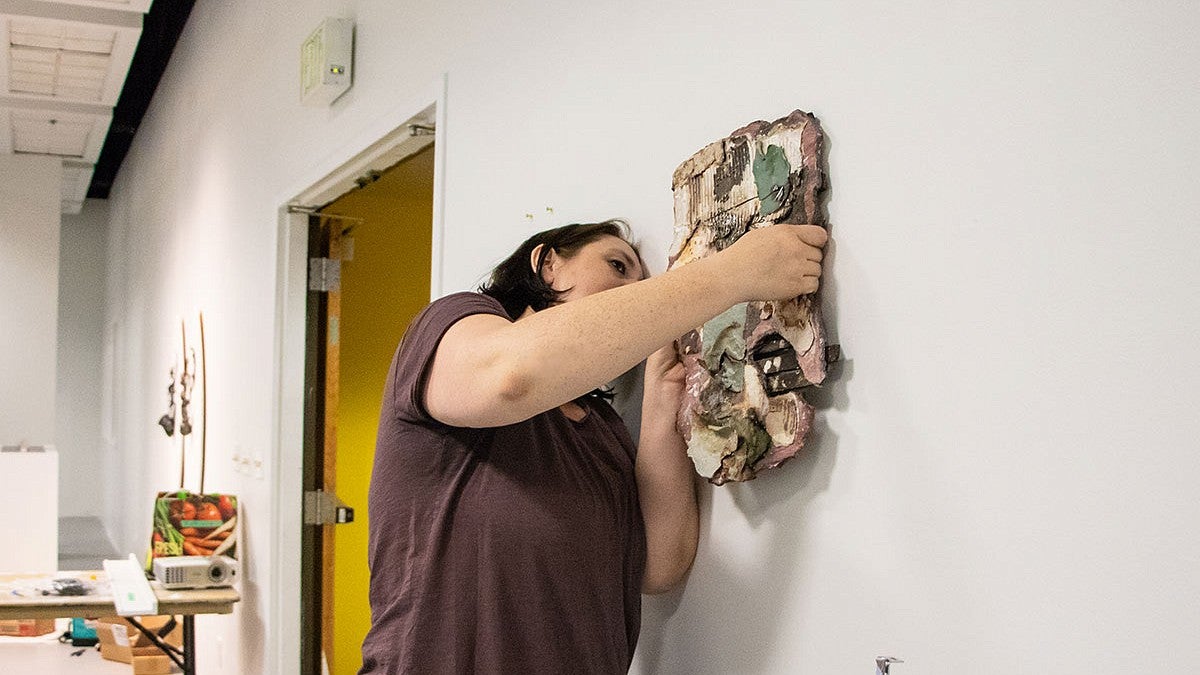 "I've developed community here that I haven't elsewhere," said Lydia Mann, a student graduating with an emphasis in ceramics. "It's really special to me."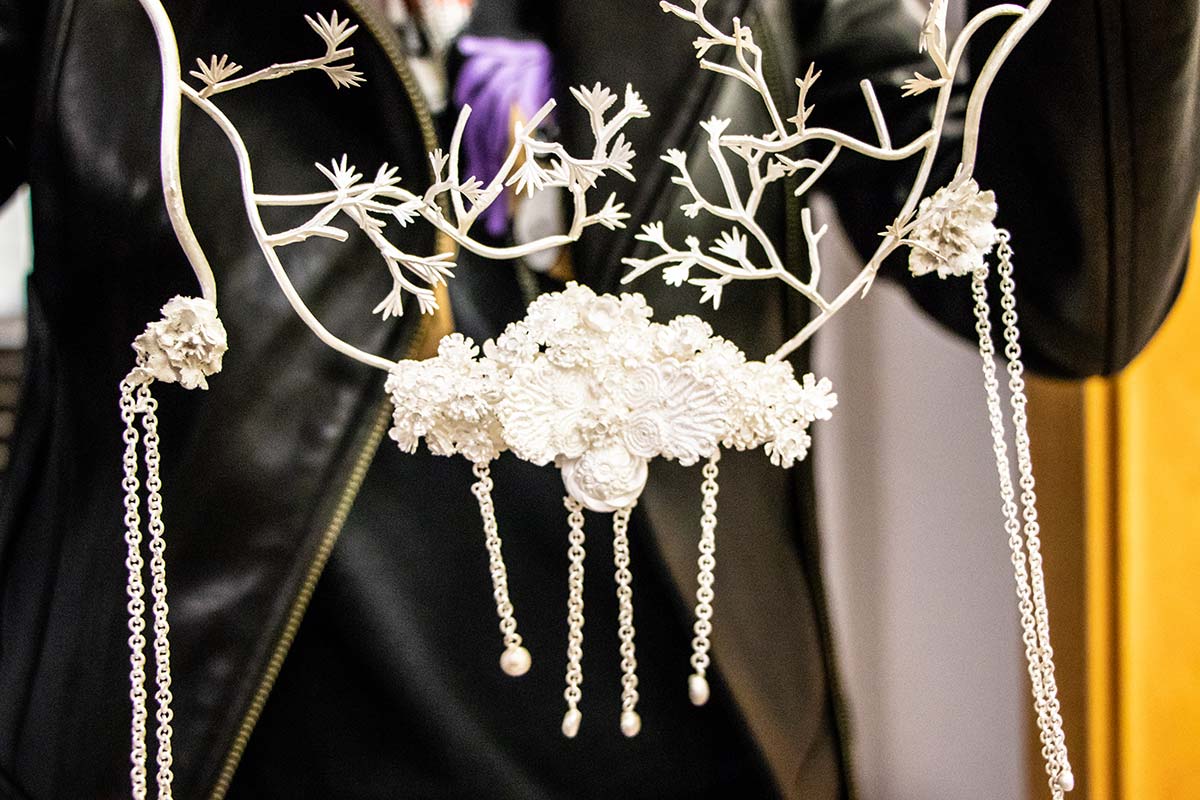 Linda Guo mounting jewelry for her piece LOVE. "The concept of my work comes mainly from Chinese culture and history," Guo said in her artist statement. "I want to use my work to reclaim ancient forms in modern vocabularies of adornment."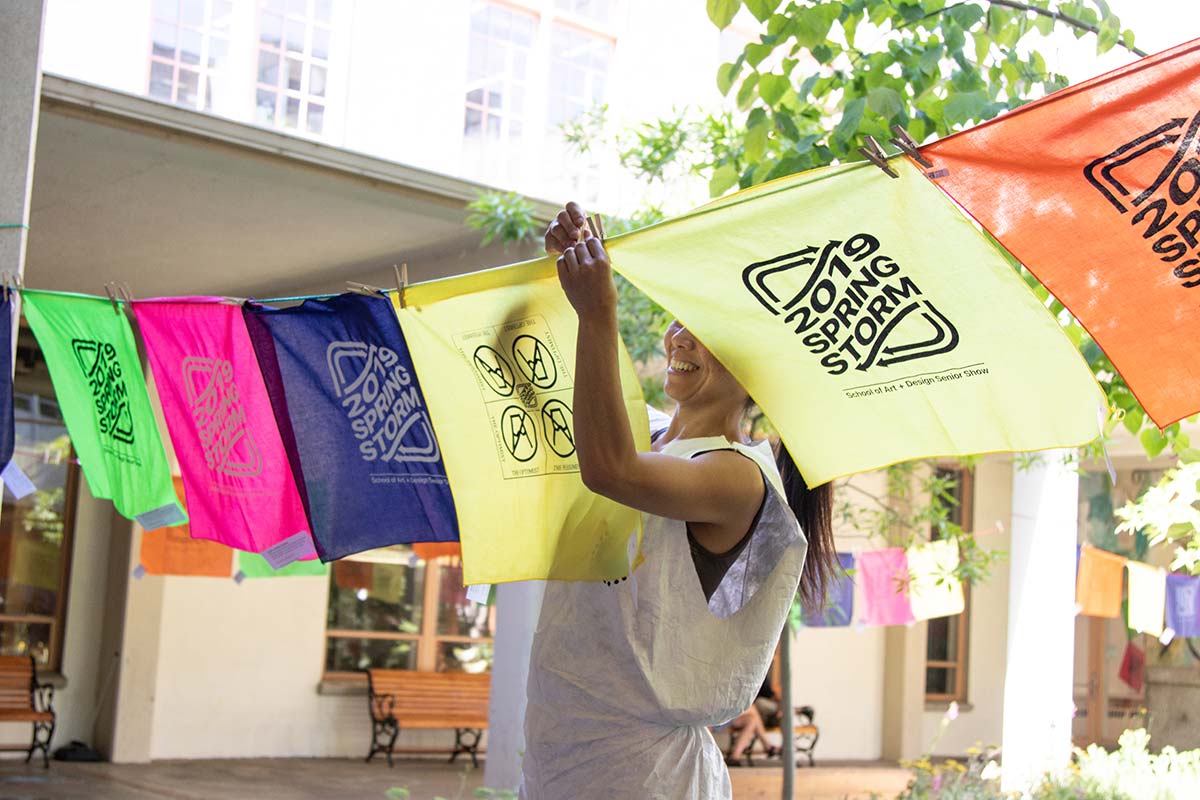 The annual Spring Storm graphic identity was developed by Art & Technology Alumnus Brad Hodgin, and the UO Printmaking team transferred that design along with several others onto bandanas that guests could take with them.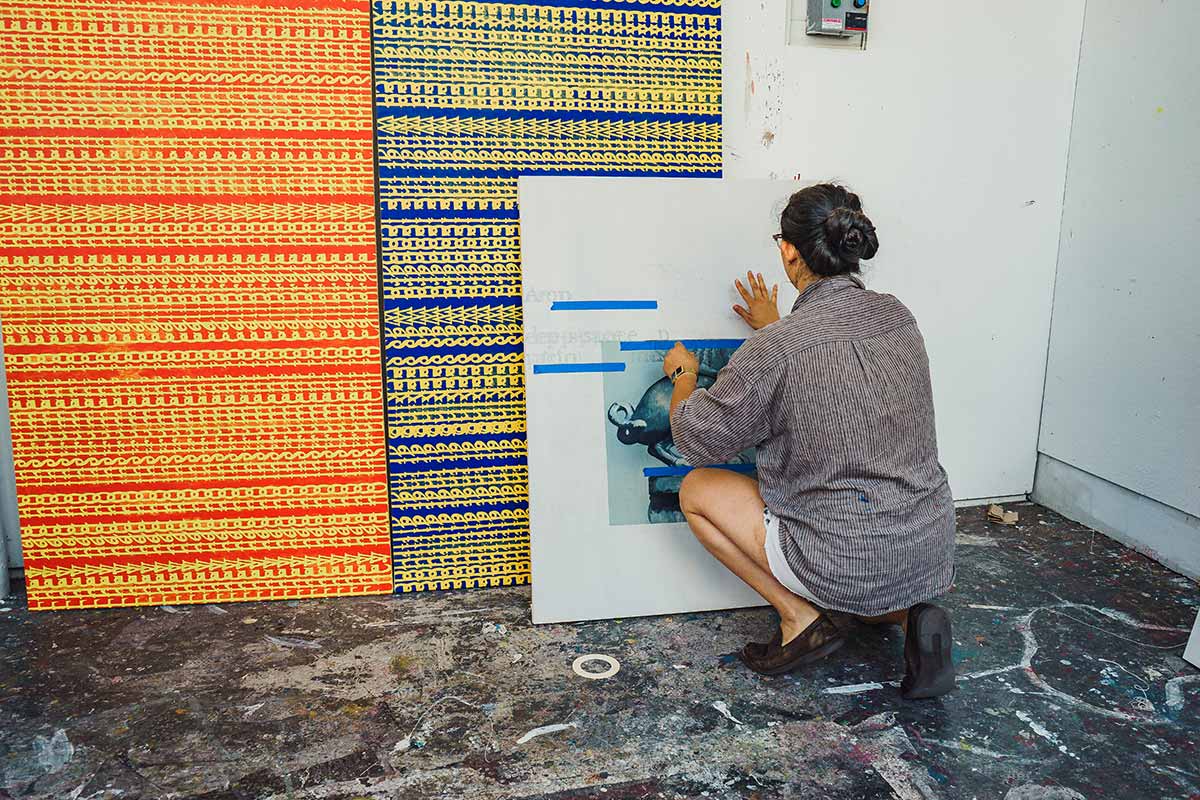 "I feel like I have a foot in painting and a foot in prose," said Journalism and Art double major Kathryn Liu. "I'm interested in the aesthetics of text and language and the parallels between the rhythms that you find in writing versus an image. Both of these mediums communicate and are so flexible. You can do so much with them, but they work very differently."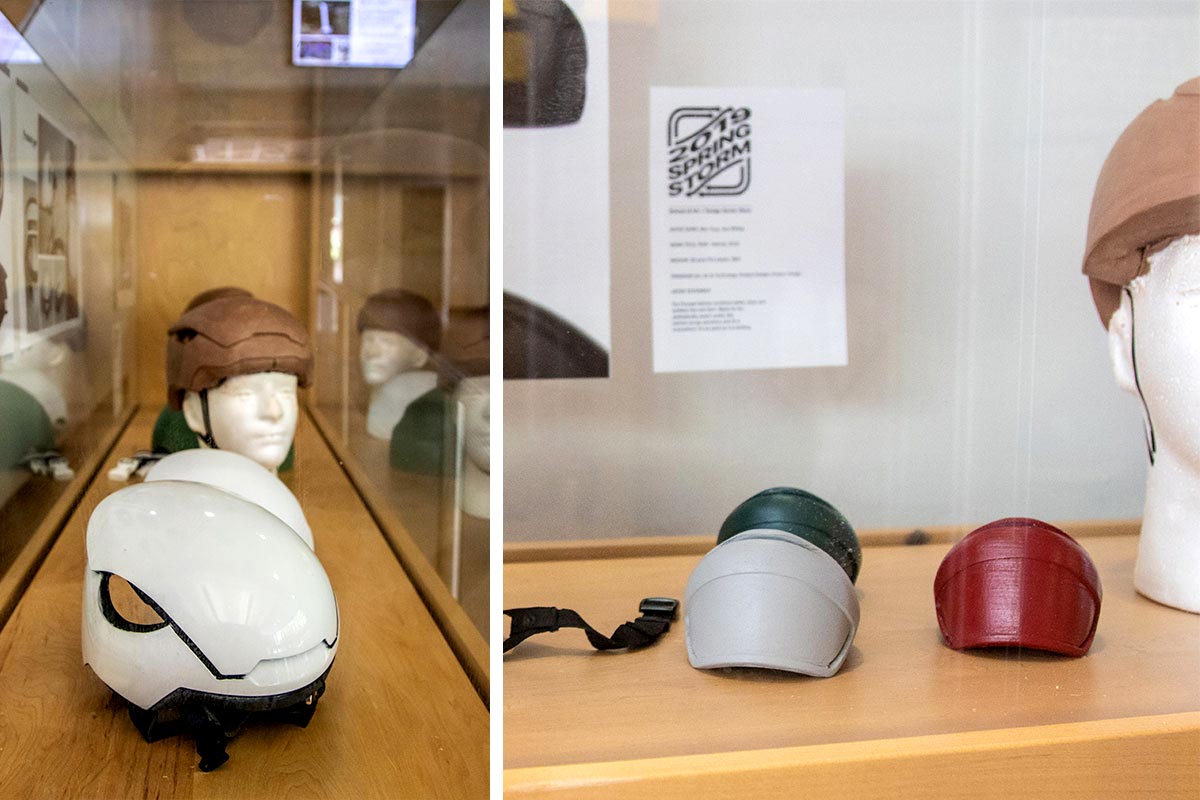 Product Design students in the Senior Studio with Professor Wonhee Arndt designed bike helmets for the exhibition. "Since most of the students who are participating in Spring Storm are graduating, and attending the commencement with their family, it is also nice to share what they have been working on while they were in school with their family members," Arndt said.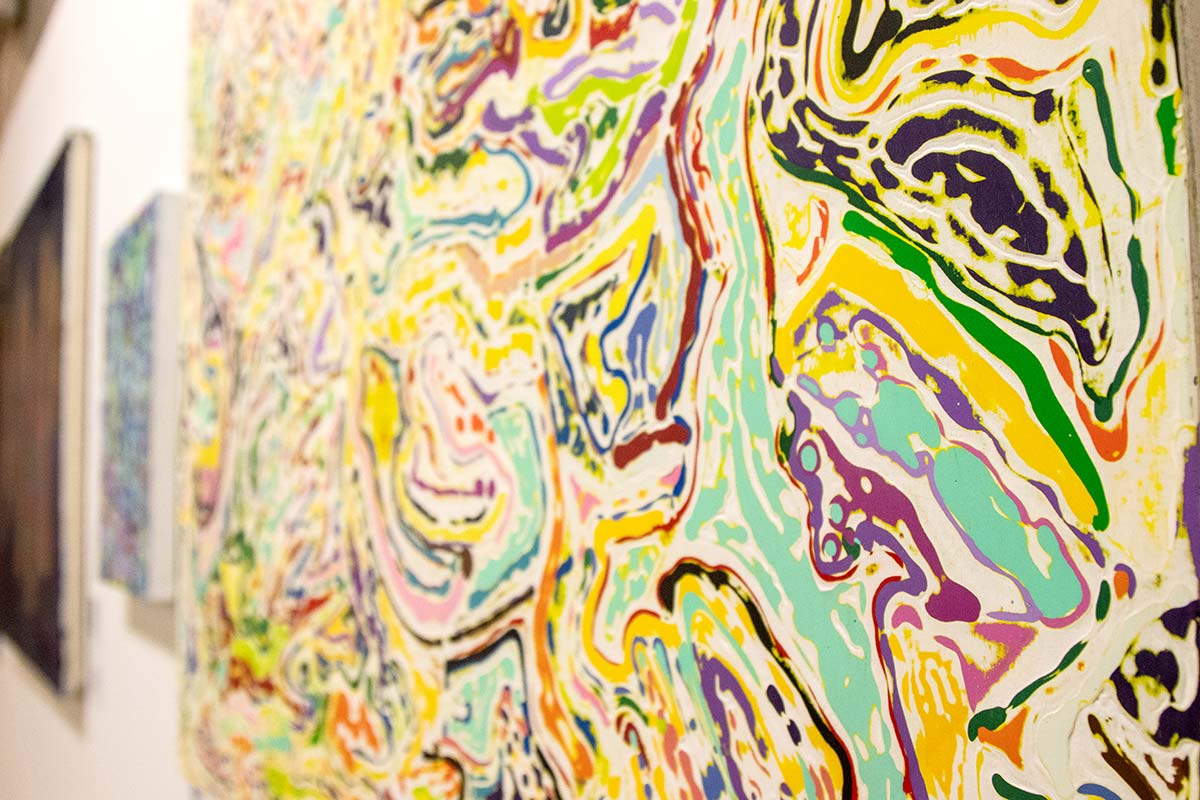 Each year, a jury reviews the work submitted for Spring Storm and grants awards. This year, Linda Guo, Kathryn Liu, and Paige Van Doren received Jury Awards and Elijah Stewart was selected for the Director's Award, having been recognized unanimously by the jury.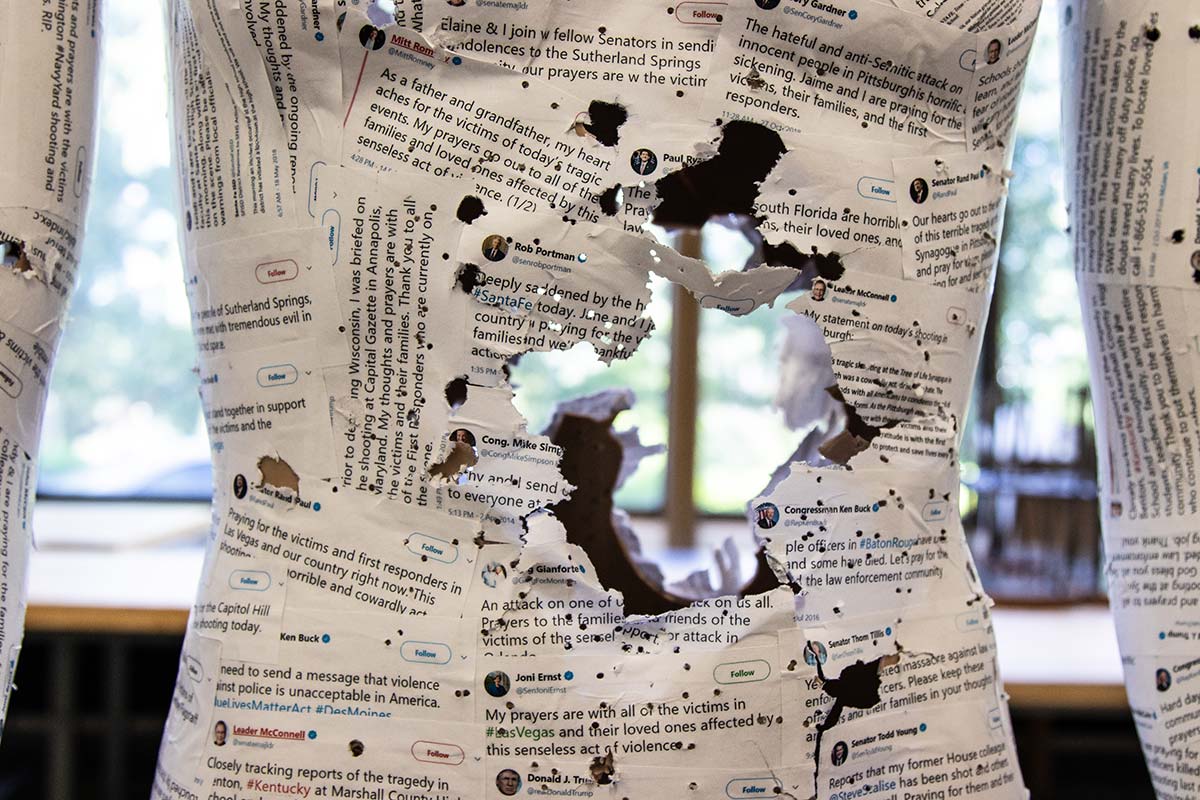 "I think we are past the point of being subtle," wrote Henry Brown in the artist's statement for his piece "Thoughts and Prayers," which attracted a lot of attention from viewers. "If these people only have 'thoughts and prayers' to offer in the wake of a shooting, I might as well see how much power those words really have when it comes to protecting a person from gun violence.'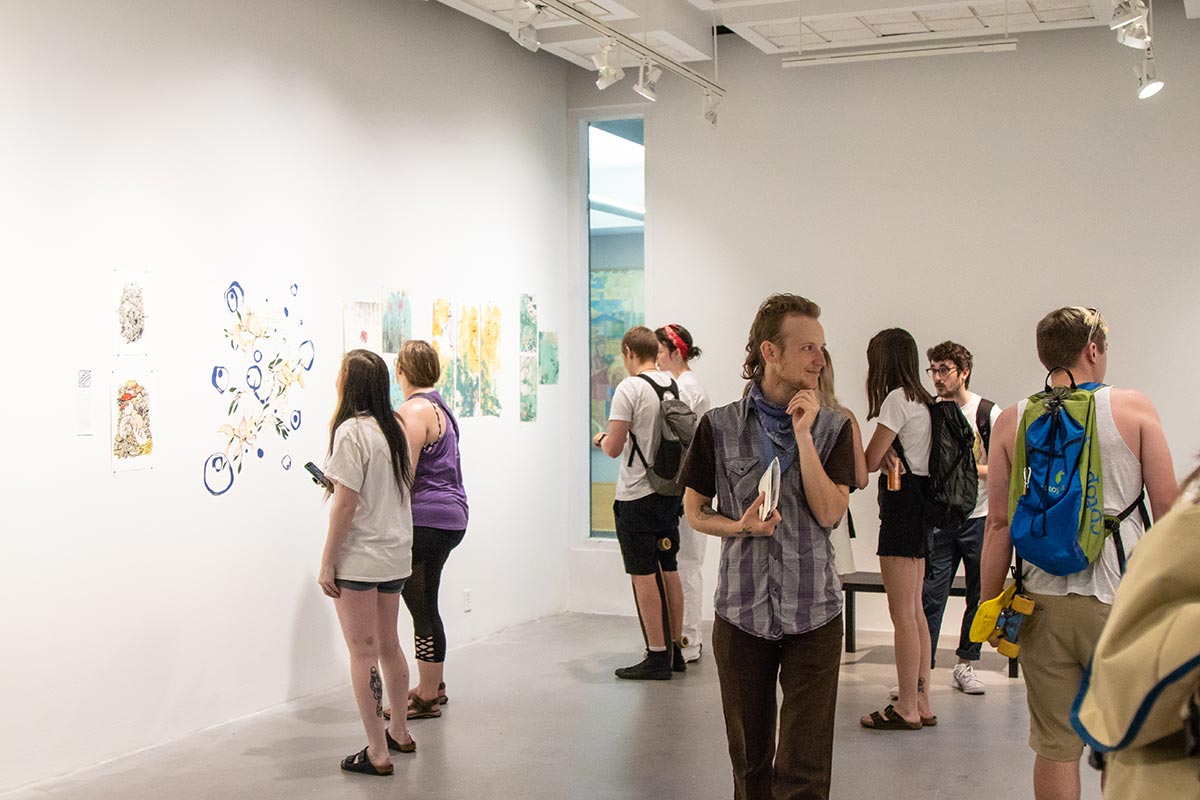 Families and friends gathered in Lawrence Hall to honor the work of Art + Design graduates. The LaVerne Krause Gallery (pictured above) was filled with well-wishers and art lovers alike.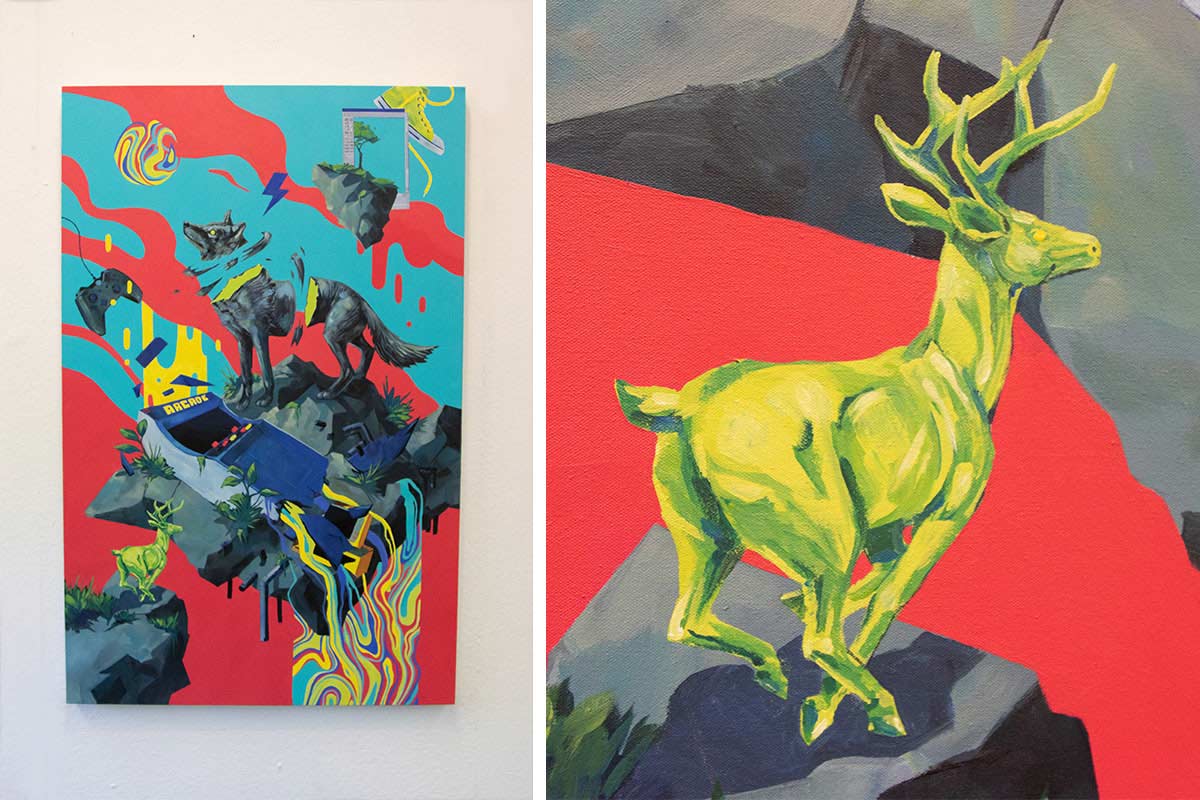 "Arcade" by Bailey Volchok. "Technology can be invasive, interruptive, and even overwhelming, yet it is also inevitable that it becomes interwoven with the natural world," Volchok wrote. "By contrasting, combining, and manipulating organic and artificial elements that represent nature and technology, I can create a visual conversation around the absurdity and, at the same time, the balance between the two."