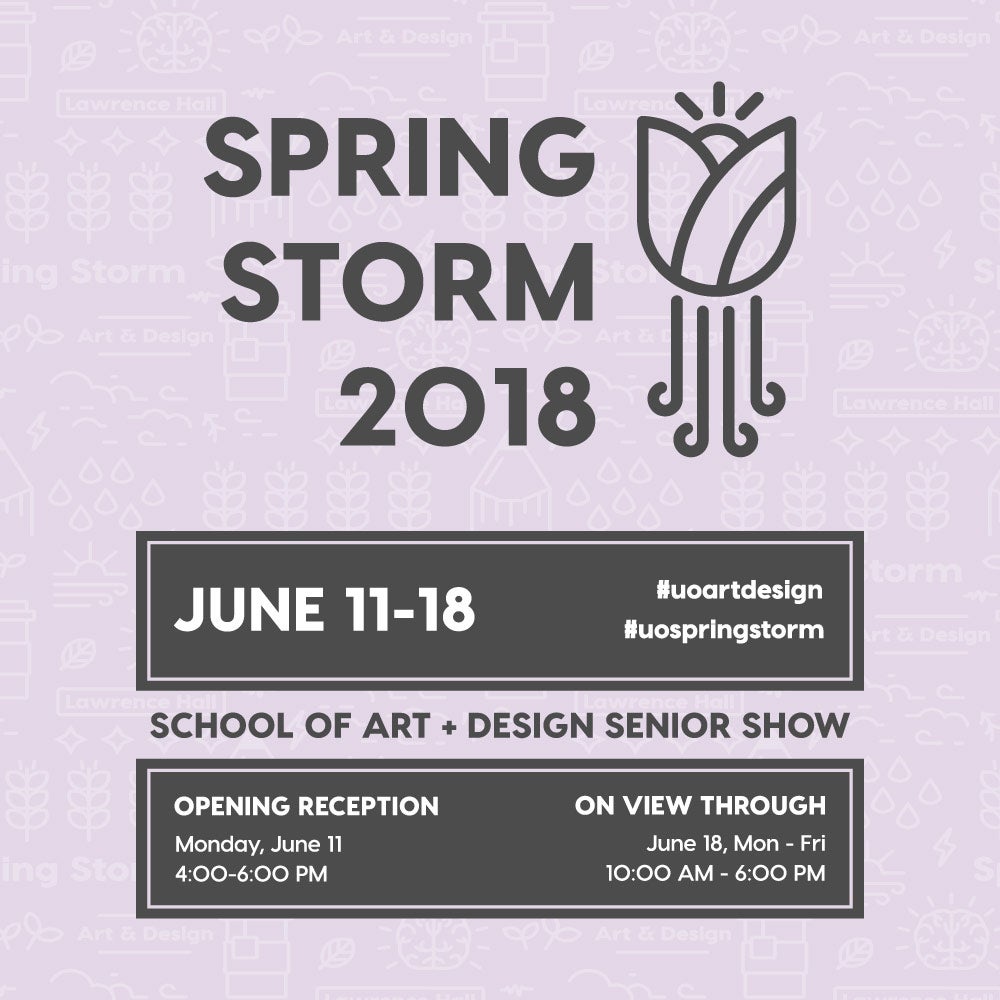 There's a storm coming. Spring Storm, that is.
The School of Art + Design's annual senior art show, featuring the work of nearly 80 students, takes place in Lawrence Hall on the UO campus. Spring Storm is forecast to last a full week this year, rather than just one day, beginning June 11 with an opening reception from 4:00 to 6:00 p.m. and gathering momentum weekdays from 10:00 a.m. to 6:00 p.m. through Commencement Day, June 18.
The show and reception with a printmaking event in the courtyard are free and open to the public. Visitors can stroll through Lawrence Hall to see the works on display in hallways, classrooms, and galleries.
This is the sixth year that Spring Storm has offered an intimate glimpse into what students in their senior year have accomplished. Work runs the gamut across the nine media areas the School of Art + Design offers—ceramics, digital arts, fibers, jewelry, metalsmithing, painting, photography, printmaking, sculpture—as well as product design. The show provides not only a close look at advanced student work but also insights into their creative processes, material choices, and theoretical approaches. The student artists will be on hand during the reception on June 11 to talk about their pieces.
"Each spring Lawrence Hall is transformed by the vibrant, diverse work of our graduating majors in the Spring Storm Senior Show," says Charlene Liu, associate head of the Department of Art. "Students, faculty, and the university community come together to celebrate this week of art, products, conversation, and culture."
One student in the show, Mo Murshed, is an Art & Technology major from Yemen. Murshed will be moving to Portland after Commencement to pursue an MFA in Visual Studies at the Pacific Northwest College of Art. Murshed's oil painting process involves moving from initial pencil sketches to computer-aided design to final application of paint on canvas. The piece in the show explores the Queen of Sheba.
And, of course, the show's publicity materials were also student-designed. This year, Charles Honig, an Art & Technology major who's earning his bachelor's degree this spring, designed the pieces. You can see more of his work on Instagram @c__designs.
Student work from Spring Storm will be selected by a jury for acknowledgment, including a College of Design Dean's Award.
The Department of Art offers more than 300 classes every year in nine media areas. Many courses in the department are open to students who are not art majors.
Also showing now through June 11 at Kalapuya Ilihi on the Eugene campus is the "Back Alley Bash." This show is the culmination of a year's worth of work by the UO's first Art and Design Residential Community. All are welcome to attend the closing reception on Monday, June 11, 6:00–7:00 p.m.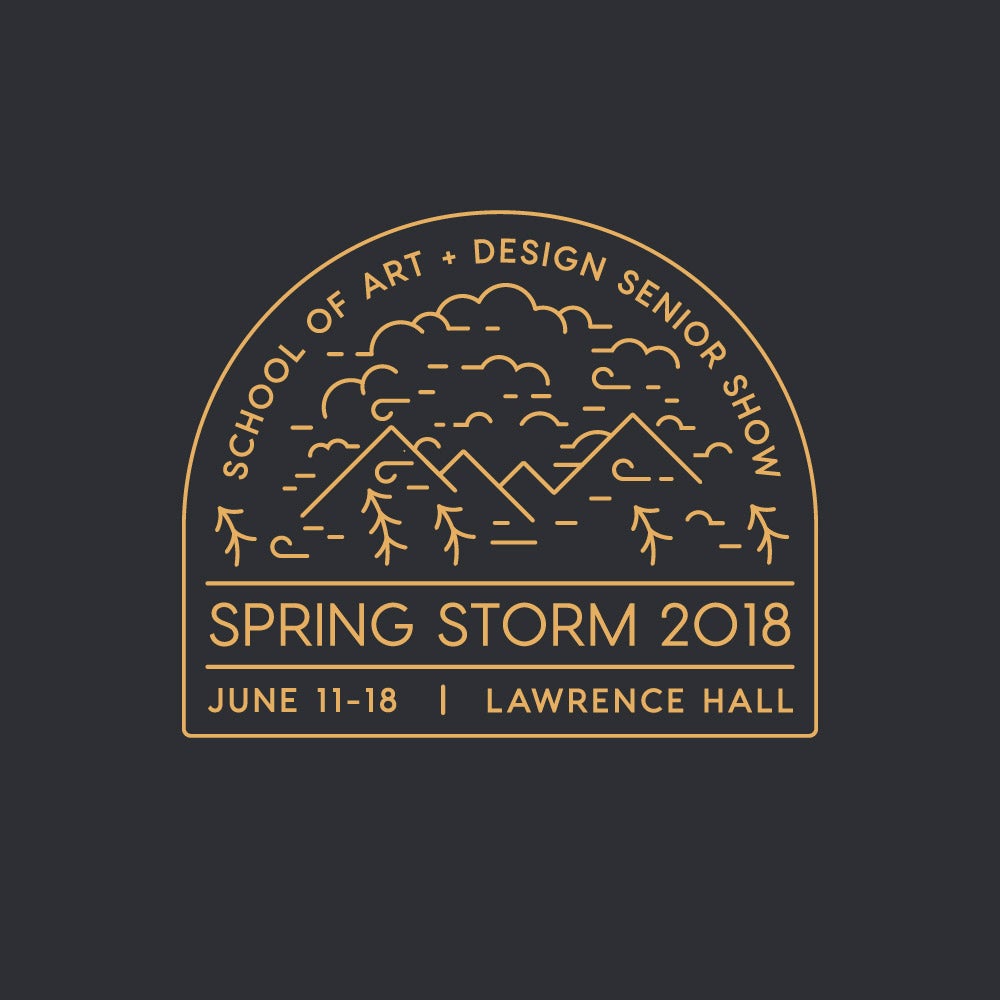 Art and Technology major Charles Honig (BA '18) designed the Spring Storm 2018 publicity materials including this graphic design for use on a bandana.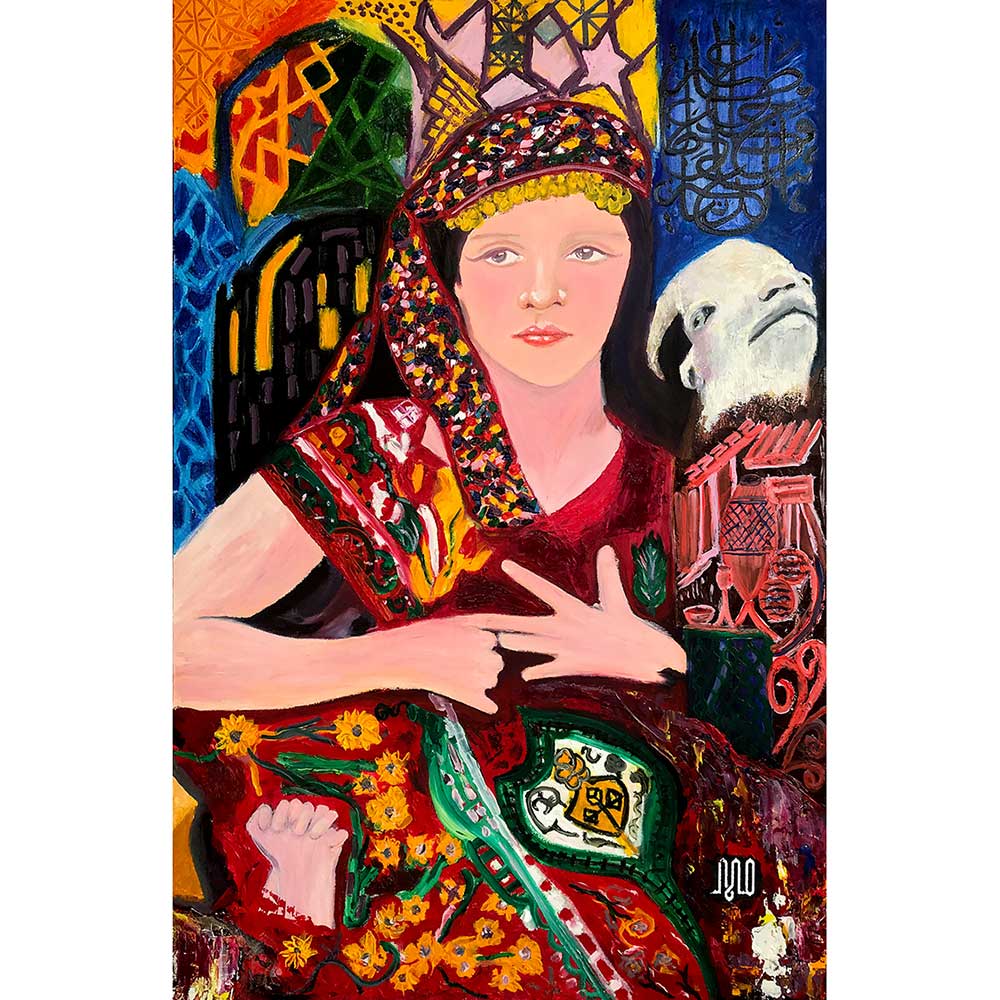 Mo Murshed's oil painting on board canvas is titled "Lama's Le Lavona bishvat ovo," which loosely translates to "frankincense is from Sheba," referring to gifts the Queen of Sheba is purported to have brought to King Solomon.