Comics aren't always funny. Think "Doonesbury," which makes pointed political digs. Or Joe Sacco's graphic novels about Arab-Palestinian conflicts. And the mid-20th century's "Pogo," by Walt Kelly, which engaged in social and political satire. But plenty of comics definitely elicit at least a chuckle if not a ROFL response. What the best have in common is lushly rendered artwork, complex characters, and strong storylines that compel readers to keep coming back.
That focus on narrative is what Assistant Professor Surabhi Ghosh had in mind when she proposed her current class, "Comics Methodologies," an experimental course in the Department of Art offered in conjunction with the new comics minor available through the Department of English.
The spring term class — funded by the David G. Foster Endowment — is giving thirteen students from disciplines across the university the opportunity to enhance their storytelling abilities through "comics narrative." The class focuses on strategies for effective characterization, plot development, and narrative structure.
"Comics can be anything and any style — it's about visual voice and textual voice," Ghosh says. "I'm encouraging each of them to work on their own approach and make it as unique as it can be rather than there being a right or wrong way," she says.
The students say that's working for them.
"I definitely feel like I'm developing a voice that I didn't have before," says class member Lara Higgins, a double major in art and Chinese. "There is so much thought that goes into a comic that I took for granted — format, lettering, panel size and placement, panel composition, the space in between panels, medium, what to say, what to leave out, clarity, guiding the viewer's eye, and how all of this affects the reading of the comic, to name a few scratches on the surface. The experimental environment of this class is very open and conducive to all these developments."
Undergraduate art major Laura Aitken "signed up for the class because I wanted to explore a different style of drawing. I've been doing realism for my whole life but never learned how to translate it into a narrative. I'd also like to make it in the film industry some day as an artist and I thought this class would give me some of the skills needed for animation, character design, and story boarding."
The students' first assignment was to invent three characters and three settings. These were used in the next assignment — making comic strips using their new characters and settings.
"These characters start interacting with each other in different ways," Ghosh says. "Since traditionally comic strips are kind of humorous, a lot of the students were playing out little jokes and humorous narratives. But I also showed them the work of many people who record daily observations or events, who have a more contemplative approach to the comic strip form. They developed some great comics that were not so much funny but were playing out tonal qualities. You can see the characters and settings coming together into strips."

Above: The students "developed some great comics that were not so much funny but were experimenting with tonal qualities," says Assistant Professor Surabhi Ghosh. "You can see the characters and settings coming together into strips." For her part, Laura Aitken, who drew this narrative comic, says she and her dog "often lie down face to face and even though we're saying nothing at all, it's still very therapeutic. We have long conversations this way."
The second assignment focused on dialogue by creating four comic strips illustrating different styles of conversations, ranging from a character having an inner dialogue to characters conversing as a group. "Comic strips are a great exercise in a little snippet," Ghosh says. "You really have to edit down to the basics to convey your message in three or four panels. With this assignment, I started to see some amazing things."


Above: "I was experimenting with a completely different narrative style and went for a truncated memoir strip," Lara Higgins says of this comic. "The medium lends itself to this sort of bare-it-all behavior. This one also got me thinking about truth and the nature of memory and their representation in comics, and the issues that arise when putting them to paper and giving them form, such as accuracy."
As Ghosh flips through a notebook of the students' work, she sprinkles comments about each one. "Here's a sort of almost children's cartoon aesthetic … this one feels more mature; she's using painterly ink and brush. And this one is an exercise in abstraction, she's allowing herself to think about style and what is more appropriate for certain content versus other content."
Higgins developed a character of a cat struggling with an addiction to caffeine. "She's doing such amazing things with the panel layout, still working with that horizontal form," Ghosh says of Higgins' comic. "She's exploring all different styles."


Above:  "For the cat and coffee comic, the assignment was to draw a strip with a character interacting with an inanimate object," says Lara Higgins. "A week or so before, my friend told me that caffeine was basically a drug and it kind of blew my mind. I wanted to experiment with humor and use one of the characters I generated during one of the class exercises in character design to tell a story that students in Oregon might be able to relate to."
By the fourth week of class, the students shifted to working on length and duration. "Before, we were working with strips. Now we're working with the one-pager format, which is based in the tradition of newspaper comics like "Krazy Kat" by George Herriman, who worked in the '20s and '30s, up to Chris Ware, who's working contemporarily in that format of one singular page," Ghosh says.
The class is part seminar and part workshop, with students splitting their time between discussing assigned readings and workshopping their comics in small groups. "I show up to class and they bring this in (she notes the cartoons in the class notebook) and it's mind blowing — and it's only been three weeks," she says. "It is exciting as a teacher."
It's also compelling for the students. "I'm having a lot of fun in the process, and feel like I have ample opportunities to be creative and experiment," says Higgins. "Comics really exemplify the myriad of unique ways there are to get a story out there. The critiques in this class are very enjoyable for this very reason and everyone is really supportive of each other while also being able to offer their perspectives to help each other grow. There is such a dynamic range of perspectives, art styles, and experiences that come out so distinctly through comics."
Not all the students came to the class with a background in art. About 75 percent are art or digital majors, but the rest found the class through the comics minor. "There's a cinema studies major, a psychology major, a Chinese major," Ghosh says. "They bring such a different perspective to it." Courses throughout the university contribute to the comics minor, including an art history course about Japanese comics, "History of Manga," taught by A&AA Assistant Professor Akiko Walley).
Ghosh does not give drawing demonstrations as part of the class. "An exciting aspect about comics is that there's no one way to draw them — you'll find the most raw, doodley, sketchy style, then you'll find people doing extremely well-polished renderings, and everything in between. I encourage them to approach it however they choose. For some, they are spending more time concerned about line work, line quality, and that sort of thing, while for other students it's a bigger challenge for them to think about the writing side of it, so they're spending more time and effort working on the written aspects."
For Aitken, the class has tested, and helped her assimilate, both her drawing and narrative skills and techniques. "This class has taught me a lot about art in the context of storytelling," she says. "It challenged me to think outside of my box in terms of different angles, line weight, organization, and overall style."
The Foster endowment includes "a small budget to work with in order to help students think about their work in some exciting energetic way," Ghosh says. "Since comics are tied to a history of publication and print format, I've decided the class will publish a couple of books." One will be a roughly 60-page book with four pages devoted to each student's work. Sixty to seventy copies will be printed "so each student gets a few copies to put out into the world. And it will live in the art department for a long time."
As a separate project, each student will self-publish a zine. "That's a really big part of comics history. A lot of cartoonists got started by self-publishing and a lot still choose to self-publish and not work with a publisher so they have more creative freedom," Ghosh says.
She's asked each student to print an edition of at least 25. "In self-publishing, you have total control but you have to do ALL the work – the layout, the copying, the folding, the stapling, everything. The last day of class they'll exchange with each other, so each of the thirteen students will leave with thirteen zines, plus the class publication, and they can take the extra copies and put them in comic book stores that sell zines or take them to comics festivals and disseminate them that way. So they'll each leave the class with two publications of their work."
The publications will allow students to experience the publication process "in the professional world. For example, if they give me an image that I think needs to be touched up, I'll ask them to clean it up before it's ready to print. They will also see what it's like for a publisher to take your work and put it into a layout and suddenly it takes on this whole new life that you weren't able to envision."
Higgins says she "was stoked" when she learned her work would be published as part of the class. "We're learning a lot about the various publication processes in this class, and I find it to be a very satisfying aspect of comics-making. Something about seeing your stories printed out en-masse, ready to be distributed out into the world, is really exciting."
Ghosh hopes the class won't just be a one-off experiment in pedagogy that gives life to ideas not otherwise represented in the curriculum. She proposed the class partly because, although her background is in fibers and textiles, she had taught primarily comics classes at the School of the Art Institute of Chicago for several years before coming to Oregon.
"I hope to work on making this more of a regular course offering," she says. "There's always going to be a group of students interested in comics within the context of an art department. It's exciting to think about because it's so interdisciplinary, and because it brings in students from all over the university."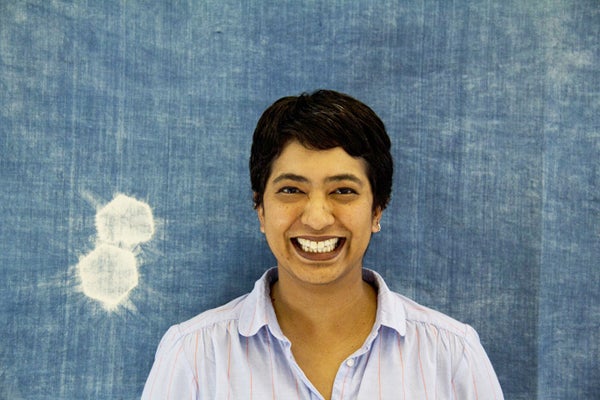 Above: Assistant Professor Surabhi Ghosh is teaching an innovative class made possible with funding from the David G. Foster Endowment Fund. Photograph by Cody Rappaport.
Story by Marti Gerdes