A student-designed and created drinking cup from the ARTC 410 "Prototyping and Manufacturing" course may end up on a table in Carson Dining Hall or the A&AA Willcox Hearth in the future.
The experimental course, under way in winter 2014, combines the disciplines of product design and ceramics and introduces students to social practice, design, and manufacturing. The class instructs students to formulate a design for a cup that is suitable for UO campus food vendors.
The David Foster Fund-endowed class is part of a larger cooperative design and manufacturing initiative called UGene that is being developed by four faculty members from A&AA. Faculty collaborators John Arndt, Wonhee Arndt, Brian Gillis, and Esther Hagenlocher are developing UGene to be a design and manufacturing house that will integrate students, faculty, and visiting designers in an enterprise of development and stewardship of knowledge, cultural production, and tangible responses to problems and opportunities present in human ecology.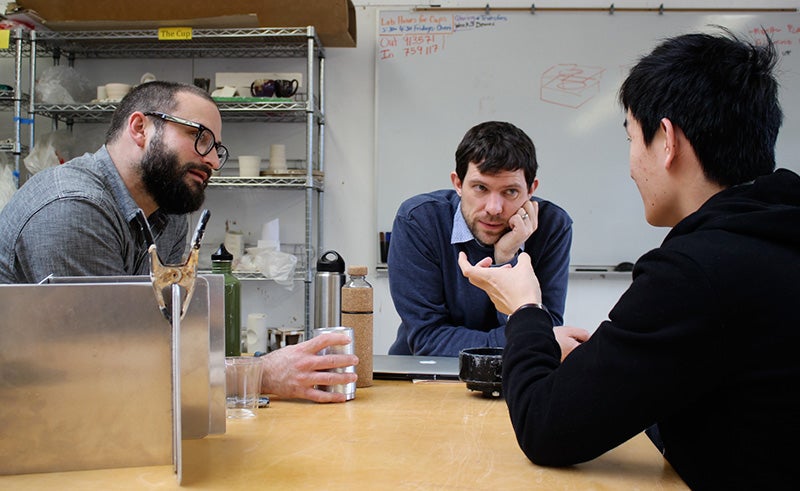 Above: Associate Professor in the Department of Art Brian Gillis (left) and Assistant Professor in the Product Design Program John Arndt (right) coinstruct the course. Photograph by Emerson Malone.
UGene would partner with regional businesses to develop designs for and prototype ceramic-based tableware for the campus, with the potential for other objects of daily use, such as furniture and clothing. Allowing UO to become self-sustaining or regionally capable of producing these types of goods, rather than relying on an international third party, is the fundamental principle of UGene.
"There's not often an opportunity for a design student to design something and make it," said John Arndt, assistant professor of product design, who is co-teaching the class with Brian Gillis, associate professor of art. "Mold making and casting in ceramics is something students could potentially scale up and use on their own after school if that were something they were passionate about," Arndt said.
The concept behind UGene was introduced to students on the first day of the class, which Gillis says instilled a "perceptible excitement about it."
For the first project, students were instructed to make models, molds, and a limited edition of a 16-ounce tumbler previously designed by UGene faculty. The final project requires students to design a cup specifically for the campus community. Specifications include that the cup is assembled from two parts that either fit together or are built together. Minimum requirements for the class state that the student should spend eight to ten hours per week outside of the labor-intensive course working on the project.
Product design major Amanda Wunderlich, who created a plaster model of a double-wall insulated 16-ounce cup, added a financial incentive to her concept.
"This one, I'm hoping would be in the cafes on campus," she said. "It would be a better discount; they'd get more than 25 cents off their drink. That's the idea."
She started work in the studio at 7 a.m. and spent the next five hours before class working on her model, smoothing it on a lathe.
"It's very fast-paced," she said. "It's fun, but it's a lot of outside class time. People are usually here all night."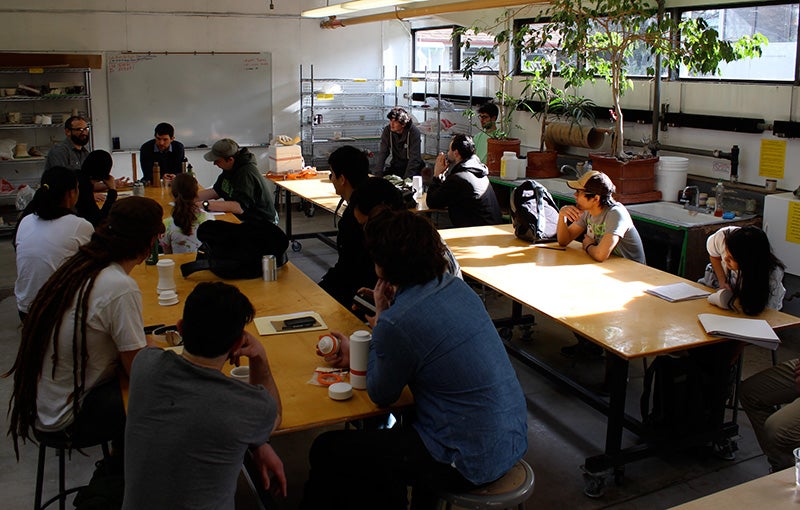 Above: The class teaches students to develop designs and prototypes for a cup that would meet the requirements of campus food vendors. Photograph by Emerson Malone.
Fellow student Zander Eckblad is making a thermos with an attached gasket and lid. "It was the only design I came up with that I was actually interested in doing," said the product design undergraduate. "I tend to like larger cups, especially ones that I can seal and take with me. It just fit."
Ideally, Eckblad says, his design could be sold at the Duck Store or coffee shops on campus.
"This is my first ceramics class," he said. "It's going interestingly. I really like the class, it's just a lot of work. The other night I was here until 7 a.m. and then came back at noon for class. It's like that once or twice a week."
Students are learning that the process of designing, molding, and manufacturing a product from scratch is labor intensive.
"When you have this simplified kind of object, you really have to spend a lot more time considering the little details," said Arndt. "The level of thinking that they're putting into these objects is really nice to see."
Among books on the craft of mold making and slip making, recommended reading for the course includes "The Communist Manifesto" by Karl Marx.
When asked about these readings and whether this class is about pushing against the mainstream, Gillis described the theories driving UGene and, subsequently, the class.
"The overarching gesture of the UGene idea is that of access and democratization," he said. "Whereas something Marx may have been responding to was imperialism or class issues, in some ways, the local or DIY movements may have been responding to multinational corporations stripping manufacturing away from people."
The Marxist text is not a domineering ideology for the course, he said, but moreso a practical notion of how people can work together and make things for a larger population with collective needs.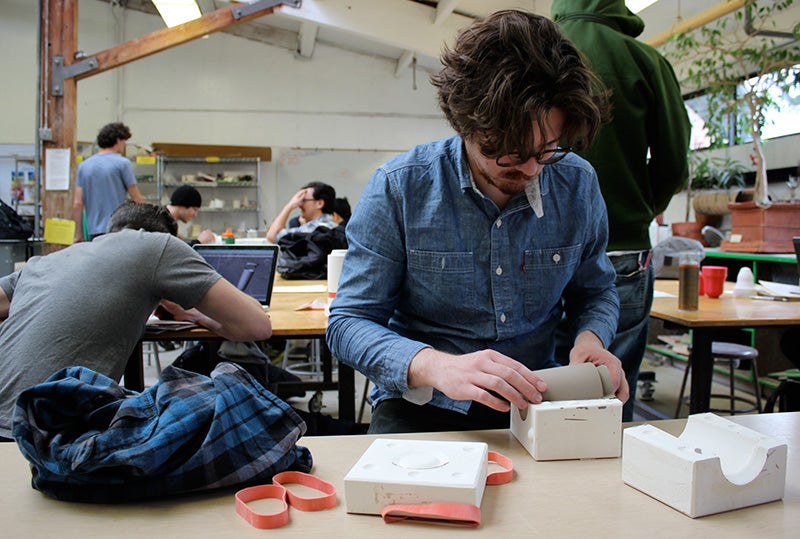 Above: Product design undergraduate Zander Eckblad removes his green ware thermos from its plaster mold in the Millrace ceramic studio. Photograph by Emerson Malone.
The work that students make in this winter 2014 course could be augmented or responded to during a series of spring 2014 courses. Esther Hagenlocher, associate professor of architecture and interior architecture, and Wonhee Arndt, assistant professor of product design, will teach courses through the Interior Architecture Program and Product Design Program in spring 2014 to design and produce objects that respond to those created in ARTC 410. The spring classes are not ceramic-based like ARTC 410, but instead will focus on wood, metal, and plastics. Student responses may include items such as shelves, trays, or saucers to fit the cups.
During the second four-week session of summer 2014, Gillis will teach a manufacturing class that will focus on the limited production of selected prototypes and packaging design from a few designs that come from these multiclass collaborations. The class—ARTC 408, which begins July 21— is open to students of any major and has no prerequisites.
These courses may dovetail into UGene, the cooperative production plan set out by the Arndts, Gillis, and Hagenlocher.
"We're hoping these next three terms prove the concept of the UGene and we could end up with objects to scale up," said Gillis. "Our intention is to use this proof of concept to solicit interest by various local campus units. Maybe all food services on campus will use them instead of ware made in China."
Using lessons from the current and upcoming terms, UGene would work with campus and area practitioners to produce objects ranging from tableware to furniture for regional markets. Production would be a cooperative process through the university and local businesses.
UGene plans to reach out to other businesses and institutions to share and enhance their prototype designs. Ultimately, the goal is to create a cooperative umbrella group that establishes an open-source network of design, training, methodologies, and intellectual property.
"It'll definitely help us to think about ways to support production, maybe by looking at outside resources like local fabricators," said John Arndt. "These local industries could benefit from these ideas coming out of the university as well as both through access to design and production strategies, and be such that is not theoretical and contained solely in the ivory tower but practical to a larger community."
Added Gillis, "I think it'd be really great if all ceramics used by campus food services were made by us. We're starting with a cup to prove a concept and be a prototype of what UGene is."
A cup created by a UO student would provide a unique element to the UO culture, as opposed to culturally homogenized products produced overseas, Arndt said.
"It's about bringing these ideas back to the region and not just thinking about design for someone else, but thinking about the local needs. Local tendencies can inform the shape of something," he said. "I think it would also give students something more of an identity or relevance to a place and caring more about where they go to school, knowing their classmates designed their dishes for them."
The four faculty collaborators plan to apply for a grant that would jumpstart UGene.
"[The grant] would help propel the idea and give it a lot more traction for expanding into Esther and Wonhee's classes," said John Arndt. "It would be nice to broaden that conversation."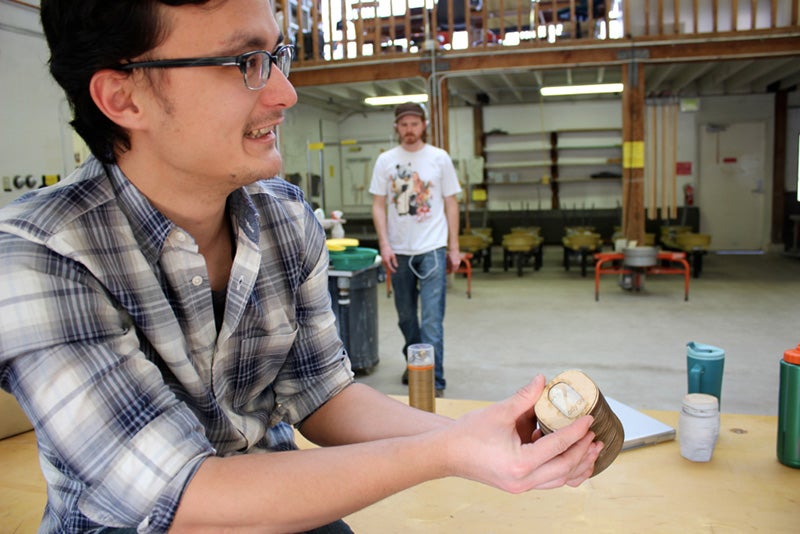 Above: Product design major Chris Lau developed a thermos based around the University of Oregon's iconic O emblem. Photograph by Emerson Malone.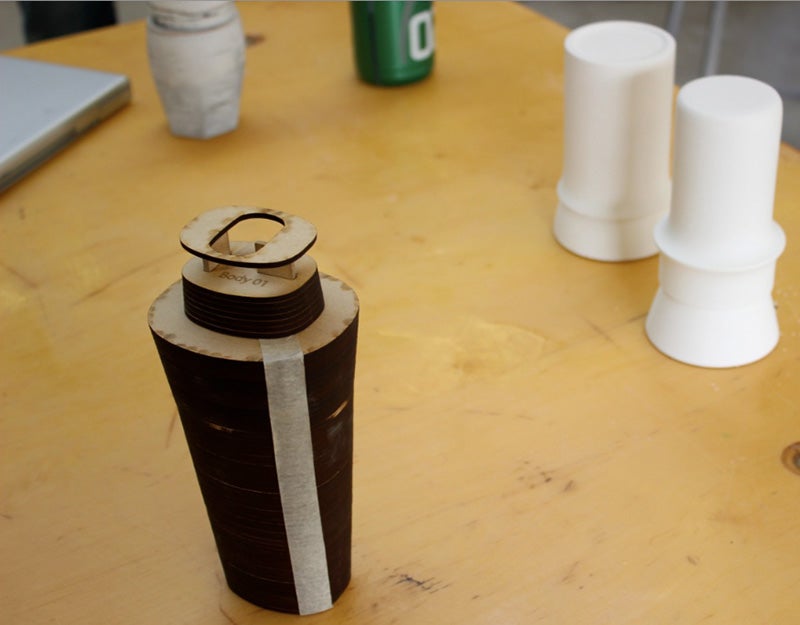 Above: A close-up of Lau's design. Photograph by Emerson Malone.