Zudegi Giordano, office coordinator in the Department of Planning, Public Policy, and Management, and Beth Roy, executive administrative assistant in the Department of Art, are among recipients of this year's Outstanding Employee Awards at UO. They were honored during a reception at the Jordan Schnitzer Museum of Art on November 30.
Zudegi Giordano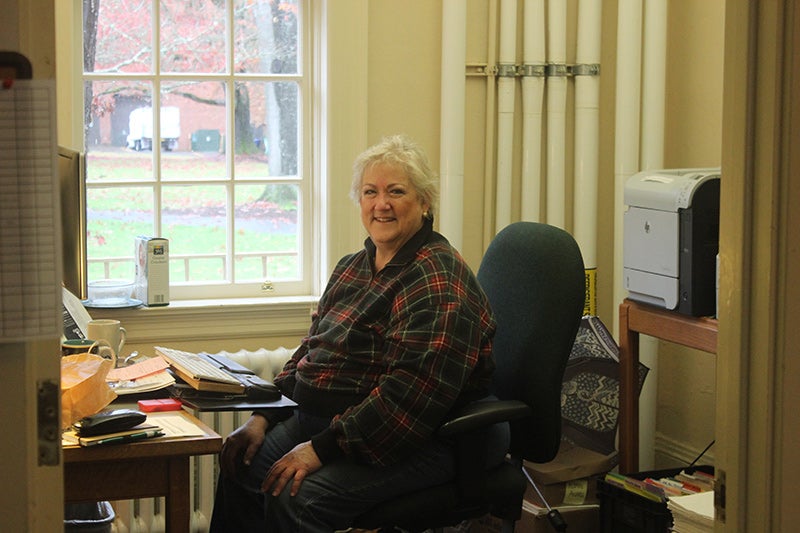 Above: Susanne Zudegi Giordano in her office in Hendricks Hall. Photo by Emerson Malone.
Although her office door in Hendricks Hall reads "Susanne Zudegi Giordano," Giordano answers the office phone as Zudegi and her personal phone as Susanne.
"I have two worlds," laughed Giordano, who interchangeably goes by her first or middle names, the latter from her Native American maternal great-great-grandfather of the Osage tribe. After some research in Knight Library, Giordano legally adopted the name, which translates to "mist blown by the wind."
At Berry College in Rome, Georgia, Giordano studied performance and pipe organ on a four-year scholarship. In high school, she had learned to play an array of instruments including pipe organ, piccolo, flute, glockenspiel, oboe, and alto sax. Later, she worked in educational administration at Georgia State University in Atlanta. Today, Giordano is church pianist at Eugene's Unitarian Universalist Church, where she introduces herself as Susanne.
2016 marks Giordano's 31st year working at the UO. She was hired in 1985 and worked for five years in the now-defunct Speech Department before Mike Hibbard, then PPPM department head, hired her as an office specialist.
This past November 15, Giordano was summoned for an "administrative" meeting, which she soon realized was a ruse.
"I was looking around, like, 'Why is everybody clapping? Why are you all looking at me?' " That's how she learned about her Outstanding Employee Award.
PPPM department head Rich Margerum completed the nomination for Giordano, but a half dozen students, alumni, and faculty also wrote letters of support to nominate her.
"We're a pretty big department with a lot of activities, programs, undergraduate and graduate student groups, events, and lectures around campus, which involve a lot of coordination," said Margerum. "Zudegi goes out of her way to make sure something is scheduled and organized. She does it all with a smile and a great attitude."
Her positive character reflects on the department as a whole, said Margerum, since Giordano is often the first person who students meet in Hendricks Hall.
"She's that initial funnel with whom everyone interacts," he said. "People come away with a positive feeling about the department, which sets a great tone for students and faculty as well."
He added, "Even though the award is for the past 12 to 14 months, this has really been going on for almost 30 years. It's been a lifetime of work."
Giordano will retire at the end of this academic year.
Beth Roy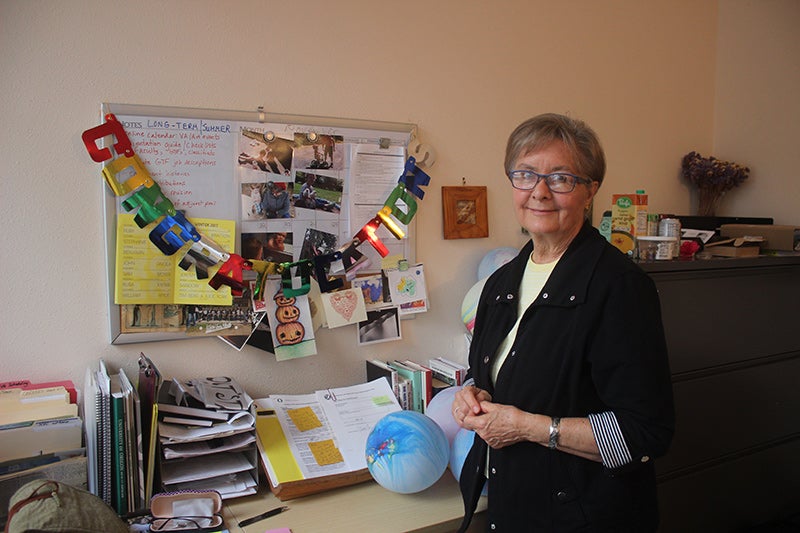 Above: Beth Roy in her office in Lawrence Hall. Photo by Emerson Malone.
From the ribbons dangling off the overhead light to balloons resting on filing cabinets, Roy's office in Lawrence Hall still shows lingering evidence from a celebration.
When Roy came to work on November 16, colleagues Carla Bengtson, Heidi Howes, and Risa Saavedra greeted her by firing off party streamers.
 
"I feel super honored. It was such a surprise when I walked in a week ago Wednesday and there were balloons everywhere," said Roy. "They all knew and I didn't. It was amazing that so many people kept it quiet."
This is Roy's ninth year working in the Department of Art.
"Beth is awesome," said Risa Saavedra, department receptionist. "I think I beat other people to the nomination because I know other people would have nominated her. Everybody loves Beth. We're all really sad that she's retiring [in June 2017]. I think that has made everyone reflect on how important she is."
Roy hails from Flagstaff, Arizona, where she studied biology and music at Northern Arizona University.
Her early work history included a stint at an aviation company in Moab, Utah, where she handled several duties all at once: booking flights, giving weather reports, opening doors on planes, and helping passengers out.
That background in flight came in handy when she arrived at UO.
In Roy's first year at the Department of Art, a coworker ran into her office and told her, "There are things falling outside the conference room window!"
Everyone rushed out to see a dozen baby ducks, which had hatched on the building roof, being shoved off by the mother duck onto a pile of leaves.
"The mother duck proceeded to round them all up and walk across Franklin Boulevard," recalled Roy who, along with fellow staff members, helped escort the ducks safely.
Roy's first job on campus was summer temp work photocopying and archiving donor letters. The job lasted three weeks and was in Agate Hall, where the average indoor temperature hovered around 95 degrees.
"On a couple of days, they sent us home because it was so hot," she recalled. Large industrial fans were installed in the hallway, which was great in theory but not in practice. "We're trying to photocopy these flimsy onion-skin documents, and they're flying all over the place," she said. "That was quite an introduction to the university."
Before her current post, Roy prepared grants for the Institute of Neuroscience in the UO Biology Department.
But it's in the Department of Art where she developed her fondest memories while at UO.
She especially enjoys helping with art shows, mentioning the faculty art show at the Jordan Schnitzer Museum in Art in 2009. "Plus, every year we have a Portland MFA exhibition and we drive up there to see the show," she said.
"Seeing the student artwork is something that is always new and invigorating. I love it. I come to work and see new things when I walk down the hallway every day. Seeing students work and working with wonderful faculty has really kept me going."
Another fond memory was when Carla Bengtson, head of the Department of Art, helped Roy go on an annual spring-break trip to New York City to visit museums, artists' studios, and furniture manufacturers in Brooklyn.
"The exposure to the creative work of students was awesome," said Roy.
Roy added, "This is an absolutely fantastic faculty and staff here. They're all so amazingly kind and wonderful. It's been easy to want to do my best."