Eight UO Department of Art faculty members are among thirty-four artists and artist teams selected from around the state by curator Michelle Grabner for Disjecta Contemporary Art Center's Portland2016 Biennial exhibition. Grabner served as co-curator of the 2014 Whitney Biennial. Photos courtesy Disjecta Contemporary Art Center.
Portland2016 is the fourth Biennial presented by Disjecta, whose 6,000-square-foot exhibition space in north Portland will be the central venue for the Biennial. For the first time, the exhibition will extend beyond Portland, making the Biennial available to a larger and more diverse audience. Confirmed sites are in Pendleton, La Grande, the Umatilla Reservation, Bend, Madras, McMinnville, Astoria, Roseburg, and Ashland, with more venues planned. Satellite locations in all five quadrants of Portland will also be featured.
Grabner reviewed more than 400 artist submissions and conducted more than 100 studio visits across Oregon—perhaps the most extensive outreach to Oregon contemporary artists to date—prior to finalizing her choices. As a result, Portland2016 includes thirteen artists from outside the Portland metro area, more than all previous biennials combined.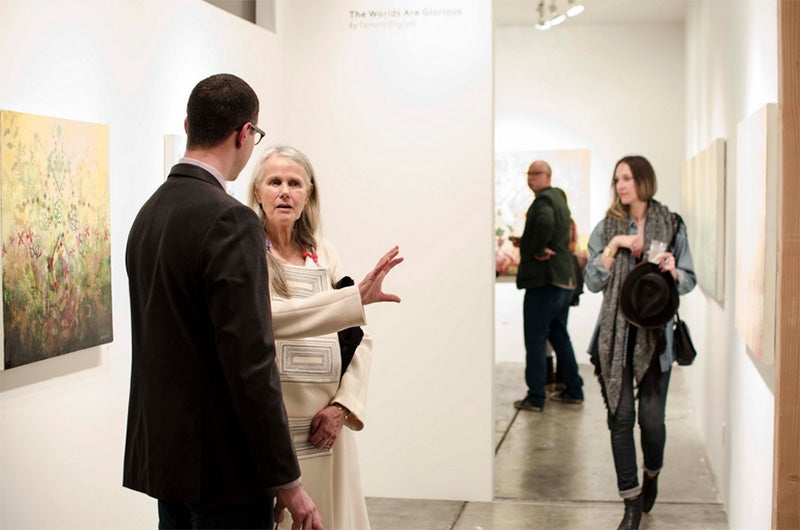 The artists selected include UO faculty members Carla Bengston, Mike Bray, Tannaz Farsi, Anya Kivarkis, Charlene Liu, Donald Morgan, Jack Ryan, and Rick Silva. Also included is Portland artist Heidi Schwegler, MFA '98, metalsmithing and jewelry.
"It is a wonderful testimony to the quality of our program that nearly a third of the artists chosen for this exhibition are art department faculty or alumni," said Carla Bengtson, head of the UO Department of Art. "It is especially rewarding to have our contributions to the arts community recognized by such an important curator."
Due to the number of artists involved, different venues throughout the state will host different artists during the exhibition window, July 9-September 18.  Two to three artists will exhibit at the White Box July 9 through August 27. Other artists will show work at other venues; the final schedule is pending.
"From La Grande to Ashland, I was looking for work that addressed global realities as much as it embraced radical regionalism," Grabner says. "By listening attentively to the language that frames artists' imaginations while witnessing the space of making, my 105 studio visits yielded a treasure of exhilarating work."
The artists range from emerging to midcareer and work in a variety of media from installation, film/video, painting, craft and social-based practices, to site-specific works that challenge the viewer's contemplation of space.
Cris Moss, curator at the White Box, was the first head curator of the Biennial, in 2010.  "I like the way Disjecta handles it," he says of the exhibition. "They started out at a good pace [in 2010] and they build on it every time. Bringing in Michelle, the fact she was curator at the last Whitney Biennial, it's going to bring a lot of international attention to what's happening in Oregon."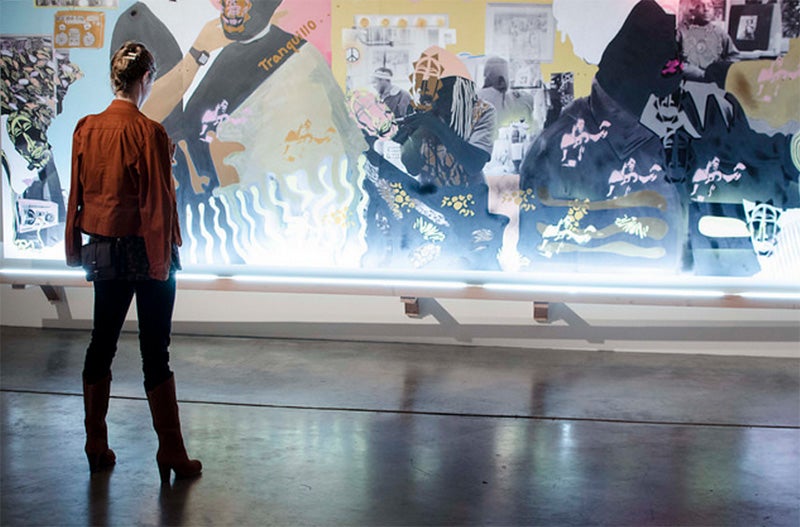 A major survey of work by artists who are defining and advancing contemporary art practices, Portland2016 will include exhibitions, events and performances in multiple locations from July 9 through September 18, 2016. This use of multiple venues will allow artists the space and flexibility to develop work specifically for this opportunity. A catalog with essays by visiting and local writers will support the exhibition.
"Michelle is an artist advocate. She places preeminent value on the studio practice—and conversations in, and about, the studio inform her curatorial interest," says Disjecta Director Bryan Suereth. "Portland2016 will undoubtedly reflect the candid and engaging process Michelle favors."
In addition to those artists selected for the Biennial, the seventy-one artists who also received a studio visit from Grabner have been invited to participate in Salon: Portland2016 Biennial, The Studio Visits, a curatorial index that celebrates the broad spectrum of art-making in Oregon.
Portland2016 continues the tradition of the Oregon Biennial, begun by the Portland Art Museum in 1949. With the end of the Museum's Biennial in 2006, Oregon artists lost a longstanding platform for career advancement. In 2010, Disjecta reintroduced the Biennial, curated by then-Linfield College Gallery director and now White Box curator Moss.
Grabner joined the faculty of the School of the Art Institute of Chicago in 1996, and became chair of its Painting and Drawing department in fall 2009. From 2012-14, she was a senior critic at Yale University in the Department of Painting and Printmaking. Her  writing has been published in Artforum, Modern Painters, Frieze, Art Press, and Art-Agenda, among others. Grabner runs The Suburban and The Poor Farm with her husband, artist Brad Killam.
As a curator, Grabner has been increasingly motivated by localism and how it indicates or defies provincialism, how it relates to or helps shape the broader contemporary scene, and how "decentralization" is changing the landscape of art-making nationally.
Portland2016 is supported by the Oregon Cultural Trust, the Andy Warhol Foundation, the Robert Lehman Foundation, as well as the partnering venues.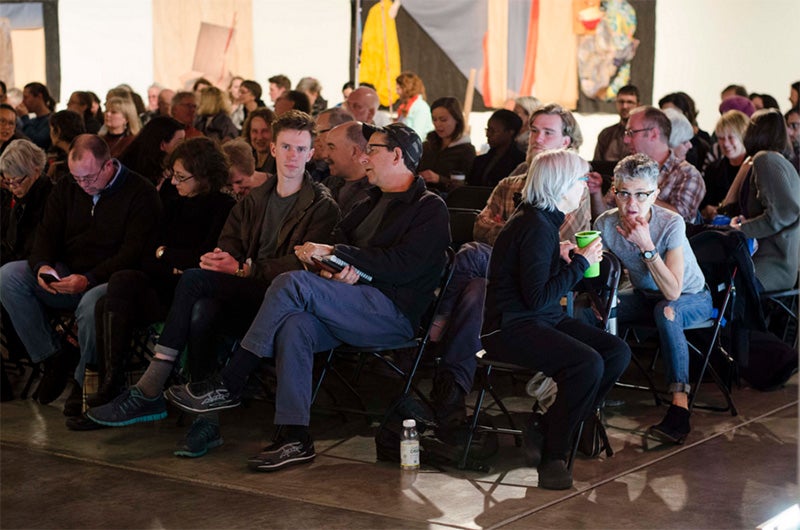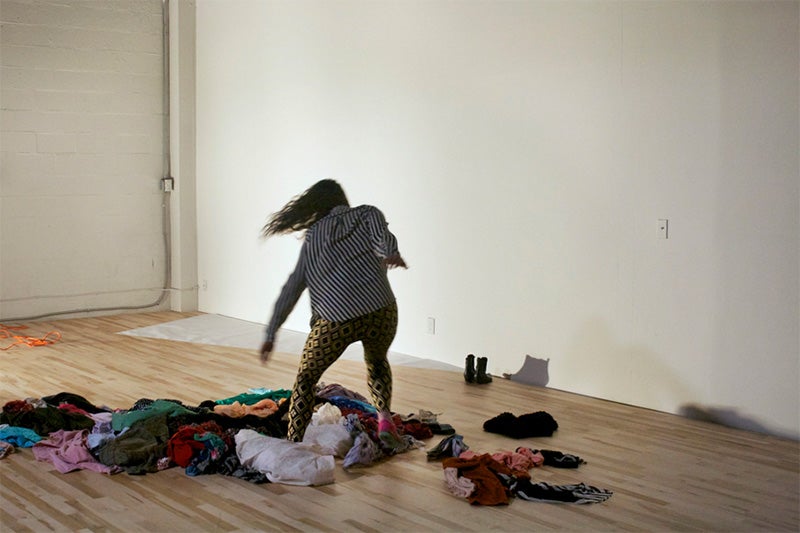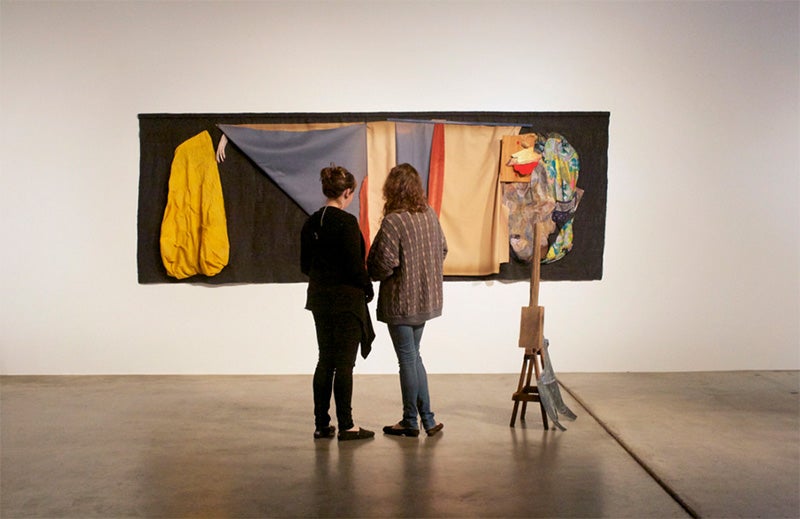 Photos courtesy Disjecta Contemporary Art Center.