Since the 1990s, students and faculty in the University of Oregon ceramics program have practiced repurposing used clay and glaze materials to create tiles, rather than mopping the waste down the drain, the de facto method for most ceramics studios.
UO ceramics professor Brian Gillis will demonstrate the sophisticated process later this month at the annual National Council on Education for the Ceramic Arts conference in Portland.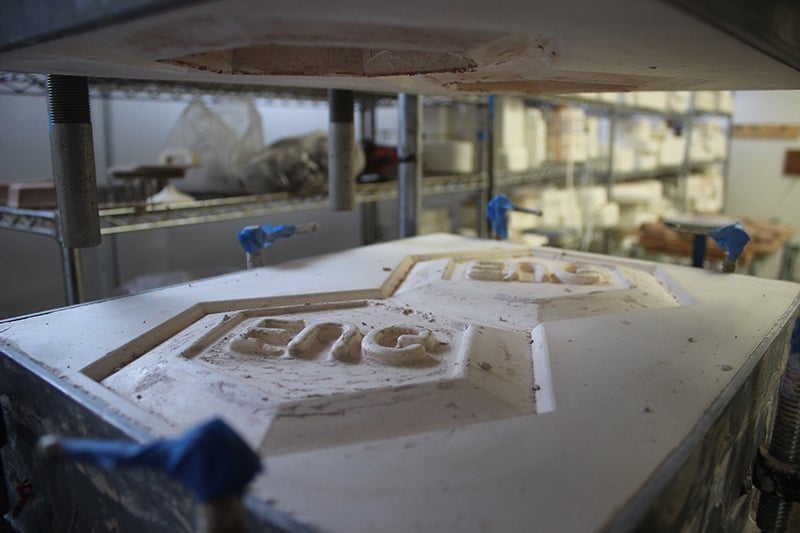 "We've accelerated formalizing the process so that we can publish a how-to guide and assert ourselves as leaders in the field," said Gillis, an associate professor in the UO Department of Art.
Gillis has coordinated numerous events for this month, both directly and peripherally connected to the annual conference, many of which will feature the craftwork of students and faculty from UO.
The preconference events begin with FabLab Open Studio: To Crack A Space, which will take place from 10 a.m. to 4 p.m. March 18–21 at Portland's Oregon College of Art and Craft campus. This event, a partnership between the UO and OCAC, encourages artists, designers, and students to use the OCAC's digital fabrication facility, a space equipped with 3D printers, laser cutters, scanners, and other high-tech gear.
"Our idea behind this event is to invite an artist to use this space to do things they can't do in their studio and ask them to keep in mind the question of the kind of limits and opportunities that these types of academic fabrication labs afford," said Gillis.
This workshop will culminate in a discussion titled "Conversation on Craft: Methods, Fetishes and Affordance" at 6 p.m. Tuesday, March 21, at the Oregon College of Art and Craft in Portland. Panelists include Gillis, who will be moderating, and Anya Kivarkis, UO associate professor of jewelry and metalsmithing.
The discussion will focus on how digital fabrication spaces can influence artists' practice. The event, a part of OCAC's Conversation on Craft forum, is free and open to the public.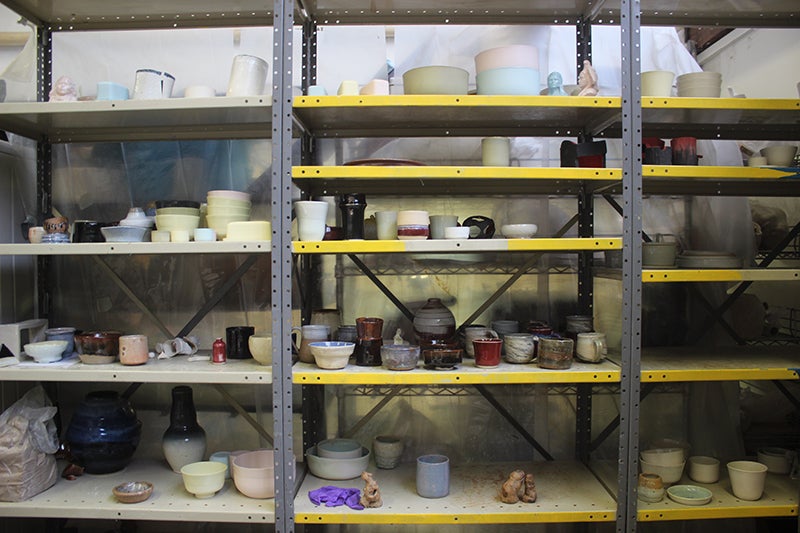 "Breathing Heritage," a Korean ceramic art exhibition, will open March 22 at the Jordan Schnitzer Museum of Art on the UO campus in Eugene. Gillis and curator Anne Rose Kitagawa coordinated the exhibition, funded by a grant from the Korea Foundation.
This event will kick-start a residency program at the UO to bring Korean ceramic artists to campus to create and donate original art to the JSMA collection.
On March 23, Gillis will moderate an NCECA panel "Object Permanence," that will include Kivarkis; Jovencio De La Paz, UO assistant professor in fibers; and UO art instructor Ian McDonald.
That evening, the exhibition "Made in Oregon" — featuring the work of UO students, alumni, faculty, and visiting artists — will have its opening reception at 6 p.m. at the White Box at the University of Oregon in Portland, 70 NW Couch Street.
"I just saw this opportunity to reflect to the world how great the UO is and the only way I could think to do that is to reflect the full breadth of what we do," said Gillis.
For more info on the NCECA conference and its related events, visit the NCECA conference website.