Mollie Favour and Brad Miller — who met under slightly contentious circumstances in a UO classroom in the mid-1970s — return to Lawrence Hall on Thursday, April 28, to talk about their art, their lives, and their pivotal days in Eugene.
 
The decades-long creative partnership of Favour, BFA '77 and MFA '79, and Miller, BFA '74 and MFA '77, built an arts center, raised three children, and formed the stable underpinning for two successful studio-based artistic careers.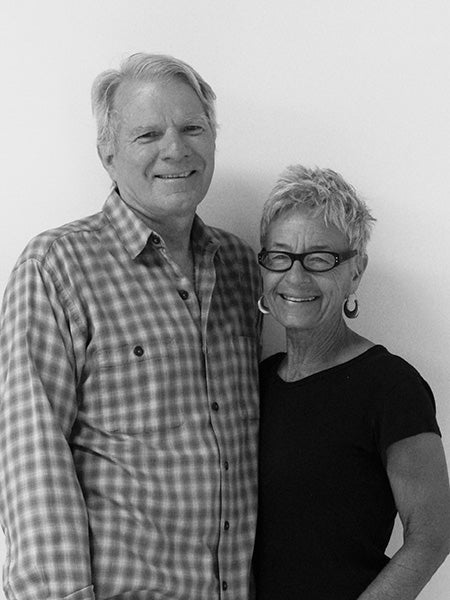 Above: Brad Miller and Mollie Favour. Images courtesy Brad Miller and Mollie Favour.
But it started with a bump.
When Favour first arrived at the UO and tried to sign up for a certain ceramics studio, the graduate student in charge of enrollment, Miller, told her the class was full. Favour said, "I came to this school from Colorado expressly to take this class, and I'm not leaving until I get in." Impressed with Favour's determination, Miller replied, "This department needs more persistent people like you" – and added Favour to the class.
Since graduation, Miller and Favour's credentials as exhibiting and publishing artists and educators have spanned more than two decades and three continents – with showings at Kyoto's National Museum of Modern Art and in the Netherlands; teaching engagements in France, Italy, Jamaica, and Mexico; and pieces housed in museums and collections from Saudi Arabia to the Smithsonian. They now make their home in Venice Beach, California.
Early influences tend to keep brewing in Miller's work, which he'll review during his and Favour's Visiting Artist Lecture at noon, April 28, in Lawrence Hall Room 177. The lecture is free and open to the public.
Miller will discuss his current work and move back through his career, considering the fundamental influences that have shaped his work, including pivotal revelations from his days as a student at UO.
Favour, whose work is based primarily on nature and botany, will show images of plein air landscape paintings and more recent botanical paintings done in the studio. She will also share her ceramic works, including functional pots and ceramic murals done with at-risk youths in Los Angeles, California, as well as the process of creating the Silva Concert Hall curtain in the Hult Center for the Performing Arts in Eugene. She and design partner Margaret Matson won a national competition to design and build the curtain made of velour, applique and mirrors.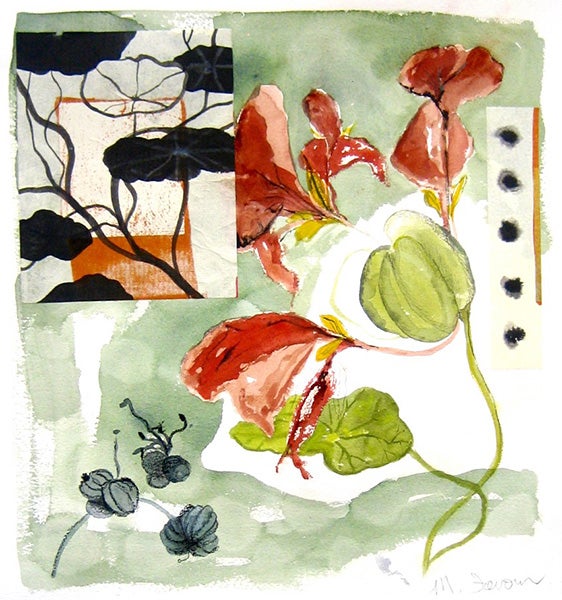 Above: Nasturtium #12, Mixed Media on Paper, 20½" X 19½."
Miller was born in Hillsboro, Oregon, and earned his BFA and MFA at UO. In 1980, he moved from Eugene with his family to the Anderson Ranch Arts Center in Colorado to direct the ceramics program; from 1983 to 1992 he served as executive director of the center. Since 1992 he has pursued a career as a studio artist full time, showing work with the Edward Cella Gallery in Los Angeles. His work is in numerous museums collections including the Museum of Fine Arts in Houston, the Los Angeles County Museum of Art, and the National Museum of American Art in Washington, DC. He teaches ceramics at University of California at Los Angeles.
Favour was born and raised in Prescott, Arizona. She received a BA from the University of Arizona and BFA and MFA degrees in ceramics from UO.
Favour was an artist-in residence and worked on staff at Anderson Ranch Arts Center in Colorado for many years. She has been a studio artist and teaches workshops. She is retired from showing and works in her studio in Venice a few blocks from the beach.

Above: Platter, 2014, porcelain, 22" diameter.