Professor Terri Warpinski opened a show, "Liminal Matter: Fences," in Portland at the gallery at Passages Bookshop on Saturday, April 4. "Liminal Matter: Fences" is the inaugural exhibition at the gallery, a new exhibition space on the top floor of the Towne Storage building in Portland's Central Eastside, 17 SE Third Avenue, #502. The show will be on display through April.
Nearly concurrently, Warpinski's "Surface Tensions" exhibition opened at Northwestern University's Dittmar Memorial Gallery in Evanston, Illinois, on April 2 and runs through May 8.
Warpinski's images at Passages Bookshop are paired with work by Portland poet Laura Winter. Warpinski's photographs document the physical manifestations of the zone where the two nations meet, while Winter's poems remind the viewer of the social and psychological impact of the border on the people whose lives are defined and delimited by that line.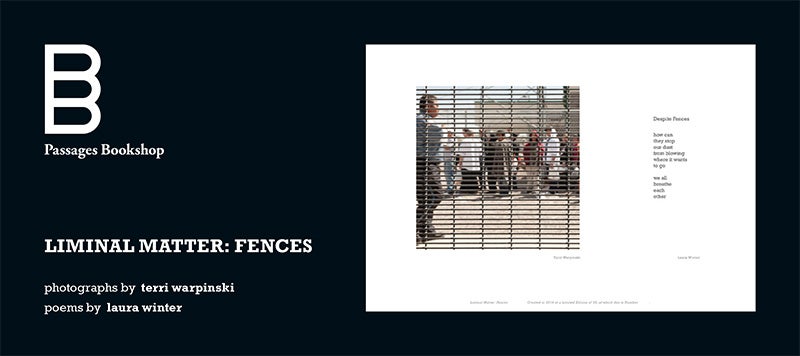 A poetry reading and artists' talk about "Liminal Matter: Fences" will take place Saturday, April 25, from 5-7 p.m.
The fourteen image-and-text broadsides in the collaborative series are digitally printed using archival pigments on Hahnemuhle Photo Rag 308 gsm paper. Each broadside is signed and numbered by the artists in an edition of twenty copies and will be available for purchase individually and as a portfolio; fifteen portfolios will be offered for sale.
Also on view at the gallery throughout the exhibition are prints by Warpinski from the three related series that make up her larger project "Surface Tension," as well as books and broadsides by both Winter and Warpinski.
In Evanston, Illinois, Warpinski's exhibition at the Dittmar Memorial Gallery at Northwestern University focuses on "Surface Tension" exclusively. The exhibition bridges border issues and provides a glimpse of lands that either continue to be, or once were, politically divided.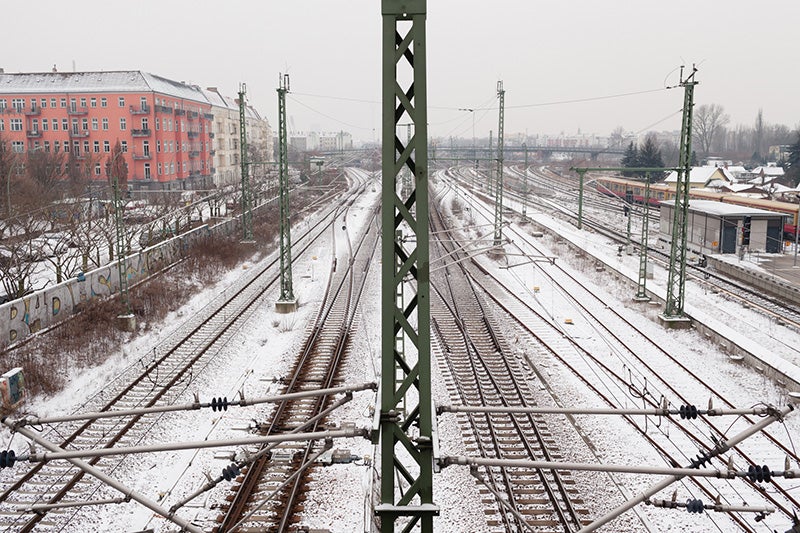 Above: 
Breach [Bosenbrucke Bridge]
, 31" x 16" by Terri Warpinski.
"In 'Surface Tension,' two geographies half-a-world apart—the U.S-Mexico borderland and the Occupied Palestinian Territories—are seen in parallel with present-day Berlin," Warpinski says. "Through these photographs I probe varying aspects of power and conflict and the consequences incurred when national desires for security dominate other social or environmental concerns."
The show features more than fifty color photographs that reflect Warpinski's deep respect for the natural environment and her interest in the traces of human connections embedded in the landscape. It also incorporates various methods of digital photography and juxtaposes diptychs, triptychs, and sequential configurations of singular images.
Most of the series is in the form of multi-image sequences printed together, however a few remain as individual photographs.
For the project, Warpinski used a range of Canon and Sony digital cameras and various iPhones, ranging from the iPhone 2 to the iPhone 5. Many of the framed, wall-mounted photographs are large-scale pieces printed on archival rag paper.
Warpinski took the photos along the Israel-Palestine border in 2010 and 2014 and the ones along the U.S.-Mexico border in 2009 and 2013. She shot the photos in Berlin in 2010, 2011, 2013 and 2014.
"Borders, walls, fences, boundaries, divides, separations— barriers all—in their most primitive stage, are a decision, a human determination," Warpinski says. "They first exist in the place of the mind and enter the landscape in that way, as concept."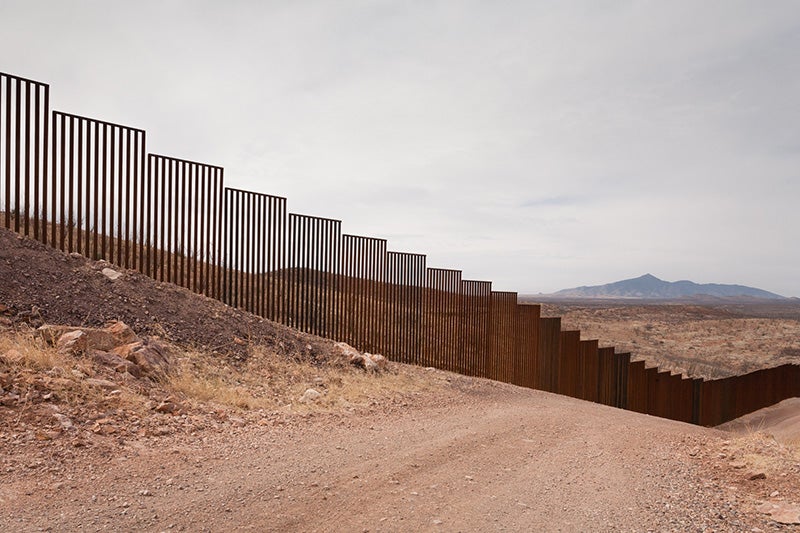 Above: 
Water [Absence and Presence Of]
, archival digital print, 32" x 17," right panel of diptych, edition 2 of 5. By Terri Warpinski.
Warpinski travels the world to pursue her creative practice. She was a Fulbright Scholar in Israel in 2000-2001. Her recent awards include an Individual Artist Fellowship (2014) and a Career Opportunity Grant in 2013 from both the Ford Family Foundation and the Oregon Art Commission.
Her work has been shown in more than 125 exhibitions, including the Pingyao International Festival of Photography in China, the U.S. Embassy in Jerusalem, Houston International Fotofest, Center for Photography at Woodstock, the University of the Arts Philadelphia, and San Franciso's Camerawork.
Warpinski teaches university-level coursework and photography workshops based on landscape and environmentally oriented photography. She also has taught special workshops at places including Penland School of Arts and Crafts in North Carolina in nontraditional photographic techniques using processes from the 19th century, such as cyanotype, calotype, wet-plate collodion and salted paper, and mixed media approaches to photography as well as collage. Read more about Warpinski on her website.

Above: Terri Warpinski, a professor in the UO Department of Art, travels the world to pursue her creative practice.