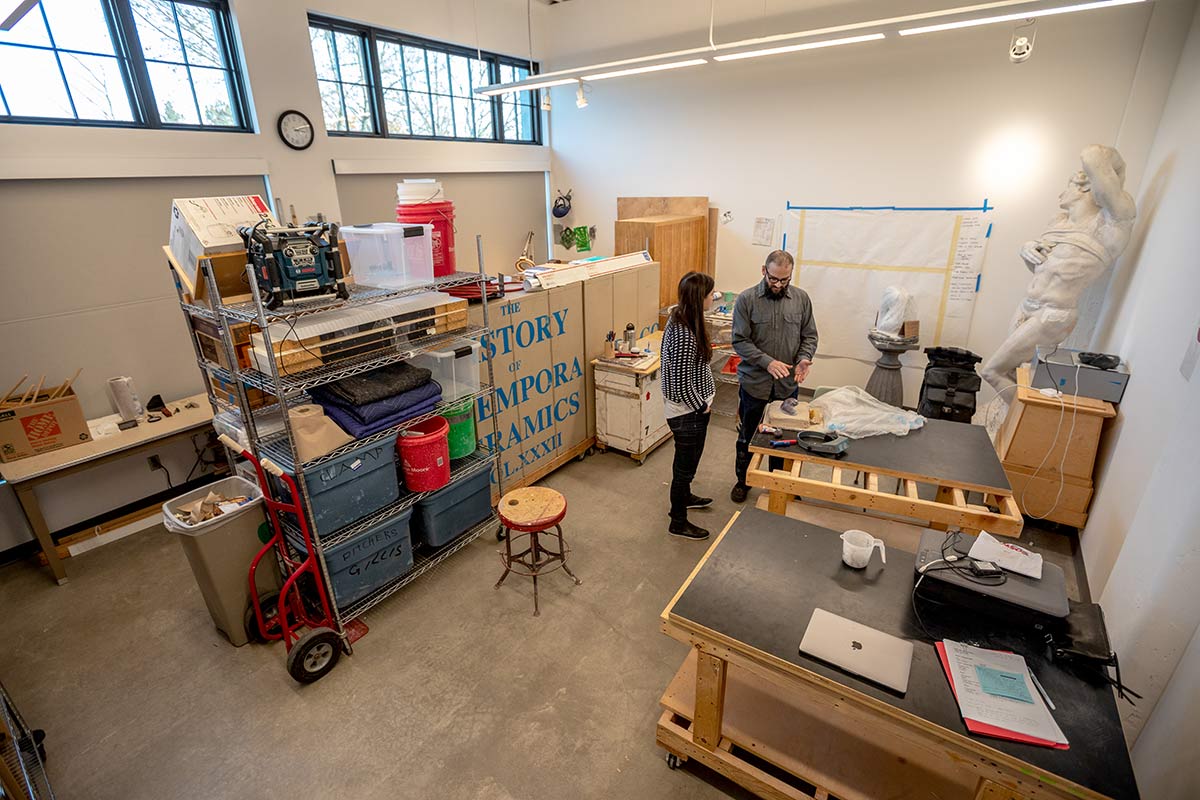 On a cool November night, light glowed from the historic Willamette Stationers building at 510 Oak, the space buzzing with people for the first time since its closure in 2014.
"It was a real sweet spot of a moment to get this building," Laura Vandenburgh told the crowd, a mix of College of Design and UO faculty and staff and people from the community including University President Michael Schill, Eugene Mayor Lucy Vinis, and developer Brian Obie. Vandenburgh, the head of the School of Art + Design, addressed the group gathering for the soft opening of 510 Oak, the new home for Art and Product Design faculty research studios and the Center for Art Research.
Join us at First Friday ArtWalk!
All are welcome.
Dec. 7, 5:30 p.m.
510 Oak Building
at 510 Oak St.
The guided tour begins at 5:30 p.m.
and the faculty exhibition will be
on view to the public until 8:00 p.m.
The building, purchased by the University of Oregon in 2017, and newly renovated by local firm 2fORM Architecture, will celebrate its grand opening to the public and will be the first stop on Lane Arts Council's First Friday ArtWalk on Dec. 7 at 5:30 p.m. Work from the 24 faculty with studios there will be on display and Vandenburgh will speak.
"We are thrilled to be present, active, and visible in downtown Eugene," said Christoph Lindner, Dean of the College of Design. "Bringing our creative community together in one building is energizing, and we are excited about engaging our surrounding community and contributing to the cultural life of the city in this new location."
Liora Sponko, executive director of Lane Arts Council, said it's going to help cement Eugene as an arts destination for cultural tourism.
"There's a lot of excitement in the community about the building from various perspectives," Sponko said, pointing out the arts community and the business and tech sectors. "There is so much the University of Oregon is doing that the community doesn't always know about or have access to," she continued. "There is a need for more spaces–brick and mortar buildings. Again, that's why this building is so important. We need not only networks, but actual physical spaces."

Vandenburgh called it a watershed moment. "The institution is investing in the ways we do research, which is studio practice," she said. The two-story 510 Oak building houses 22 studios for 18 art faculty and 6 product design faculty. Two of the studios are double the size for product design, which more often requires collaborating in teams. She said it will benefit the community not only to see art and design pieces, but also be witness to the sometimes-mystifying process of creating them.
"In our discipline, it's about inquiry. Just like a scientist runs an experiment in the lab, artists are also asking questions in their studios."
In the coming months, 510 Oak will also launch the Center for Art Research, which Vandenburgh described as a thinktank for artmaking. "It's about how artmaking can ask questions in different ways than other fields."
Vandenburgh explained the countless opportunities for interaction and collaboration that the space provides, from giving feedback to professional networking, to a broader exposure to visiting curators and art critics.
Historically, art and design faculty studios have been scattered around campus and the city. This is the first time they will be making and conducting research in proximity to one another.
"To be working alongside one another is incredible," she said.
Click any image below to enlarge and view in image gallery.