Nic Adenau was a junior at the University of Oregon when the independent company behind Macklemore & Ryan Lewis approached him for freelance work. Impressed by his skills in the digital arts, they hired Adenau to work on their music videos and tour visuals.
The music videos for "Can't Hold Us" and "Same Love" by the Seattle-based rapper and producer duo became two of 2013's most-watched music videos, and neither video would have their measure of popularity without Adenau. He worked on obtaining location permits in Los Angeles and finding animal talent, including a kangaroo and camel, for "Can't Hold Us." He provided the archive footage for "Same Love," and helped out with tour visuals around the time the album "The Heist" debuted.
"Can't Hold Us" is a complicated music video in which the rapper circles the globe via parachute, dog sled, camel, pirate ship, and a trailer hitched to a truck. The video has earned 152 million views on YouTube. "Same Love," an outspoken criticism of homophobia in hip-hop culture and modern society, drew 95 million views.
After freelancing eight months for the company, Adenau was hired full time as a commercial and fine artist.
"I'd never thought in a million years that I would have two things I love, hip-hop and LGBT issues, come together" in a career, said Adenau, who now lives in Portland.
Raised in St. Helens, Oregon, Adenau graduated from UO in 2013 with a bachelor's degree in digital arts. He praises the department for its innovation and attention to the ever-changing medium.
"It taught me to extend my mind and take on issues that were very relevant toward the digital platform," he said. "The program pushes its students to be [up to date on] not only what's current but what the next frontier will be."
He learned he wanted to work at a nexus of digital arts and music culture during a "time-based media" course with Department of Art instructor Ty Warren.
"It instantly just clicked with me," Adenau said. "This was why I came here; this was what I wanted to be doing with the rest of my life. Digital arts had just been a hobby up until that point. [Warren] presented digital work from modern musicians and artists. She understands what's going on in pop culture and really grasps her students."
And Warren was impressed by Adenau. "If any student I've ever worked with in my entire life could do it, it would be him," she said. "Nic has a work ethic unlike anyone I've ever had, and I've had some stellar students."
The Huffington Post was also intrigued by Adenau's projects, posting a story about him that has been "liked" by hundreds of people and retweeted dozens of times.
Starting next year, Adenau will begin his passion project, "20," on behalf of LGBT teens, who often face victimization and bullying. He plans to travel across the West Coast to document the stories of twenty victimized LGBT teens through interviews and photography.
"I was upset that when I did research— the only pieces of journalism or art I could find were [not firsthand accounts of discrimination]," said Adenau. "I'm trying to have these voices heard. I want it to fit on its own and be an honest approach to the issue."
Said Warren, "I think ["20"] is fantastic. It's necessary; it's timely. Nic's always had a really intuitive feel how to do certain things, when it would generate the most support, and when it was needed. His intuition is guiding really well in this particular instance."
A previous Adenau project, "April 21st, 2011: The American LGBT Experience," started as an independent study overseen by Warren. For the project, Adenau sent twenty-one disposable cameras to different LGBT community members across the country and asked them to document their day. He says the network he developed with LGBT teens will help him find sources for "20."
The project received a diversity art grant from A&AA and was nominated for the American Library Association's Over The Rainbow Award, a book list that recognizes publications that showcase an authentic LGBT experience.
The Kickstarter page for "20" can be found here. More information on Adenau and his current and past projects may be found on his website.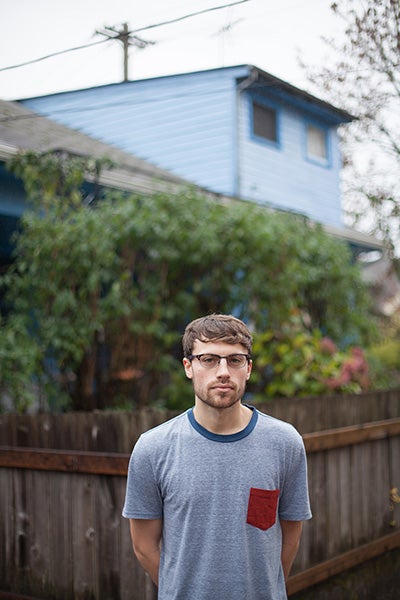 Above: Nic Adenau works as a commercial and fine artist for the independent company behind the musical duo of Macklemore & Ryan Lewis. Photograph by Olivia Ashton.