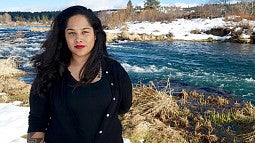 Natalie Ball (BA Art, Ethnic Studies '05), a multidisciplinary installation artist, will be one of three Golden Spot artists to complete a residency in 2019 at the Crow's Shadow Institute of the Arts outside of Pendleton, Oregon, on the Confederated Tribes of the Umatilla Reservation. Crow's Shadow houses the only professional printing press in the U.S.
 Ball began painting as an undergraduate at the School of Art + Design.
After studying at the University of Oregon, the Oregon artist went to New Zealand's Massey University to obtain a masters in Maori Visual Arts and then to the Yale School of Art, where in 2018 she received an MFA in painting and printmaking.
In her expressive sculptural work, Ball, of the Klamath-Modoc tribes, challenges dominant narratives about the Native American experience using materials ranging from textiles, leather, beads, and wood to coyote teeth, hair, fur, and bone. In 2018, Ball won the Seattle Art Museum Betty Bowen Award and was named by Artsy as one of 20 female artists pushing sculpture forward.
Read more about Ball and the residency in the Walla Walla Union-Bulletin's story, "Crow's Shadow names Golden Spot Award residency recipients."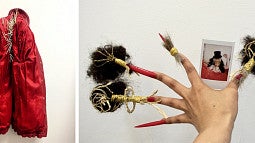 'Thriller," leather and porcupine quills, 2017 (left); 'Bone Thrower,' 2018