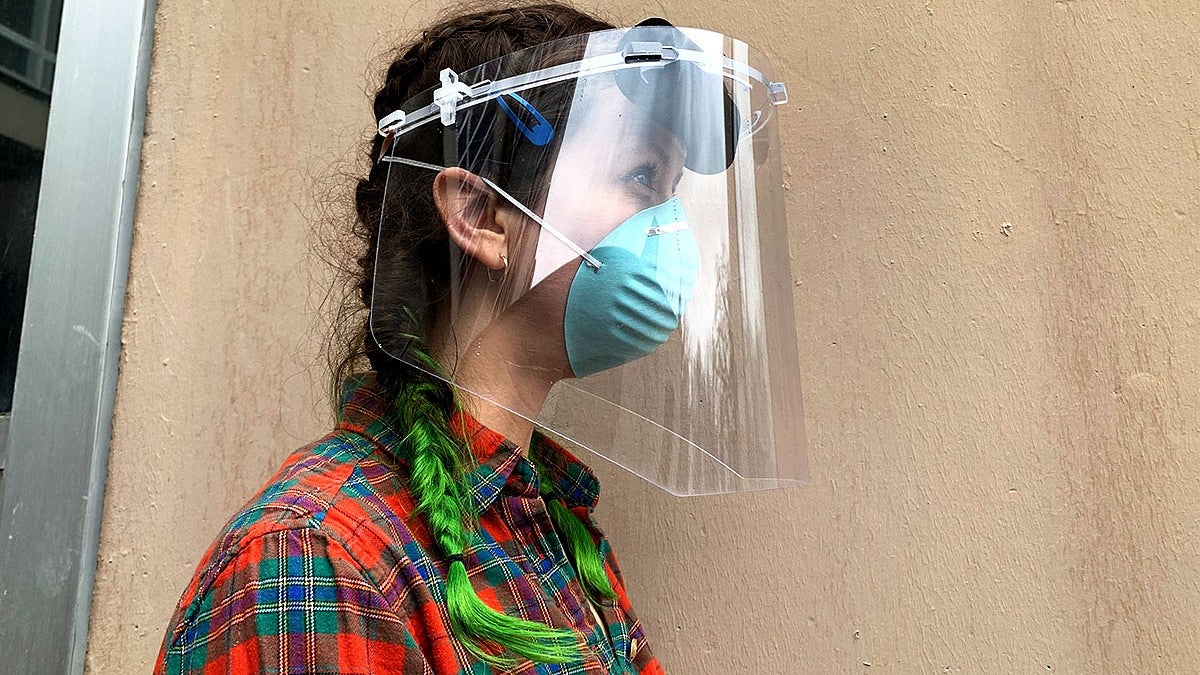 BFA student Geordi Helmick
Art & Technology BFA student Geordi Helmick (class of 2020) has helped fabricate more than 200 face shields (Editor's note: As of June 30, 2020, this has grown to 2,000) and counting in the UO Scientific Instrument Fabrication and Engineering Shop to help the fight COVID-19 locally.
"I saw a surge in a lot of maker communities making shields and masks," said Helmick, who is also the student shop manager, at the beginning of the outbreak in the U.S. "We wondered, 'What can we do with the machines we have?' "
She said Georgia Tech had published a widely accepted design, so the shop team took that and adapted it for their equipment.
As Around the O reported, "workers in the machine shop, which produces high-precision instruments for UO science labs, are using a water-jet cutter to fabricate the face shields. The shields protect the wearer's face from body fluids and can be worn in conjunction with masks."
Helmick works in the shop with two other art undergraduate students—Koa Hencke and Eva Emter. She says that the shop has had a large role in her art practice, and sometimes in the practices of faculty as well. The shop has fabricated hanging hardware for Associate Professor of Art Tannaz Farsi, used the water-jet cutter to cut a piece of steel for a piece by Professor of Art and Acting Department Head Amanda Wojick, and water-jet cut a chair for Assistant Professor of Art Sylvan Lionni.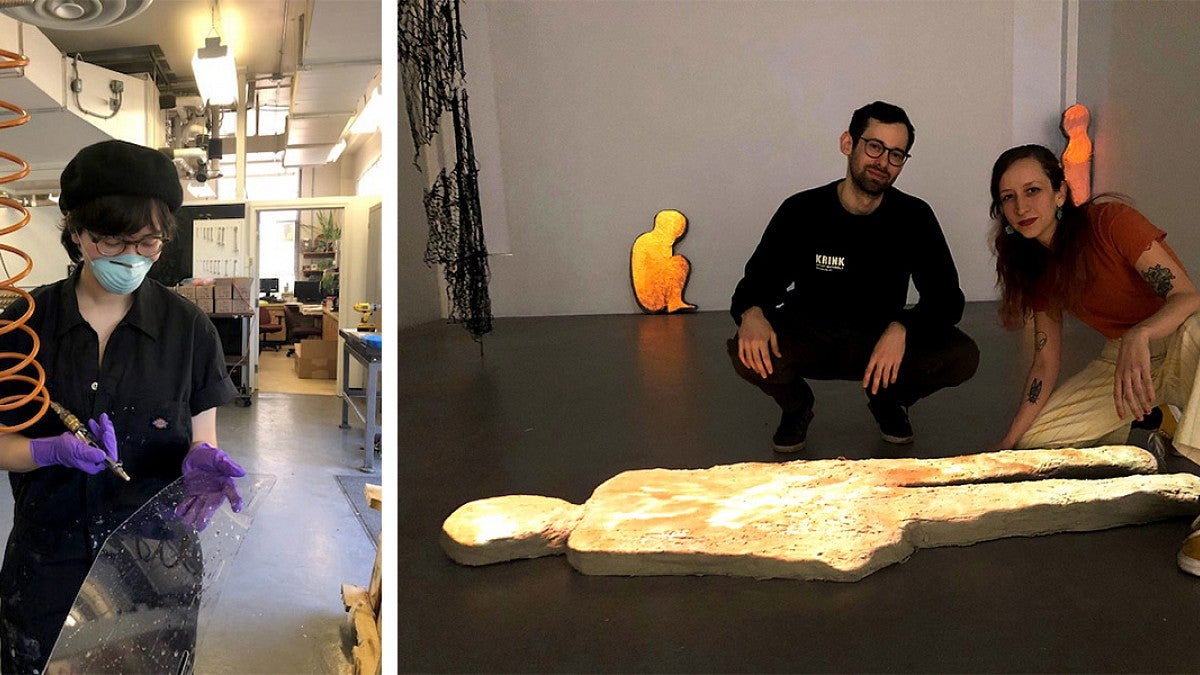 Art student Eva Emter in the fabrication shop; Art student Koa Hencke with Helmick at the 'Three Bodies' exhibition at the LaVerne Krause Gallery
"I use the shop facilities and tools to make my art," said Helmick, who started in the shop a year and half ago. "Making my art has made me better with the tools here."
In 2019, the artist—who received the J. Donald Hubbard Family Scholarship (a scholarship awarded to MFA and BFA students in the Department of Art)—made a photobook about the shop and the role of women in the machine shop, "because not a lot of women work here or in machine shops in general." She added, "My thesis that I'll be doing this term is directly related to femininity and machining."
Helmick also recently did the collaborative installation show, "Three Bodies," with Hencke and Emter in the LaVerne Krause Gallery; Helmick did video projections on sculptures created by Hencke, and Emter made nets.
Read more about the UO production of face shields in the Around the O story "UO shop to begin fabricating much-needed face shields." Or in the KPIC article "UO Science Machine Shop works to produce reusable face shields to help battle COVID-19."
Excerpt from Helmick's photobook; Helmick in the fabrication shop