The Visiting Artist Lecture Series, presented by the Department of Art and the Center for Art Research, introduces students and the community-at-large to a broad range of international interdisciplinary practitioners including artists, curators, critics, and historians. The department is committed to inviting innovative and prominent professionals to speak about their influences and processes within their current practice as part of the public lecture series and also to engage with students in small groups or individual studio critiques.
All lectures are free and open to the public. We invite you to explore 10+ years of Visiting Artist lecture videos on the UO Channel and to visit 5 Minutes for conversations between Visiting Artists and MFA candidates.
Join the School of Art + Design email list to hear directly about upcoming lectures and events.
Register for ART 407 to receive 1 credit for attending lectures. No prerequisite is required.
---
2020–21 Visiting Artist Lecture Series
Lectures begin at 4:00 p.m. Pacific Time, unless otherwise noted.
Lectures are live on Zoom with registration and will also livestream on the Department of Art Facebook.
Fall 2020
Winter 2021
Spring 2021
Glenn Adamson
Thursday, April 8
Rebecca Morris
Thursday, April 22
Amir Zaki
Thursday, May 6
Natalie Ball
Thursday, May 20
---
Simon Starling
Davis Family Lecture
"Regarding Time"
Thursday, October 22
Watch a video of this lecture on the UO Channel.
With a particular focus on his activities as an exhibition maker, this richly illustrated talk will attempt to investigate the ways in which Simon Starling's materially diverse art practice pushes and pulls at our understanding of time. From futuristic Zig-Zag chairs made of 45,000-year-old wood to the phantasmagorical effects of masquerades, from defunct craftsmanship to cutting-edge image production, from still photography to motion-control technology, this anachronic journey through the artist's career will confront a uniform and absolute notion of time with possible divergent, convergent and parallel alternatives.
Simon Starling was born in Epsom, England, in 1967. He graduated from the Glasgow School of Art and was professor of fine arts at the Städelschule in Frankfurt from 2003 to 2013. His practice spans a wide variety of media, including film, installation and photography. Starling won the Turner Prize in 2005 and was shortlisted for the Hugo Boss Prize in 2004. He represented Scotland at the Venice Biennale in 2003 and has had solo exhibitions at Frac Ile-de-France, Le Plateau n Paris (2019), Musée regional d'art contemporain in Sérignan (2017), Japan Society in New York (2016), Museo Experimental El Eco in Mexico City (2015), Museum of Contemporary Art in Chicago (2014), Monash University Museum of Art in Melbourne (2013), Staatsgalerie Stuttgart in Germany (2013), Hiroshima City Museum of Contemporary Art in Japan (2011) and Massachusetts Museum of Contemporary Art in North Adams (2008). Starling lives in Copenhagen.
This lecture is made possible by the Davis Family Endowed Fund in Art.
---
John Mann
"The Walled Garden"
Thursday, October 29
Watch a video of this lecture on the UO Channel.
"My photographic images are highly influenced by my simultaneous interests in sculpture and drawing. By using the still life as a stage for the camera, I am interested in a conceptual and aesthetic building of the image. The camera ultimately lets me assign the eye to a fixed vantage point, where the resulting image both amplifies and denies the sculptural aspects of the work placed in front of the camera. These images use elements of drawing by requiring light to both reveal and obscure an object, or to use positive/negative forms to push and pull the image in the frame. I see this working process as a means to create images that are simultaneously easily understood and distinct abstractions of the subject itself." - John Mann, 2020
John Mann is an artist who explores the visual complications of photography, the sequence and the still life though printed images, artist books and sculptural works. His artwork has been exhibited at venues such as Aperture, (NYC), Light Work (Syracuse, NY) Daniel Cooney Fine Art (NYC), Hyeres Festival of Photography (FR), Phillips de Pury (London), PDX Contemporary (Portland), Newspace Center for Photography (Portland), The Print Center (Philadelphia), Privateer Gallery (Brooklyn), and the Houston Center for Photography (TX). He has had artist residencies at Light Work (NY), The Visual Studies Workshop (NY), Virginia Center for Creative Arts (VA) and was a Research Fellow at the Lacoste School of the Arts (FR). He earned a BFA i(Studio Art) from Arizona State University and an MFA (Photography) from The University of New Mexico. He currently lives and works in Chicago and is a member of the Cake Collective photography network.
---
Jenna Sutela
"Many-Headedness"
Thursday, November 5
Jenna Sutela will share some of her ongoing artistic research on biological and computational systems. Sutela's talk will focus on an understanding of oneself as interconnected with the wider environment. It proposes a profound shift in subjectivity—one beyond anthropocentrism and individualism.
Jenna Sutela works with words, sounds, and other living media, such as Bacillus subtilis nattō bacteria and the "many-headed" slime mold Physarum polycephalum. Her audiovisual pieces, sculptures, and performances seek to identify and react to precarious social and material moments, often in relation to technology. Sutela's work has been presented at museums and art contexts internationally, including Guggenheim Bilbao, Moderna Museet, and Serpentine Galleries. She was a Visiting Artist at The MIT Center for Art, Science & Technology (CAST) in 2019-20.
---
Jess Perlitz
"I Don't Want to Live on the Moon"
Thursday, November 12
Grappling with how space gets articulated, Perlitz's work takes many forms - traversing performance, sculpture, and drawing. The work considers landscape and the ways in which define and seek to recognize ourselves within it.
Perlitz's work has appeared in a variety of venues such as playgrounds, fields, galleries, and museums, including the Institute for Contemporary Art in Philadelphia, Socrates Sculpture Park in NY, Cambridge Galleries in Canada, De Fabriek in The Netherlands, and aboard the Arctic Circle Residency. Born in Toronto, Canada, Jess is a graduate of Bard College, received her MFA from Tyler School of Art, and clown training from the Manitoulin Center for Creation and Performance. Jess is a 2019 Hallie Ford Fellow currently based in Portland, Oregon where she is Associate Professor of Art and Head of Sculpture at Lewis & Clark College. Jess was recently an artist in residence at the Bemis Center for Contemporary Art in Omaha, NE, and included in the 2019 American Academy of Arts & Letters Invitational Exhibition of Visual Arts in NYC. Her project, Chorus, is currently installed at Eastern State Penitentiary in Philadelphia, PA as part of the museum's ongoing artists installation series.
Co-sponsored by the Jordan Schnitzer Museum of Art and the Department of Art and made possible by The Ford Family Foundation in conjunction with Hallie Ford Fellows in the Visual Arts (2017-19).
---
Caroline Woolard
"Art, Engagement, Economy: the Working Practice of Caroline Woolard"
Thursday, November 19
Watch a video of this lecture on the UO Channel.
Art, Engagement, Economy: the Working Practice of Caroline Woolard proposes a politics of transparent production in the arts, whereby heated negotiations and mundane budgets are presented alongside documentation of finished gallery installations. Audience members will follow the behind-the-scenes work that is required to produce interdisciplinary art projects, from a commission at MoMA to a self-organized, international barter network with over 20,000 participants. With contextual analysis of the political economy of the arts, from the financial crisis of 2008 to the COVID pandemic of 2020, this talk suggests that artists can bring studio-based sculptural techniques to an approach to art-making that emphasizes interdisciplinary collaboration and dialogue.
Caroline Woolard (b.1984) is an American artist who, in making her art, becomes an economic critic, social justice facilitator, media maker, and sculptor. Since the financial crisis of 2007-8, Woolard has catalyzed barter communities, minted local currencies, founded an arts-policy think tank, and created sculptural interventions in office spaces. Woolard has inspired a generation of artists who wish to create self-organized, collaborative, online platforms alongside sculptural objects and installations. Her work has been commissioned by and exhibited in major national and international museums including MoMA, the Whitney Museum, and Creative Time. Woolard's work has been featured twice on New York Close Up (2014, 2016), a digital film series produced by Art21 and broadcast on PBS. She is the 2018–20 inaugural Walentas Fellow at Moore College of Art and Design and the inaugural 2019–20 Artist in Residence for INDEX at the Rose Museum, and a 2020-2021 Fellow at the Center for Cultural Innovation.
---
Fred H. C. Liang
"Convergence"
This lecture is made possible by the Gordon W. Gilkey Endowed Fund.
Thursday, January 14
Register for the Fred H. C. Liang lecture or join us on Facebook.
Much of Fred H. C. Liang's recent work combines jianzhi, the folk art of cut paper, with porcelain to explore cultural exchanges between the East and West. The assemblage of his work explores the complex global exchanges and the subsequent dissemination, appropriation, and transformation of cultural ideas and peoples. Life is more bewildering than fiction, and hidden, historical narratives more beguiling than those preconceived. In his work, Liang takes viewers down the rabbit hole of domestic and global events, where our collective understanding of history is disassembled and linked as unexpected chains of events—and descending through the burrow allows an alternate reality to reveal itself. In much of his work, he excavates familiar global narratives to illuminate the complexity of events that impact both Eastern and Western societies in unanticipated ways. Doing so encourages a visual dialogue that examines the intangibility of the past, present and future by considering the tangibility of personal rituals, cultural traditions and shared iconography. Such considerations expose the fragility and impermanence of things both large and small. Through forms and materials, Liang's work re-contextualizes art and deconstructs cultural traditions from places far and near—reflecting societies' cultural and economic exchanges.
Fred H. C. Liang received a BFA from the University of Manitoba and an MFA from Yale University. His honors include Massachusetts Cultural Council Arts Grants in both painting, printmaking and works on paper. Liang's work is in numerous public and private collections including Fidelity, the Gund Collection, Addison Museum of American Art and the Rose Art Museum at Brandeis University. He recently exhibited work at the Currier Museum of Art in NH, Inside Out Museum in Beijing and the ICA, Boston. Liang's most recent exhibitions include the Milwaukee Art Museum in Milwaukee, Wisconsin and Addison Museum of American Art in Massachusetts, XC.HuA Gallery in Berlin and Jerez de la Frontera Gallery at University of Cadiz. He just completed a residency at the Museo de Arte Contemporary in Sandiago de Chile and the Swatch Art Peace Hotel in Shanghai, China. His work was recently interviewed by Huffington Post, WBUR Open Studio and reviewed in The Boston Globe. Liang is a professor at the Massachusetts College of Art and Design in Boston, Massachusetts, USA where he is the Coordinator of the Printmaking Department. Liang is also a 2020 Joan Mitchell Foundation Grant recipient.
---
Jillian Mayer
"Time To Chill"
Thursday, February 4, 4:00 p.m.
Live on zoom. Free and open to the public.
Register for the Jillian Mayer lecture or join us on Facebook.
Mayer shares her works and ideas that speak to the fluid nature of her process as an artist. Identity formation, experience, digital vs analog environments, value, legacy, and dependency are just some of the themes that will likely be discussed. Mayer hopes this will be somewhat entertaining.
Jillian Mayer's practice—spanning videos, sculptures, painting, photography, performances, and interactive installations—reflects upon how new technologies affect our sociality, bodies, identities, and conceptions of self. Throughout her work, Mayer models how to subvert capital-driven modes of technological innovation. By investigating the points of tension between our physical and virtual worlds, Mayer makes work that seeks to inhabit the increasingly porous boundary between the two.
Mayer has exhibited internationally at venues including MoMA and the Solomon R. Guggenheim Museum. Her work has been featured in Artforum, Art in America, and The New York Times. She is an alum of the Sundance Institute's New Frontiers Lab and a recipient of the Creative Capital Fellowship.
---
Laura Fritz
"Mechanisms of Uncertainty"
Thursday, February 11, 4:00 p.m.
Live on zoom. Free and open to the public.
Register for the Laura Fritz lecture or join us on Facebook.
My installations meticulously cultivate the mechanisms and peculiarities of human cognition in response to uncertainty. They trigger embedded root sociological, anthropological, architectural and scientific cues through furniture, ergonomics, space, light and haunting animal activity. This stagecraft of untethering is designed to produce an expansive sense of empathy and investigation. Questions frame reality. What are the borders between science, nature and superstition? Is an object the cure or the disease? How do social protocols for the domestic, sacred or scientific intersect? Through these encounters with the unknown, viewers construct their understanding, a process psychologists call apophenia. — Laura Fritz, 2020
Laura Fritz is a Portland-based artist who works with a range of media, including, sculpture, video, and light. Her immersive installations explore the cognition of uncertainty. Her work Alvarium 2, currently on display in Laura Fritz/Rick Silva: Encounters at the Jordan Schnitzer Museum of Art (Eugene) presents a mysterious structure inhabited by a spectral swarm of bees. Recently, her Apex Series solo show at the Portland Art Museum explored surreal architecture, swarms, and the psychology of cognition. She has also exhibited at the Des Moines Art Center, Reed College, Portland; Soil, Seattle; Aljira Center for Contemporary Art, Newark, New Jersey; University of Oregon, Portland; and the Couture Stipend Series at the New American Art Union in Portland. Fritz received an Oregon Arts Commission Individual Artist Fellowship in the Visual Arts (2014). She holds a BFA from Drake University, and also attended the Pacific Northwest College of Art (CE program), Portland.
Co-sponsored by the Jordan Schnitzer Museum of Art and the Department of Art.
---
Hamza Walker
Critical Conversations lecture
Thursday, March 4, 4:00 p.m.
Live on zoom. Free and open to the public.
Register for the Hamza Walker lecture or join us on Facebook.
Hamza Walker is the Director of LAXART, an independent nonprofit art space in Los Angeles. From 1994–2016, he was the Director of Education and Associate Curator at the Renaissance Society at the University of Chicago, a non-collecting museum devoted to contemporary art. He recently curated Postcommodity: Some Reach While Others Clap (2020), the two person exhibition Outside/In (Phil Peters and Karen Reimer) (2019), Barbara Stauffacher Solomon: Relax Into the Invisible (co-curated with Catherine Taft) (2019), Marie Voignier, Tinselwood (2019), the group exhibition Sperm Cult and Sol LeWitt: Page-works 1967-2007, both in 2018.
This lecture is made possible by the Critical Conversations | Inside Oregon Art program, a partnership between the Ford Family Foundation and the University of Oregon Department of Art's Center for Art Research.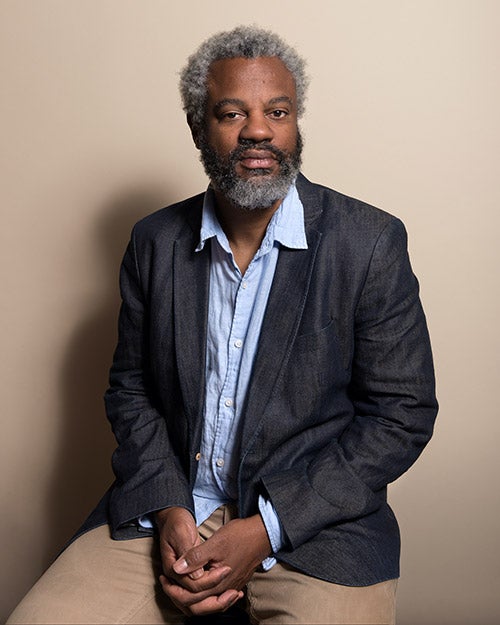 ---
Mario Ybarra Jr.
George and Matilda Fowler Lecture
"I Did It for Revenge!"
Thursday, May 27, 4:00 p.m.
Live on zoom. Free and open to the public.
Register for the Mario Ybarra Jr. lecture or join us on Facebook.
Mario will discuss some of his past projects and discuss the important role of the individual and collaborative artist in relationship to creating and in finding ways to tell one's family's stories and other marginalized narratives that have guided his artistic practice. He will engage audiences in creative strategies/tools for thinking and making Art.
Mario Ybarra Jr., is a visual and performance artist, educator, and activist who combines street culture with fine art in order to produce what he calls "contemporary art that is filtered through a Mexican-American experience in Los Angeles." His work has been included in many group exhibitions, including Installations Inside/Out: Armory 20th Anniversary Exhibition, Armory Center for the Arts, Pasadena, California; San Juan Poly/Graphic Triennial of the Instituto de Cultura Puertorriqueña, San Juan, Puerto Rico; Phantom Sightings: Art After the Chicano Movement, Los Angeles County Museum of Art, Los Angeles, California; and Whitney Biennial, Whitney Museum of American Art, New York, New York (2008). He is co-founder of an artist run organization located in the Harbor area of Los Angeles, called Slanguage Studio (2002–present).
This lecture is made possible by the George and Matilda Fowler Endowment Fund.