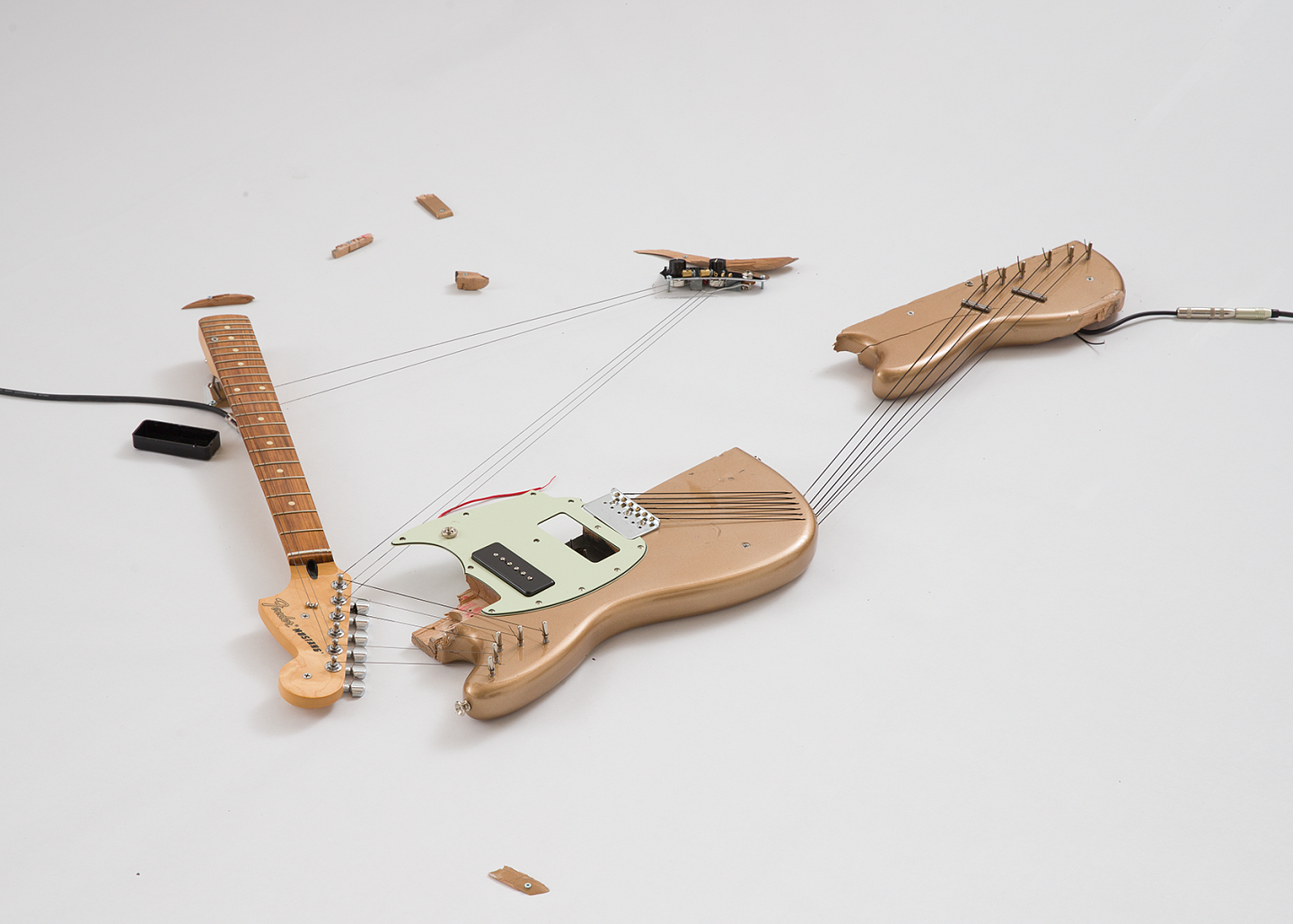 Above: Melody of Certain Damage #22, 2022. Photo credit: Elisheva Gavra
"Artist Talk"
Thursday, April 13, 4:00 p.m.
Lectures will be in Lawrence Hall, Room 115, 1190 Franklin Boulevard, Eugene, OR 97403 and will also be live-streamed and archived on the UO College of Design YouTube. 
Naama Tsabar, photo by Ebru Yildiz
Naama Tsabar's practice fuses elements from sculpture, music, performance, and architecture. Her interactive works expose hidden spaces and systems, reconceive gendered narratives, and shift the viewing experience to one of active participation. Tsabar draws attention to the muted and unseen by propagating sound through space and sculptural form. Between sculpture and instrument, form, and sound, Tsabar's work lingers on the intimate, sensual and corporeal potentials within this transitional state. Collaborating with local communities of female identifying and gender non-conforming performers, Tsabar challenges the canon of mastery by writing new feminist and queer histories of mastery. In her talk, Tsabar will discuss interactivity within the exhibition realm, the conception, and the use of various performative elements in her work and a feminist approach to performance and community.
Naama Tsabar (b. 1982, Israel) lives and works in New York. She received her MFA from Columbia University in 2010. Solo exhibitions and performances of Tsabar have been presented at the Solomon R. Guggenheim Museum (New York), Museum of Art and Design (New York), The High Line Art (New York), Nasher Museum (Durham, NC), Kunsthaus Baselland (Switzerland), Palais De Tokyo (Paris), Prospect New Orleans, Tel Aviv Museum of Art, The Herziliya Museum for Contemporary Art in Israel, MARTE-C (El Salvador), CCA Tel Aviv (Israel), Faena Buenos Aires, Frieze Projects New York, Kasmin (New York), Paramo Gallery (Guadalajara), Dvir Gallery (Israel and Brussels), Spinello Projects (Miami) Shulamit Nazarian (Los Angeles), The Bass Museum (Miami), Wadsworth Atheneum Museum of Art (Connecticut). Her work has been featured in publications including ArtForum, Art In America, ArtReview, ARTnews, The New York Times, New York Magazine, Frieze, Bomb Magazine, Art Asia Pacific, Wire, and Whitewall, among others.