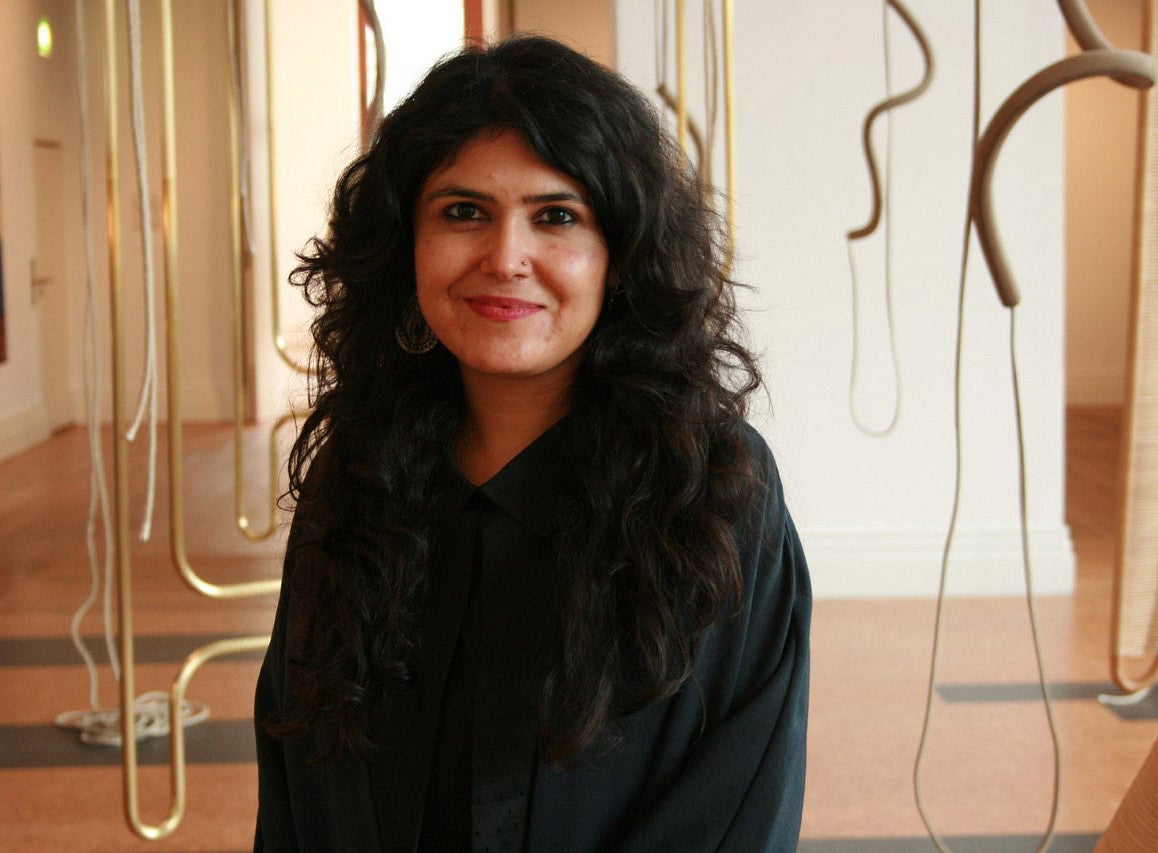 Headshot:  courtesy of the artist.
"Between Waves and Sea Change"
Tuesday, October 11, 4:00 p.m.
Lectures will be in Lawrence Hall, Room 115, 1190 Franklin Boulevard, Eugene, OR 97403 and will also live be streamed and archived on the UO College of Design YouTube. 
Natasha Ginwala is Associate Curator at Large at Gropius Bau, Berlin; Artistic Director of Colomboscope in Sri Lanka and the 13th Gwangju Biennale with Defne Ayas (2021). Ginwala has curated Contour Biennale 8, Polyphonic Worlds: Justice as Medium and was part of the curatorial team of documenta 14, 2017. Other projects include Indigo Waves and Other Stories: Re-navigating the Afrasian Sea and Notions of Diaspora (with Bonaventure Soh Bejeng Ndikung and Michelangelo Corsaro) at Zeitz MOCAA; Survey exhibitions of Bani Abidi, Akinbode Akinbiyi and Zanele Muholi at Gropius Bau. Ginwala was a member of the artistic team for the 8th Berlin Biennale for Contemporary Art, 2014, and has co-curated The Museum of Rhythm, at Taipei Biennial 2012 and at  Muzeum Sztuki, Lodz, 2016–17. Ginwala writes regularly on contemporary art and visual culture. Recent co-edited volumes include Stronger than Bone (Archive Books and Gwangju Biennale Foundation) and Nights of the Dispossessed: Riots Unbound (Columbia University Press).
In this practice-led presentation, oceanic affinities and crossings recur across exhibition sites andartistic voices leading into diasporic anchorages, poethical currents and saltwater histories that affirm asynchronous mappings of place, belonging, and subjecthood. Natasha Ginwala will address the ongoing multi-part project Indigo Waves & Other Stories: Re-navigating the Afrasian Sea and Notions of Diaspora (conceived with Bonaventure Soh Bejeng Ndikung and Michelangelo Corsaro); Sea Change – the sixth edition of interdisciplinary arts festival Colomboscope in Sri Lanka; and the photographic oeuvre of Akinbode Akinbiyi traversing coast to coast in the form of an epic series titled Sea Never Dry. This encounter will conclude with a DJ session with Hiba Ali, building off of their Indian Ocean Mixes series, they have previously conducted the Black Indian Ocean Series, a reading group and film series that visualizes the histories and futures of African-descent communities in the Indian Ocean region through curated film screenings and generative pedagogy.
This lecture is made possible by the Critical Conversations program, a partnership between the Ford Family Foundation and the University of Oregon Department of Art's Center for Art Research with Reed College's Douglas F. Cooley Memorial Art Gallery, Pacific Northwest College of Art, and Portland State University.