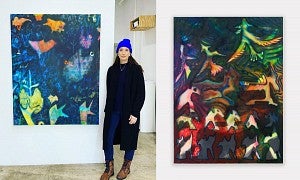 Above right: Invisible & Flying, 2021, fluid acrylic on canvas, 48 x 36 inches.
"You Know More Than You Can Say"
Thursday, October 14, 4:00 p.m.
Lawrence Hall, Room 177, 1190 Franklin Boulevard, Eugene, Oregon 97403
Watch a video of Catherine Haggarty's lecture.
"I always keep my drawings up while I paint. I look over, remember a line, and then absorb it to translate it. Drawings live in my studio as a beginning—a middle and an end to the work. They are preparatory but also the point of the work. They are the end game and also the research. My project in art is all about language. Words are entirely abstract—the forms in my work shift from defined to ambiguous shapes that refer to animals, symbols, and glyphs. Drawing challenges my hand, my memory as well as my eyes. I see my drawings as no different than a larger 'painting'. It's a healthy ecosystem and I trust in it. Community engagement is critical to me. My positions as faculty and critic enrich my life and my experience in the arts. I find all of these facets of my work and life as one and feel I need them all to varying degrees. I am excited to talk about the levels of inclusivity that the art world now has—despite the proclivity to think otherwise. I will share ideas of collaboration as learning, curating as influence, outreach as sustainability and finding one's voice in the arts." - Catherine Haggarty, 2021
Catherine Haggarty is an artist based in Brooklyn, New York. Haggarty's paintings and curatorial work have been reviewed by and featured in Bomb Magazine, Hyperallergic, Artnet, Two Coats of Paint, Brooklyn Magazine, The New York Times, Maake Magazine, Art Maze Magazine, The Observer, Art Spiel and Sound and Vision Podcast. Solo exhibitions include Massey Klein Gallery, This Friday Next Friday, Bloomsburg University, One River School of Art and Design, Proto Gallery, and Look and Listen in Marseille France. Catherine has been a visiting artist & lecturer at Boston University MFA, Hunter MFA, Denison University, Purchase MFA, Brooklyn College MFA, and in 2018 she was the Anderson Endowed Lecturer at Penn State University. Haggarty earned her M.F.A from Mason Gross, Rutgers University in 2011. Currently, Haggarty is an adjunct professor at The School of Visual Arts (SVA) and also co-founded and co-directs the NYC Crit Club.