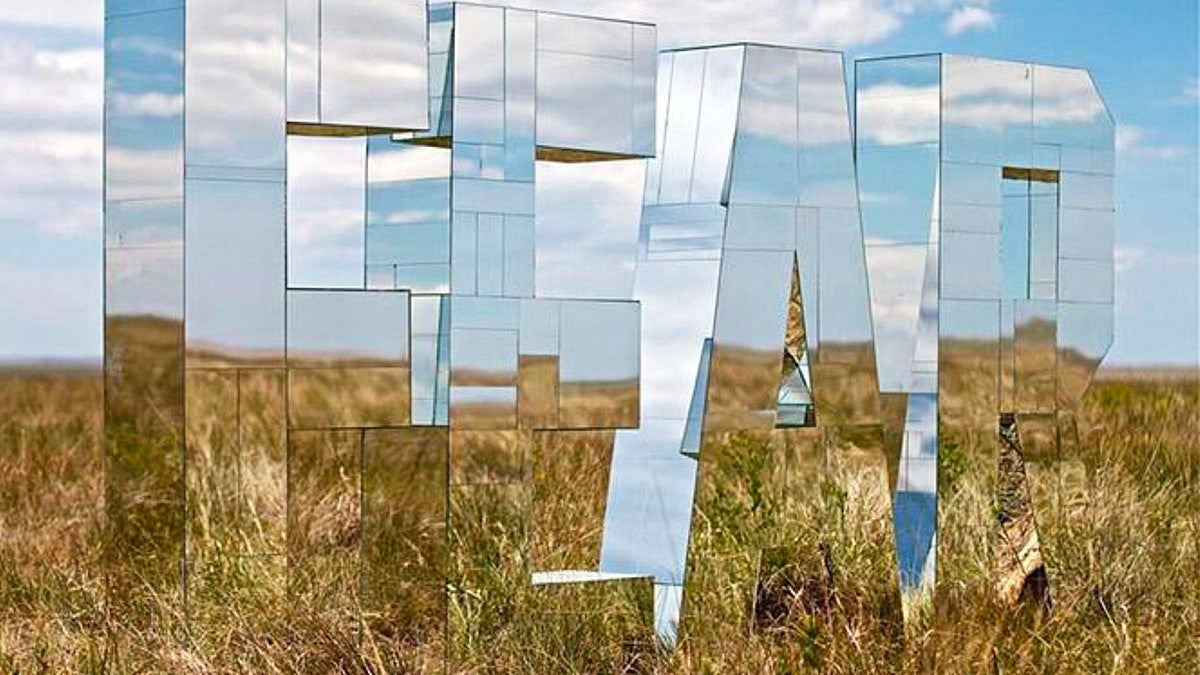 Ryan Everson collaborated on the 'FEAR' mirror piece with Jason Garcia while in graduate school at University of Colorado Boulder; it was installed in Last Chance, Colorado
Ryan Everson, BFA '10, recalls making a full-scale Winnebago sculpture from found cardboard for his senior show and displaying it in the LaVerne Krause Gallery.
"The scale was exciting. You come out of high school and you're drawing and painting or making ceramics at a scale for the top of a table," he said. "Suddenly you're opened up to something that can be limitless."
Ryan Everson did not come to the School of Art + Design to study sculpture, but he soon switched gears to make it his concentration.
Everson carried the limitless ethos with him to Matchless Builds, a company he co-founded in 2018. The Portland-based creative installation and build services firm that specializes in three-dimensional displays and environments, from resin casting and woodworking to custom lighting and engraving with CNC routers and laser cutters. Projects have included retail display builds for Levi's and lighted signs for bars such as Decibel Sound & Drink.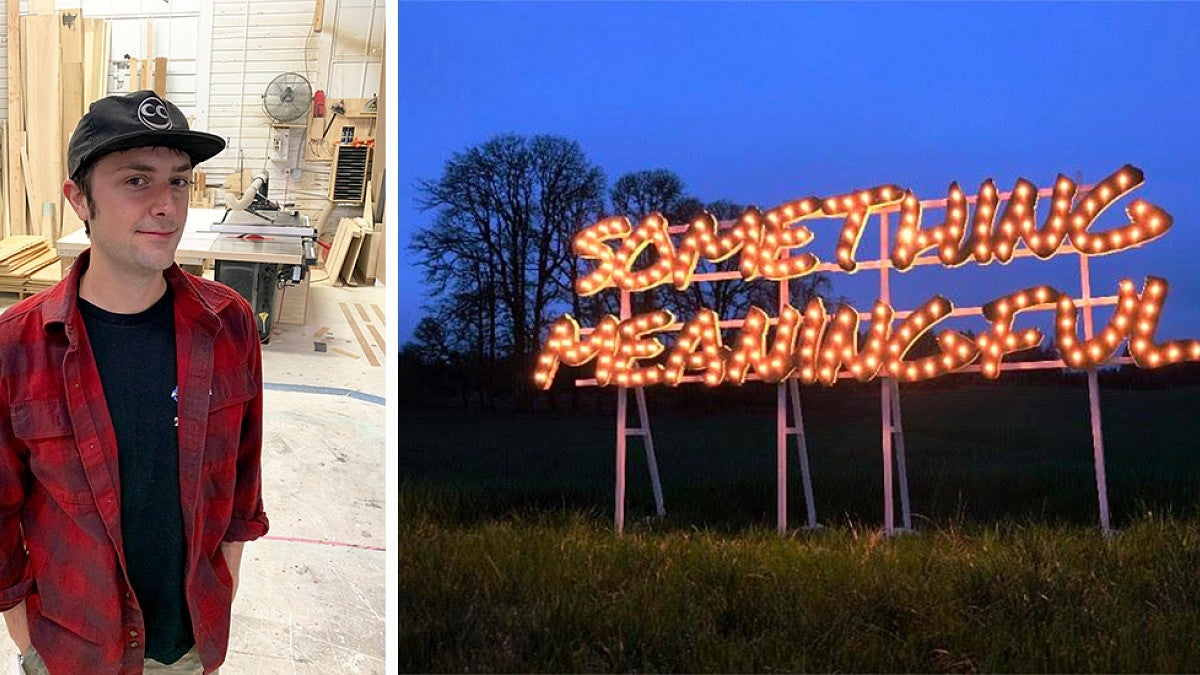 Ryan Everson; Everson's piece 'Something Meaningful' appeared in a show at One Grand Gallery in Portland 
In the Department of Art, Everson says he was inspired by his educators, Associate Professor of Art Tannaz Farsi and now Art Department Head Amanda Wojick, and the creative community he found in the studio. This atmosphere propelled him to pursue an MFA in sculpture at the University of Colorado, Boulder. He then returned to Oregon in search of work and found it in a one-year contract working for large-scale sculptor Pete Beeman, even traveling with the artist to Taiwan.
Everson said he made contacts through that position and connected with other professionals in the design field at the height of the retail experimental design boom (think pop-up shops and displays). With a designer friend, they decided it was the moment to open Matchless Builds.
"We do a lot with a little.
That was always the ethos of sculpture students."
While most industries have been hit hard by the pandemic, Everson says his time studying sculpture in the School of Art + Design and being around artists gave him tools to weather hard times.
"The crew that we hired are a lot of fine artists who are used to working with minimal things. We like to employ fine artists," Everson explained. Recently, they brought in sculpture alum Irene Chau, BFA '19, as an intern.
"We do a lot with a little. That was always the ethos of sculpture students," he said. "I learned a lot about that stuff at the UO when I was short on personal funds. You're young and don't have a lot of extra cash to buy things, and that's what led to the Winnebago being made out of cardboard."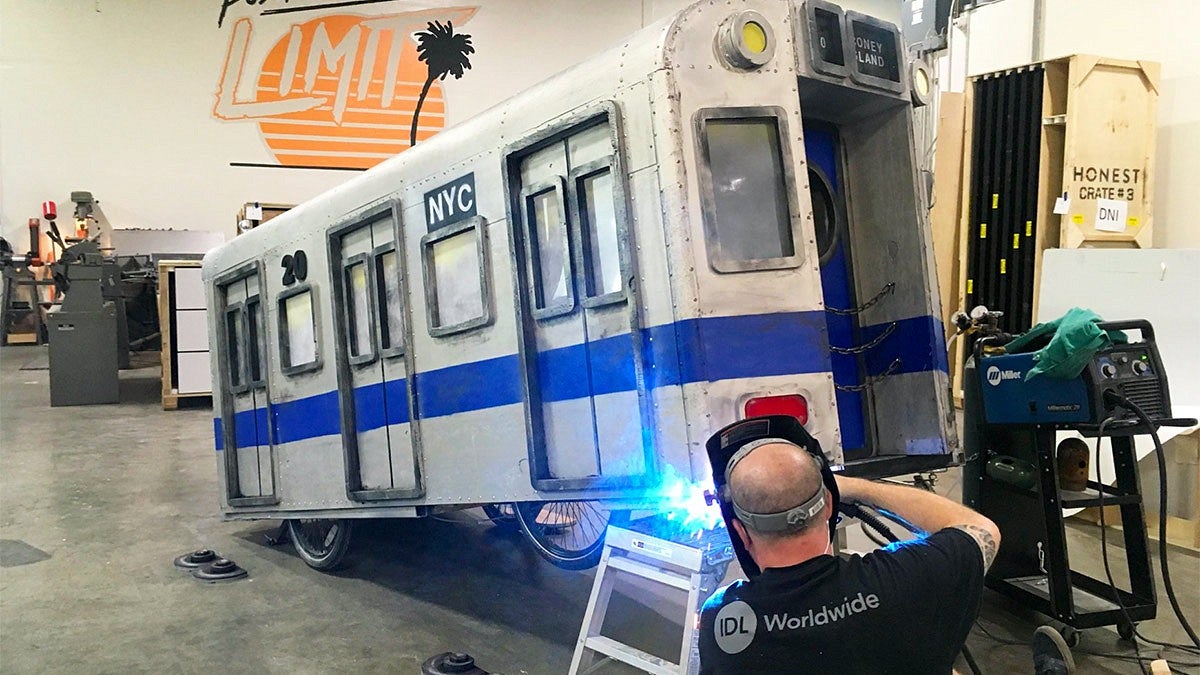 Everson's subway car entry for the Portland Adult Soapbox Derby on the slopes of Mt. Tabor  
What advice does he have for students embarking on this path?
"Just be open-minded about jobs and opportunities. Coming out of college I didn't know what I wanted, so I was super open. And learn as much as you can with the facilities. There is so much digital fabrication happening, I wish I would have spent more time on it. [The School of Art + Design] has a CNC router and other digital fabrication tools and is staying relevant with new processes and technologies."