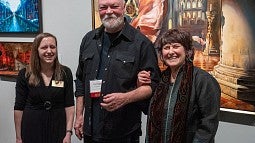 George Green with his wife Jeri Hise (left) and friend and collaborator Danielle Knapp (right)
The internationally acclaimed abstract-illusionist painter and UO alum George Green (BS, '65) passed away April 14, 2020. He is survived by his wife and fellow artist Jeri Hise, daughter Amber, and a large circle of extended family and friends.
"It is still a shock that he has passed away because he was larger than life," said Danielle Knapp, the McCosh Curator at the UO Jordan Schnitzer Museum of Art (JSMA) and History of Art and Architecture alumna (MA, '09).
Knapp recently collaborated with Green on the 2019 exhibition Visual Magic: An Oregon Invitational at the JSMA. "Working with George, and our collaborators, on Visual Magic, I was really struck by how he connected people and how inclusive he was in his ideas about art—that artmaking should be available to everyone, and beginning at a young age," Knapp said.
"The Visual Magic exhibition was a wonderful opportunity for our community of students and faculty to see George Green's work," said Interim College of Design Dean and artist Laura Vandenburgh. "An accomplished painter, Green developed a remarkable career and body of work."
"You'll always remember George Green even if you only spoke to him for a few minutes," said artist and longtime friend Hugh Webb—both he and Green grew up in Corvallis. Webb also showed with Green in Visual Magic. "George had this very clear sense of being an artist and he wasn't going to let anything stop him."
Webb says that Green told him that he knew he wanted to be artist since he was 12. Born in Portland, Oregon, Green studied at Oregon State University, graduated from the University of Oregon (BS, '65), and received his MFA from Washington State University (1968). Green's art career spanned decades, from Corvallis and the University of Oregon to the University of Texas, Austin, where he was an art professor, and then to SoHo in New York City for 35 years and finally back again to Portland, where he founded the George D. Green Institute
More than 80 books, articles, and publications include his artwork and writings about him and his work. He is included in the collections of more than 70 museums and public collections including the Guggenheim, the Los Angeles County Museum of Art, and the Art Institute of Chicago.
As young men, both Webb and Green took classes at Oregon State University in the '60s, where he says Green was influenced by his professor, the painter and printmaker Nelson Sandgren, who studied art at the UO in the 1940s. Green transferred to the UO, and Webb would drive down to visit him on weekends and attend parties.
"George and I both adhered to the artist bohemian no-rules, no-boundaries behaviors," said Webb, laughing.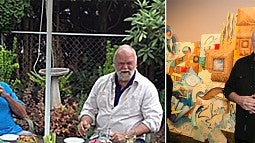 Friends and fellow artists, Hugh Webb (left) and Green; Green with his painting at Visual Magic
When Green moved to Austin, and then New York, he and Webb started exchanging letters on life and art and their documentations of the "odd and outrageous"—a practice they continued through their entire friendship. It was through these letters that Webb learned about Green's shift from pure abstraction in his paintings to what was next: Abstract Illusionism.
Known as one of the founders, Green started dabbling in this movement while working at his SoHo studio in the 1970s. His enormous multifaceted paintings are marked by the classic elements of Abstract Illusionism—perspective, simulated shadows, and visual trap doors such as a photo-realist painted oceans within a photo-realist painted wood frame within an entirely different painting.
"There has always been humor in George's work," Webb said. "He was always fooling with your expectations, and there are a lot of private jokes in his art that he doesn't share with anybody. In his personality he was that way, too. George loved to put you on."
With creating the George D. Green Institute, Webb says Green wanted to provide youth with the art opportunities he and his friends lacked growing up in Corvallis. The institute has a program of traveling exhibits, artist seminars, and curated public shows for "kids and communities that may be disadvantaged by geography or social circumstance."
Knapp recalls how whenever she visited Green's studio during the planning of Visual Magic, he had works in progress and was eager for visitors to look closely. "I imagine his studio is still full of paintings."
Before the exhibition opened, two of the participating artists, Jan Reaves and Ed Koch, passed away. The community lost another painter from Visual Magic, Terry Melton, later in 2019. Now with Green's passing, Knapp is especially grateful to have done the show.
"It so important to capture Oregon artists' stories," she said. "It reminds you that the art lives on. Green's body of work will tell his story now. But we miss him very much.
"He was an inspiration—his drive, his dedication," Webb said. "You couldn't ask for a better friend."
Read more about Green and his legacy in the George D. Green Institute tribute.