UO Department of Product Design undergraduates won two of three possible $3,000 awards in the 2015-2016 INTERZINC Challenge, a theme-based competition which this year asked engineering and design students nationwide to design camping products made from zinc.
Jacob Stranahan designed "MODU," a modular LED lighting system featuring a solar panel and a USB port. Garrett Warnick developed "Tinderbox," a rechargeable hand warmer. Both were in Assistant Professor Beth Esponnette's winter 2016 Objects and Impacts class.
Contestants were asked to develop zinc-based designs for use outdoors while cooking, cleaning, creating shelter, or staying warm.
Entrants also had to explain why die-cast zinc was the best design process. Stranahan's entry stated that zinc's light weight made it ideal for backpacking and its durability and corrosion resistance was conducive for outdoor use. Warnick noted zinc's thermal conductivity and the sustainable nature of the die-casting process.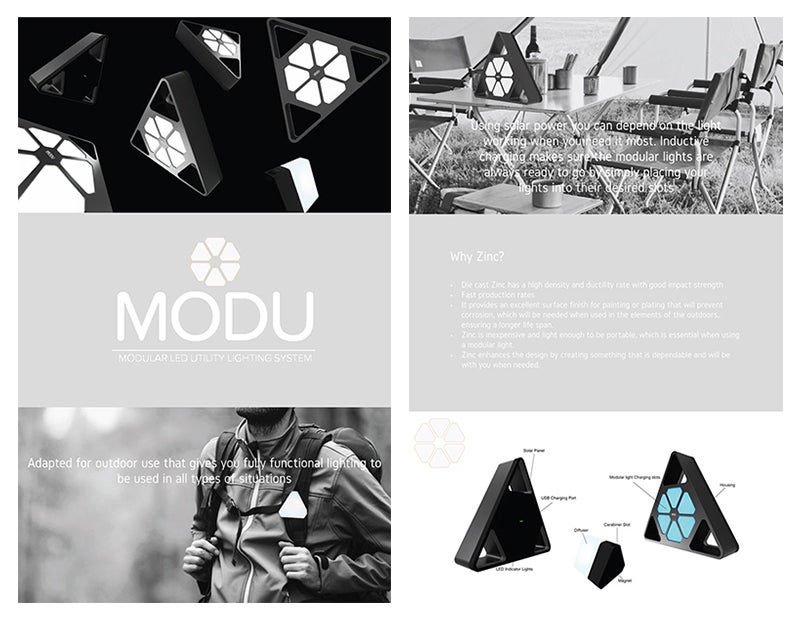 Above: Jacob Stranahan designed "MODU," a modular LED lighting system.
UO product design students have dominated the INTERZINC competition since they first began entering it in 2008, when the UO Product Design Program launched (it became a department in 2016). In 2010-2011, UO students won all three awards, and they've won at least one of the three awards in each competition since then except for one year.
Kiersten Muenchinger, director of the department, has led winning INTERZINC Challenge teams since 2004, when she taught at the California College of Arts. This was the first year Esponnette guided UO students through the competition.
Each $3,000 award is split between the winning student ($2,000) and the faculty adviser ($1,000).
Entries were judged based on a fifty-question quiz about zinc and the appropriateness of the design including quality, originality, thoroughness, and development potential.
INTERZINC is a market development and technology transfer group dedicated to increasing awareness of zinc casting alloys. Jurors for the awards this year included INTERZINC members with expertise in zinc materials and casting as well as outside experts, which this year included a cattle rancher and a retired lineman.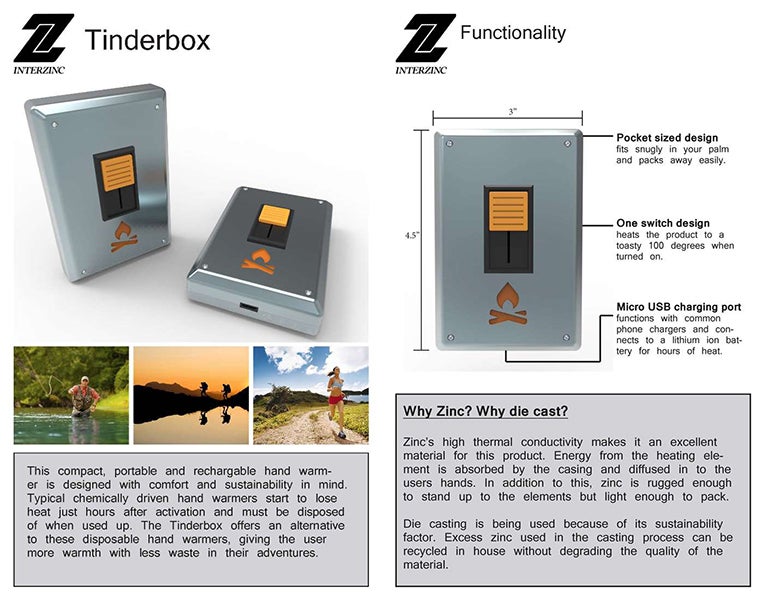 Above: Garrett Warnick developed "Tinderbox," a compact, portable, reusable and rechargeable hand warmer.