The School of Art + Design's sports product design master's program at the UO's Portland campus is an interdisciplinary program that prepares graduate students to be key members and leaders of multidisciplinary development teams within the more than 700 sports product companies located in Oregon and beyond. The degree focuses on innovation methods, design for the athlete, product sustainability, and sports product marketing and branding.
Entering students will have their toolboxes expanded with a deep, specific study of sports product methods, tools and technologies, human physiology, biomechanics, and perception. Students who graduate from this program will be capable of making strong contributions to the sports design culture of Oregon and the world at large.
---
The Student Experience
With a mechanical engineering undergraduate degree from Stanford and his love of sports, Kodi Whitfield navigated the transition from football player to sports product design graduate student at the University of Oregon smoothly.
---
Student Spotlight
---
Engaged Faculty
As practicing professionals, our Department of Product Design faculty members are nationally and internationally recognized designers developing new commercial products all the time. Through seminars, studios, and independent studies, students interact with inspiring and diverse scholars and professionals from the local and international sports product industry. Working intensively in studio courses in Portland, you will be part of a world-class research university in the beautiful Pacific Northwest.
---
Campus and Community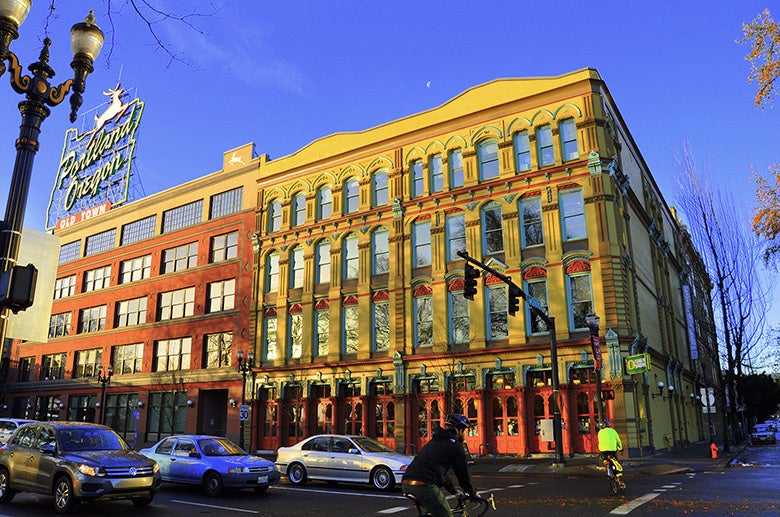 Our students study in the historic and recently renovated White Stag Block, where studios and workspaces overlook Waterfront Park and downtown Portland. The building houses a university library and provides access to the collections of more than 30 additional libraries. A fabrication laboratory provides a workshop for shaping materials with both digital design and woodworking processes, and an output room provides students with graphic printing services. Students in the Sports Product Design program have acccess to state of the art equipment in the Innovation Lab. The UO in Portland hosts lectures, special events, and exhibitions that encourage thoughtful exchanges on issues of importance to the city and region.
---
Let Us Show You Around
We invite you to visit the Portland White Stag Block to view the facilities and meet faculty and students. We offer tours during most of the year.
---
Enrich Your Academic Experience
---
Our Accreditation
The University of Oregon is a member of the Association of American Universities (AAU), an organization made up of more than 60 leading public and private research institutions in the United States and Canada.
---
Support Student Success
Your gift will change the lives of high-achieving, creative students now and in the future. We invite you to explore, connect, invest, and help inspire talented students who will positively shape the world around them.