From flip books to comic strips to YouTube videos, students in a recent 2013 architecture class got creative in fulfilling an atypical class assignment: interpret the life cycle of concrete at the molecular scale.
Molecules? In an architecture class? Indeed; it's advanced architectural technology, and seventeen students jumped at the chance to explore this less-than-common aspect of sustainable design in an interdisciplinary setting.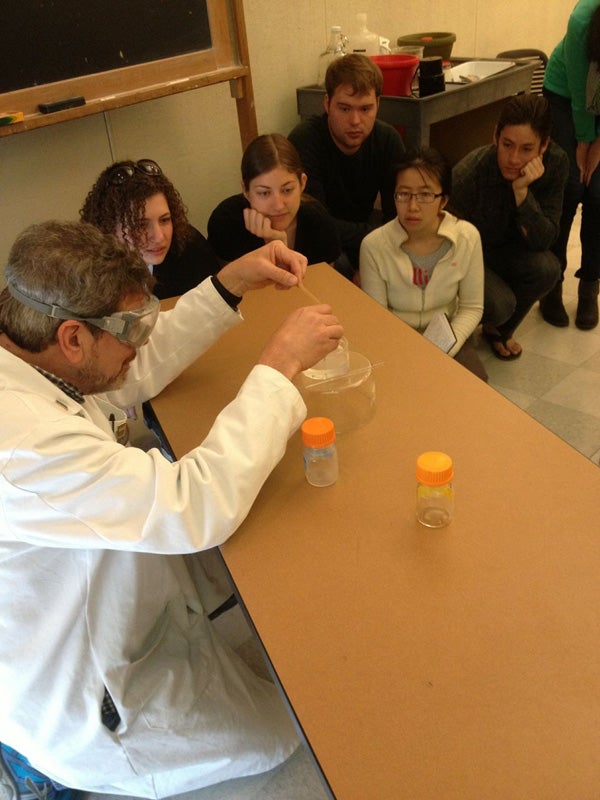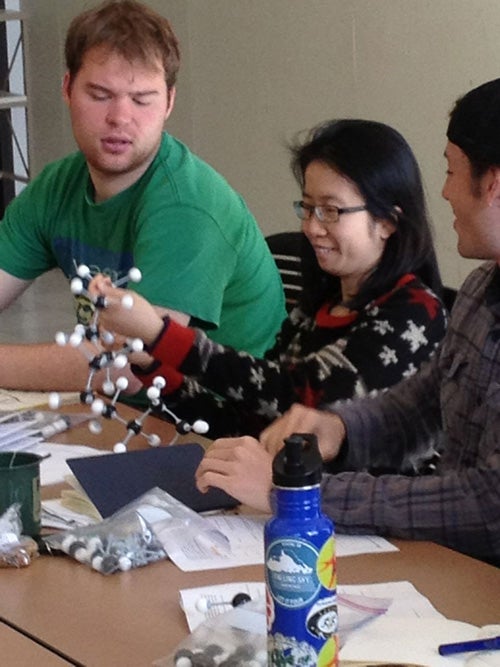 Above: (Left) Chemistry department lecture demonstrator Randy Sullivan demonstrating hydraulic crystallization to architecture students. (Right) Students Lee Eckert, Tina Wong, and David Wong building a polymer chain.
"Design education is dangerously separated from science education," says architecture Assistant Professor Erin Moore, who co-taught the seminar, "Molecular Innovation in Material Life Cycles," with chemistry and biochemistry department Assistant Department Head Julie Haack. "The point is to combine the very powerful processes of design and innovation with the science of sustainability," Moore says.
Both Moore and Haack serve on the leadership team for the Green Product Design Network at UO. "Our work together for the past three years inspired us to collaborate on this project," Haack says. Neither had special funding for the class.
The seminar offered students new ways to view building materials with a focus on concrete and polymers—which is how a comic strip about Portland Cement came to fruition, complete with a mama, a papa, and three baby concrete molecules traveling through a factory crucible.
"Polymers and concrete are great examples of materials where it is easy for students to appreciate the connections between structure and function," says Haack. "My goal was to help the students develop a working knowledge of the connections between a material's attributes and its environmental impact to its molecular structure or architecture. A material's properties are dependent on its structure—and a chemist is all about designing and tuning molecular structures."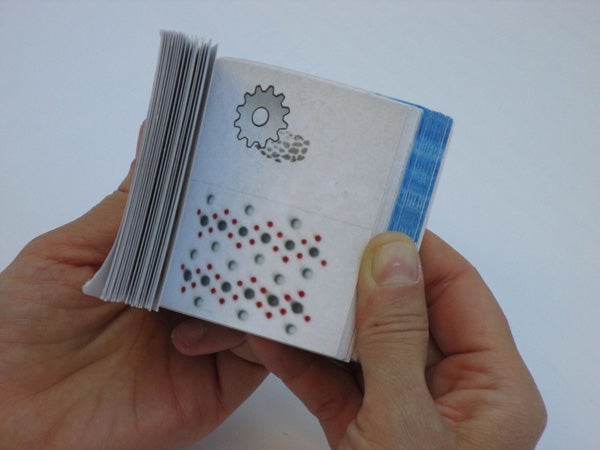 As an architect, Moore's perspective tilts differently from but complements Haack's. "The environments that we design and build are a huge threat to the sustainability of our natural systems," says Moore. "At the same time, transformative, creative innovation—rooted in really good science—is fundamental to solving every single environmental crisis that we face."
The concept proved popular, with twelve architecture graduate and five undergraduate students signing up. The course comprised two projects. The first—interpret the life cycle of concrete using other than conventional means—was "a way for students to use architectural thinking to engage complex concepts in chemistry," Moore says. The second project—identify a problem-area in the life cycle of architectural polymers or concrete, and design improvements—aimed "to have students use their strengths as innovative problem-solvers to take on some existing problems in architectural material life cycles," Moore says.
While the idea of studying chemistry is anathema to many laypeople, most of us are nonetheless familiar with its traditional explanations, such as a Lewis structure diagram and the ball and stick model. Moore and Haack asked students to analyze then tweak these traditional models to explain the chemistry involved. "They are all describing the same thing, just from different angles or through a different lens," Moore says of the students' work.
"The real art here was to 'right size' the chemistry," Haack adds, noting that students didn't need a deep background in chemistry to grasp the course contents. "Erin and I worked for several months ahead of class to determine how much chemistry and what kinds of chemistry would enable the students to innovate within architecture."
Students had ample support for each project, including one-on-one research help from chemistry consultants including chemists and science librarians, faculty members, postdoctoral researchers, and graduate students.
"This is not a class but a collaborative forum between chemistry and architecture ushering through uncharted territory," says Eric-Val Carbonnier, a doctoral architecture student. Carbonnier, who already holds AIA and LEED designations, notes that "the challenge of relearning chemistry, which was for me a distant memory away, was exciting and at times a bit daunting. However, Dr. Julie Haack laid down a chemistry framework that us non-majors grasped to a degree of competence that permitted us to dialog intelligently with our chemist counterparts."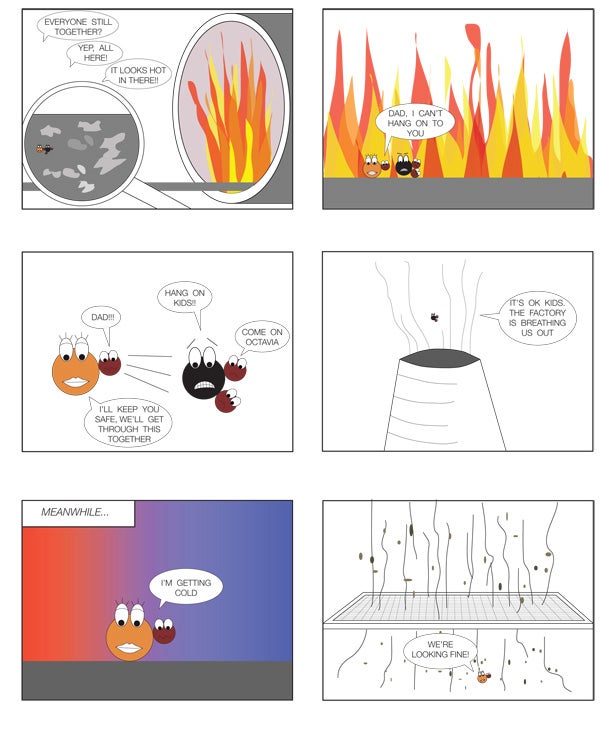 Morgan Peach, a graduate student in environmental studies, is "especially interested in the application of natural science knowledge in design, allowing for creative, often unprecedented design solutions. I also deeply value interdisciplinarity." Peach adds that "the class also engendered the 'life cycles perspective.' Bringing this awareness to the design process, and in particular material specification, is one grand leap toward sustainability."
Final reviews for the class included feedback from chemists, science librarians, and architects.
Dean Walton, UO science librarian, taught students how to use specialized databases to find technical chemical information. "What was so cool with this class is how readily students without a chemistry background dove into the complex chemical subjects, how they ate up the content they found, and how they worked and thought in utterly astounding ways to solve important problems from impervious building materials to insulating but also self-regulating fabrics," he said. "It's like they found a puzzle book and simply rewrote all the answers in the back with their own new solutions."
Graduate teaching fellow and chemistry student Brandi Baldock also served as a reviewer. "This type of interdisciplinary course is important because it encourages ongoing dialogue between people from different backgrounds, and therefore new problem-solving approaches. Some of the students stated it was the best class they had taken all year."
More than one reviewer was impressed by the level of visual communication that architecture students bring to the table. "These students know how to communicate with a wider audience in a visual format," noted Elly Vandergrift, associate director, Science Literacy Program. "I would love it if they were able to share their knowledge and skills with students from other disciplines. Doing research is great, but there is almost a 'so-what' feature if the researcher cannot communicate his or her findings to a broader audience."
Annie Zeidman-Karpinski, Science and Technology Services librarian, also "was struck by how much the architecture students could teach the sciences about how to make their work visually appealing. I even encouraged one of the students to write to the authors of a paper in a prestigious scientific journal and share his visualization of their work."
Haack and Moore hope to co-teach additional cross-curriculum classes. "I would relish the chance to teach some design in the sciences or chemistry just as Julie brought chemistry into design," Moore says. Adds Haack, "We are putting together a group to brainstorm how to integrate design thinking into chemistry." The group includes department heads and instructors from architecture and chemistry/biochemistry.
In the meantime, Moore and Haack plan a brown-bag lunch in fall with students from the seminar for a followup discussion of intellectual property law as it applies to the chemistry-design interface.
Additionally, students in Moore's 2013-14 terminal studio sequence will develop proposals for a museum of environmental art that uses "extremely low-carbon materials to showcase very high design," she says.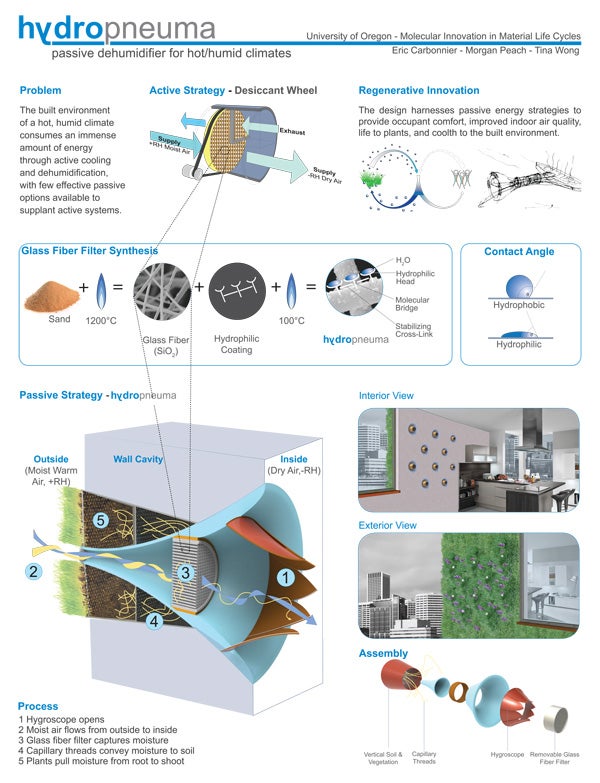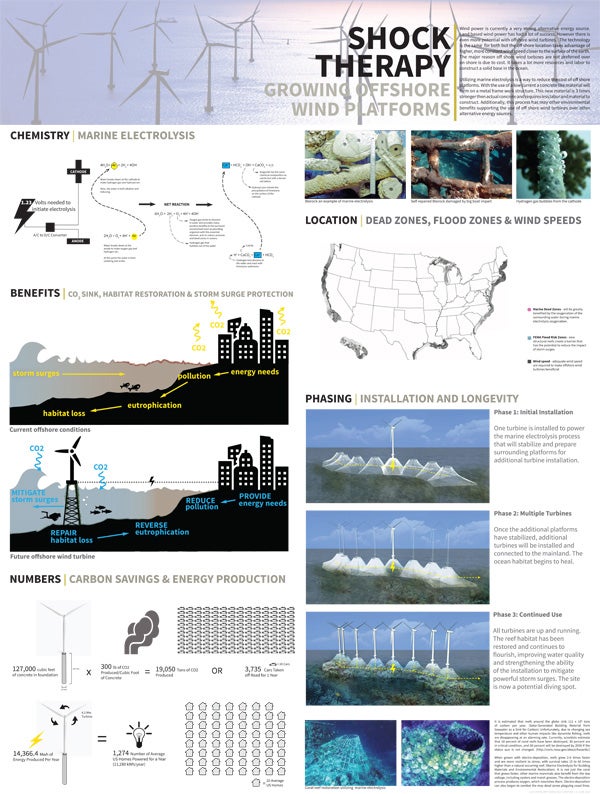 Story by Marti Gerdes