Some 40,000 people from 60 countries will see designs by two UO faculty members exhibiting at the Stockholm Furniture & Light Fair in February. Because 80 percent of exhibitors at the fair come from Scandinavia, the invitation to the Americans is a coup.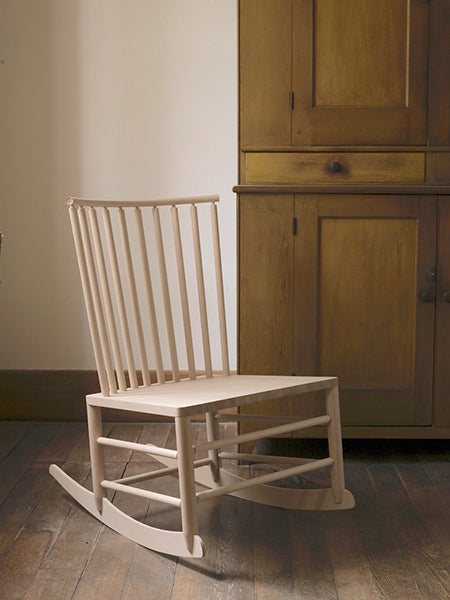 Above: Inspired by the Shaker #4 rocking chair, this contemporary design by Wonhee and John Arndt is particularly wide, with a low profile making it comfortable and inviting. Made in solid maple with geometrically minimal forms, it has a spindle back atypical of Shaker rockers. Photo by Charlie Schuck.
The designs that John Arndt and Wonhee Arndt, who teach in the Department of Product Design, will exhibit in Stockholm are pure American in inspiration. The Arndts immersed themselves in Shaker design and philosophy research for three years to produce the Shaker-inspired objects they'll exhibit in Sweden.
The Arndts—who design under the name Studio Gorm—began collaborating with Hancock Shaker Village Museum in Massachusetts and Mount Lebanon Shaker Museum in New York several years ago.
Last summer, they invited a dozen designers from all over the world to participate in a week-long research workshop at two preserved Shaker sites. There, the group had access to an extensive archive of objects and work closely with museum curators.
The Arndts led a second workshop in September that was sponsored by the Norwegian Cultural Consulate in New York and included invitations to four Norwegian design studios to join the project.
That collaboration led to the collective project, "Furnishing Utopia, Shaker Reinterpreted," that's going to Stockholm.
The exhibition showcases the work of 18 designers from around the world, including the Arndts' Studio Gorm. The project demonstrates how the ingenuity, aesthetics, and philosophy of Shaker objects can translate into modern forms relevant to contemporary life.
"The idea behind the title is that the Shakers set out to create a utopian community that was meant to represent heaven on Earth," John Arndt said. "Part of the process of making a utopia is not just philosophical but also the physical objects that reflect those beliefs."
While "Furnishing Utopia" was initiated through the Arndts' academic research, it was "built on by designers sharing a common admiration for the American Shakers," Arndt said. The Shakers' "designs were often very simple with a craftsman's logic in their construction, but with an exceptionally fine sense of proportion and made exceedingly well."
"Furnishing Utopia" has been shown during New York Design Week, at Luminaire in Chicago, at the Hancock Shaker Village Museum in Massachusetts, and soon at Stockholm Furniture & Light Fair, which is held in conjunction with Stockholm Design Week.
"We had overwhelming responses from press and the design community" to the exhibitions in New York, Chicago and Massachusetts, Arndt said. Publications such as Dezeen, FastCo Design, Wallpaper Magazine, Core77, and MiLK ran rave reviews about the Shaker-inspired designs.
"Through such exposure, 'Furnishing Utopia' hopes to enrich the current design dialogue with a refreshing approach to simplicity, history, craft, and socially responsible design," Arndt told Core77.  
The Arndts are founding members of the UO's Department of Product Design, where their research focuses on studying the past and speculating about the future in order to design useful objects for today.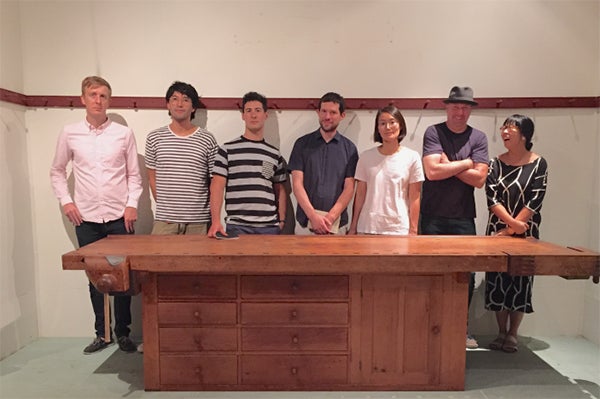 Above: Designers who attended the Hancock Shaker Village workshop include (from left) Chris Specce, Jonah Takagi, Dylan Davis, John Arndt, Wonhee Arndt, Darin Montgomery, and Jean Lee. Photo courtesy John Arndt.

Above: Wonhee and John Arndt, professors at UO and principals of Studio Gorm.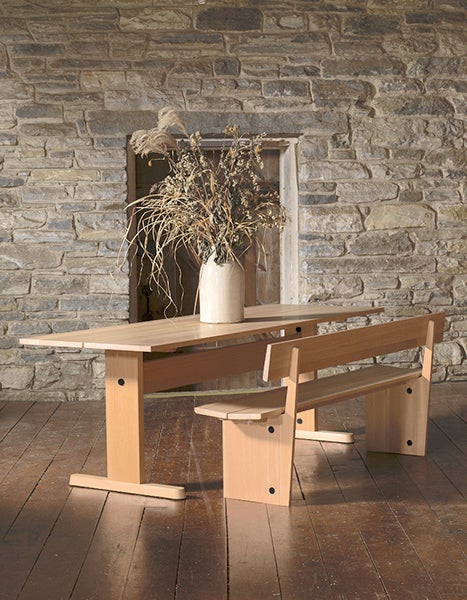 Above: Crafted from old growth Douglas Fir and borrowing elements from Shaker Trestle tables, the Arndts' Trestle Table accommodates cords and plugs for use in an office or dining room, and features oversized metal hardware and sliding dovetail joints. The Bench is modeled on Shaker benches with removable backs and slab-built construction; the Arndts' design has a shallow V-shaped seat for added comfort. Both disassemble and pack flat for shipping. Photo by Charlie Schuck.