Most Americans haven't heard of Kansei design, which studies how emotion drives consumer choices. For example, designers of the Mazda Miata sports car used Kansei engineering in developing the car's gear shift. Their analysis spurred designers to change the throw between each gear so it's shorter than most manual transmission shift lengths—leading the driver to feel more "powerful."
Kansei design drew Kiersten Muenchinger, director of the UO's Department of Product Design, to complete a Fulbright fellowship in Hong Kong in 2015-16 that focused on Kansei engineering. An industrial designer with a focus on sustainability, Muenchinger has found Kansei to be a valuable research tool.
Kansei engineering was developed in the 1980s in Japan to quantify the intangible, or emotional, aspects of a product. Kansei aims to link a consumer's emotional responses to the properties and characteristics of a product, such as tactile sensations. While Kansei is widely studied in Japan, Taiwan, and China, it is not well known elsewhere.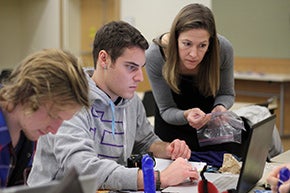 Above: Associate Professor Kiersten Muenchinger. Photo by Jack Liu.
"We try to create positive emotional responses," Muenchinger says of product design. "Through Kansei techniques, I can define specific positive emotional attributes that sustainable plastic products have. If you think about the debate over global warming, the science is pretty clear that plastics tend to be excellent materials choices for sustainable products. But people don't emotionally believe that. I want to find which sustainability issues designers should target because they gut-check as believable with consumers."
Muenchinger's 2015-16 Fulbright research at Hong Kong Polytechnic combined a Kansei engineering study with a Life Cycle Assessment "to show where science and emotion intersect." The most recent results were presented at the Kansei Engineering and Emotion Research conference in Leeds, England, in August.
Currently, Muenchinger is the only Kansei researcher in the United States—which is why she headed to Southeast Asia, "the hub of Kansei studies," for her Fulbright.
She was an "enigma" there, both as a female engineer and as the only American interested in Kansei. She hopes to change that.
"With all of the researchers and PhD students in Japan and Taiwan, we won't have more Kansei design research in the US until we start bringing more of them here," Muenchinger notes.
A means to achieve that is to expand A&AA's growing faculty and student exchange programs with schools in Asia. Currently most exchanges involve investigations in entrepreneurialism and design to production, she says, but expanding that scope could expose more American students to Kansei methods and other design innovations.
"The melting pot of people, technology, and education that is Hong Kong has created the most future-forward outlook on design innovation in the world," Muenchinger wrote in her Fulbright application.
The Fulbright fellowship wasn't her first experience teaching in Southeast Asia. Through a partnership with Tatung University in Taipei, Taiwan, she has taught workshops in sustainability strategies and metrics, as well as in biomimicry, since 2014.
Her Fulbright experience also exposed Muenchinger to teaching graduate students, which she hadn't yet done because UO's product design offerings didn't include graduate courses until this year. Now, with the debut of the Sports Product Design master's curriculum, UO is offering a full slate of courses for master's students in that program.
"I'm most excited about the human physiology in sports products course that's being offered this fall," she says. "It complements the design studio course so the students' design work will be based in research on performance issues around the human body, materials and technology. I'd like to take that class myself."