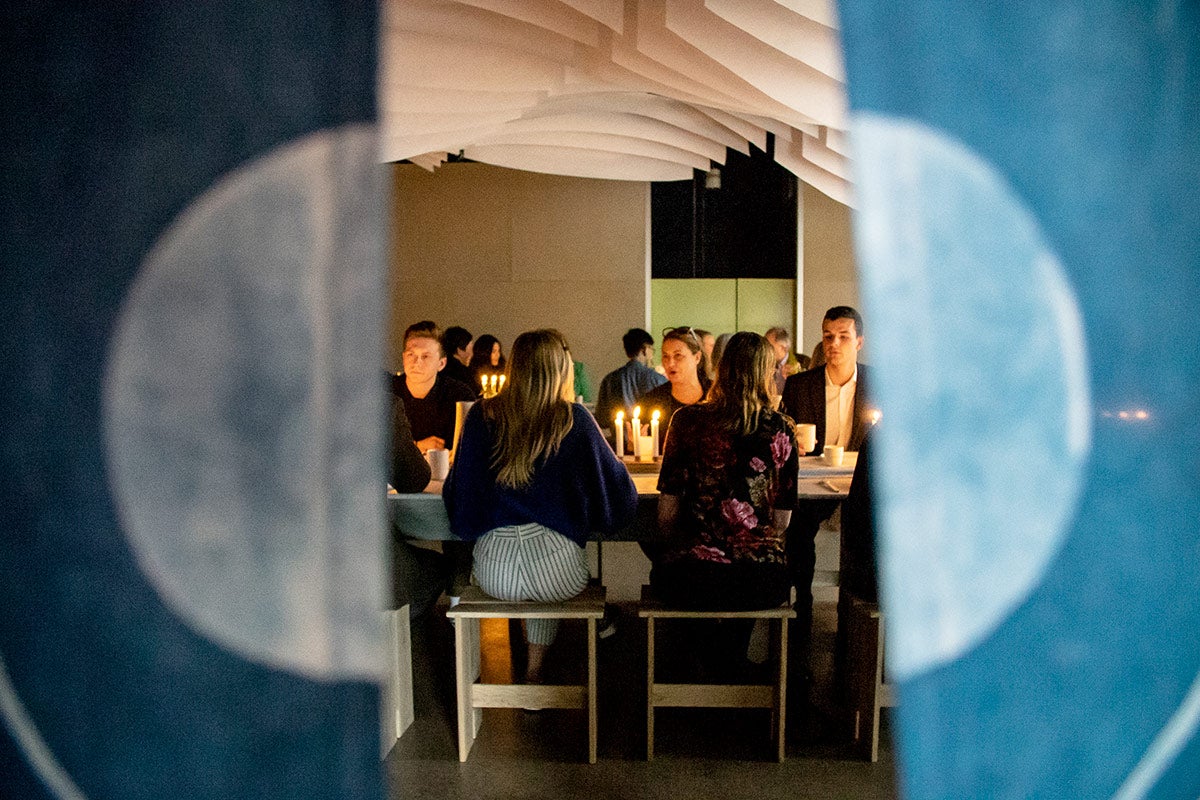 On a recent May evening, indigo curtains fluttered in the doorways of 942 Olive, the UO Innovation Hub in downtown Eugene, revealing long candlelit tables adorned with handcrafted ceramics, handprinted runners, chopstick holders, and vases sprouting beautiful blooms. Senior product design students roamed the room making last-minute adjustments. Everything—from the wooden stools and tables to the candleholders and cups to the wavy paper-cut art installation hanging above—was their creation.
The occasion was the third annual Feast for Fifty, the culmination of a product design course taught by Tom Bonamici, a career instructor in the Department of Product Design in the School of Art + Design. Local restaurant Party Downtown, as it has since the feast's inception, served the dinner, a Spanish-inspired menu. Each year, attendees take home one complete place setting, from seat to napkin, but this year's event had a special twist–the dinner guests were the University of Oregon Board of Trustees.
"Feast for Fifty is a very important exercise," said Bonamici. "The class sets out a strict timeline and students are working with a budget and a real-world audience."
Sitting on a stool of his own design, student Aditya Prabowo, said that the collective aspect of the course was his favorite part, while time management was the most challenging. The class was split into smaller teams, each working on different products for the dinner. Prabowo was on the woodworking team that built the table and stools with wood donated by the Western Hardwood Association. "Collaborating with the entire class was pretty cool and fun," he said. "We actually achieved it."

For the Board of Trustees, it was an unprecedented experience.
"This was one of the best meetings I've had with students during my time on the UO Board of Trustees," said Jimmy Murray, a board member who represents UO staff. "This event gave the students an opportunity to discuss something they are passionate about with functioning examples of their work available for use. It was a more intense experience than a conversation or gallery presentation could provide."
Will Paustian, the student trustee studying at the Lundquist College of Business,said he uses his plate, cup, and stool from Feast for Fifty at home all the time.
Professor of School Psychology Laura Lee McIntyre, a faculty trustee and department head of Special Education and Clinical Science (College of Education), was impressed by the quality of the designs, inspired by both Japanese and Latin American cultures.
"My favorite part was talking with the students about how they developed their plans, executed their vision, and engaged with their team," McIntyre said. "The event highlighted that design should improve peoples' quality of life, either through enhanced sensory experiences, improved mood, or better functionality."
Explore the full photo gallery of Feast for Fifty below.
Photos provided courtesy of Nola Logan and Emma Oravecz.