Product Design Program Director Kiersten Muenchinger will spend the 2015-16 academic year researching design innovation and teaching at Hong Kong Polytechnic as a Fulbright Fellow in Teaching and Research.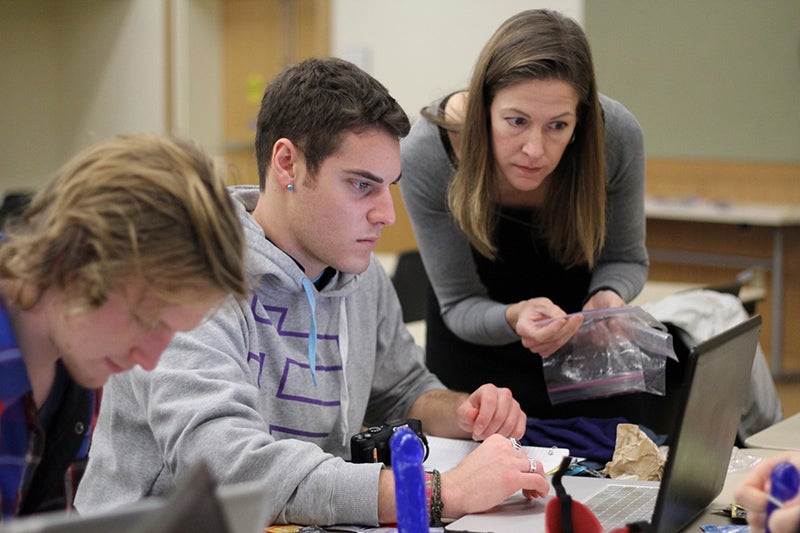 Above: Associate Professor Kiersten Muenchinger. Photo by Jack Liu.
During her Fulbright year in Hong Kong, Muenchinger—named one of America's Most Admired Educators in 2014 and the Young Educator of the Year by the Industrial Designers Society of America in 2011—will conduct research on how materials affect human perceptions of sustainable products and innovation.
Muenchinger's research in Hong Kong will combine a Kansei engineering study with a Life Cycle Assessment "to show where science and emotion intersect." Her research "quantifies the qualitative responses people have to categorizing materials as 'sustainable.' Subjects are presented with materials samples or products made in one material and are asked to rank different aspects of sustainability like 'recyclability,' 'toxicity,' and 'naturalness' for each sample. The subjects quantify their emotional responses to these aspects of sustainability."
Notably, Muenchinger is the only Kansei researcher in the United States. "I'd like to be more strongly connected with my research community.  Southeast Asia is the hub of Kansei studies, and being in their space aids that goal," she says.
Her research in Hong Kong will also allow her to create a comparative body of results from a culturally different community. "I can compare how sustainability principles are perceived in two widely different places—both how they may be the same, and how they may be different."
Muenchinger's interest in Hong Kong Polytechnic stems partly from its international reputation "for bringing an industrial design program to preeminence in the field in a very short period of time. As the founding director of the six‐year­‐old Product Design Program at the University of Oregon I have a comparable story, and would like to compare strategies and outcomes," her Fulbright statement explains.
Her Fulbright year will also help develop "a [long] relationship with Hong Kong Polytechnic through exchanges with both our students and our faculty. … Just as important will be to embrace the opportunity to engage my colleagues [in] topics of design and academic leadership."
A&AA Interim Dean Brook Muller says that for Muenchinger to be awarded a Fulbright "is both an affirmation and a next chapter in the intellectual trajectory of someone who brilliantly and seamlessly aligns impactful teaching, forward-thinking curriculum and program development, and cutting edge research. I could not be more happy for Kiersten given the profound contribution she has made to our learning culture and mission."
Muenchinger also will teach, provide public lectures, and consult on curriculum development while at Hong Kong Polytechnic, which offers both undergraduate and graduate coursework. "We kick‐off our graduate program in product design at UO in the fall of 2016, so the experience of being in a department with both undergraduate and graduate students prior to that start will be extremely beneficial."
The contrasts in the cities themselves, and how that affects educational possibilities, will also offer valuable lessons. "I would like to share the unique plans and possibilities that exist in the vastly different cities of Eugene and Portland … and counterpoint them with the possibilities in the metropolis that is Hong Kong." 
The Tim and Mary Boyle Chair in Material Studies and Product Design, Muenchinger joined the UO faculty in 2008. Prior to that she was associate chair of industrial design at the California College of the Arts. She also serves as a principal of the Green Product Design Network at UO.
She is an active member in the Industrial Designers Society of America, serving for two years as the Western District education representative. Muenchinger was a design engineer with Ideo, Fitch, Sottsass Associati, Walt Disney Imagineering, the Long Now Foundation, and Parapluie prior to becoming an educator. She received her master's and bachelor's degrees in mechanical engineering from Stanford University and Dartmouth College, respectively.