The University of Oregon's Product Design Program has teamed up with furniture company Groovystuff, of Dallas, Texas, on an education-to-industry cross-cooperative partnership in "The Groovystuff by Design: Connecting Education with Industry Challenge." Groovystuff is cosponsoring thirteen UO students for the challenge, which takes place at the High Point Market at the Suites at Market Square in High Point, North Carolina, from April 18-23.
The UO undergraduates' entries in the challenge are the results of their furniture design studio PD 484, "The University Hall of Innovation & Job Creation." Sponsored by Groovystuff, the students were asked to design an "industrial rustic" product line of home furnishings utilizing reclaimed materials. 
At the show in North Carolina, each student is presenting a 20" x 30" product board, a ¼" scale model, and a 42" tall pedestal for their models. Market attendees will vote on the students' creations and the winning "Popular Vote at Market" design will receive a royalty for life as a licensed product in the Groovystuff catalog, in addition to a $250 cash prize.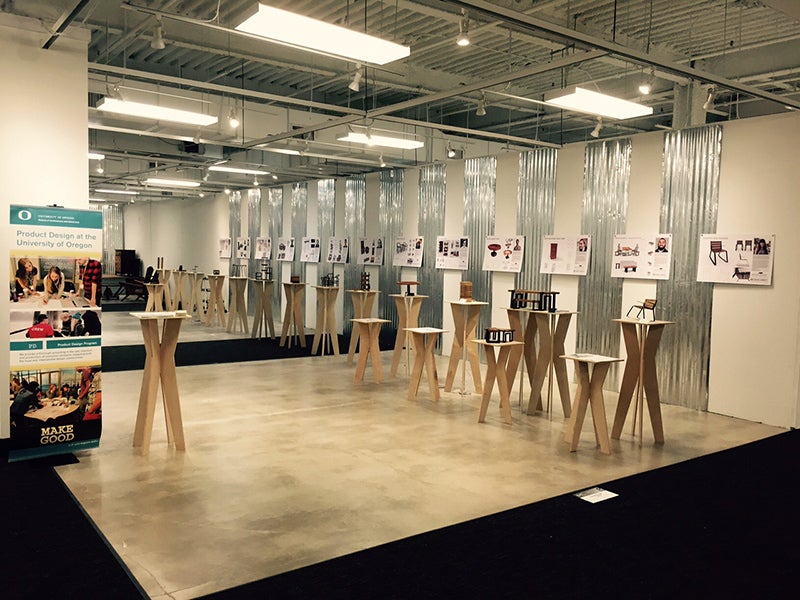 Above: The UO Product Design Program's entry in the "Groovystuff by Design" challenge includes separate projects by thirteen undergraduate students. Photo courtesy Kiersten Muenchinger.
Under the leadership of UO Instructor Ruth Fore, the UO design students were provided a box of reclaimed materials found in the Groovystuff product line to use in their entries. Each student was tasked with developing a home furnishing item competitive enough to be featured as a licensed product in the Groovystuff catalog. 
"Working with Groovystuff has been very rewarding for both the students and myself," Fore says. "[Groovystuff Founder] Chris Bruning's feedback and positive interactions with the students during the design process was such a fantastic real world experience. His support and willingness to give credit to each student and their individual design work has been gratifying to us all. We are truly honored to have been invited to participate in this Industry Challenge. This experience has given our students a rare glimpse into the furniture industry and prepared them for what is to come after graduation."
UO student Thomas Schumacher noted that "the Groovystuff studio benefited my college career in a multitude of ways—first and foremost it offered me the opportunity to showcase my work at the High Point Market and experience my first trade show. Being able to work with an established company like Groovystuff while still in school introduced me to the demand of meeting professional deadlines and adjusting to a client's design criteria. Having knowledge of these skills should prove invaluable heading into the design industry."
Product Design Program Director Kiersten Muenchinger, Fore, and students Schumacher, Allie Reich, Sarah Goldner, and Ron Perkins traveled to North Carolina to exhibit their furniture designs at the show. 
Learn more at groovystuff.com.