Kiersten Muenchinger, the Tim and Mary Boyle Chair in Material Studies and Product Design at UO, has been selected by DesignIntelligence as one of the "30 Most Admired Educators for 2015" from more than a thousand educators across the United States.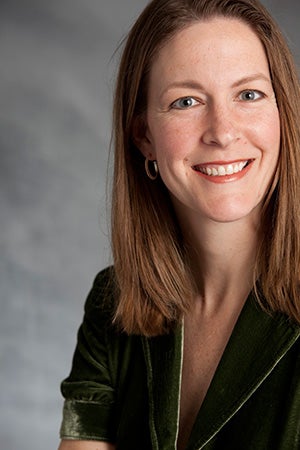 "Product Design is A&AA's newest program and, under Professor Muenchinger's leadership, has exceeded expectations. It's been a catalyst for green-product collaboration on campus, leading-edge research and creative practice, and innovative partnerships that connect deeply with the professional community," said A&AA Acting Dean Brook Muller. "Kiersten is also helping to develop the new masters degree in product design and build our sports products initiative with the Lundquist College of Business."
Muenchinger has directed the Product Design Program at UO since 2008. She is a principal of the Green Product Design Network at UO and district education representative of the Industrial Designers Society of America. 
"Thanks to Professor Muenchinger's mentorship, caring guidance, and collaborative skill, our product design students regularly sweep the competitions they enter, from repeated invitations to show their work in Milan to year-after-year domination of the Interzinc awards and international competitions," Muller added. "Whether encouraging student work in adaptive design for athletes, sustainable public lighting, creative mobile apps, or better condoms for global health, Kiersten continues to excel in ensuring our students are leaders in industrial design problem-solving."
Muenchinger is the fifth UO faculty member to be named to the annual DesignIntelligence list in recent years. Frances Bronet and Anne Godfrey were members of the 2014 class of most admired educators; Bronet was also a member of the 2011 class. David Hulse, Philip H. Knight professor in landscape architecture and founding member of the university's Institute for a Sustainable Environment, was honored in 2012. Linda Zimmer, associate professor and former director of the Interior Architecture Program, was named in 2007.
Prior to entering academia, Muenchinger was a design engineer with Ideo, Fitch, Sottsass Associati, Walt Disney Imagineering, the Long Now Foundation, and Parapluie. She holds master and bachelor degrees in mechanical engineering from Stanford University and Dartmouth College respectively.  
 In announcing the rankings, DesignIntelligence said Muenchinger "is very knowledgeable in many areas of the industry such as materials, processes, and design manufacturing. Muenchinger drives students by being an incredible role model in design and leadership."
The survey is conducted annually by DesignIntelligence on behalf of the Design Futures Council. The 2015 class of education role models was selected by DesignIntelligence staff with input from thousands of design professionals, academic department heads, and students. Educators and administrators from the disciplines of architecture, industrial design, interior design, and landscape architecture are considered for inclusion each year.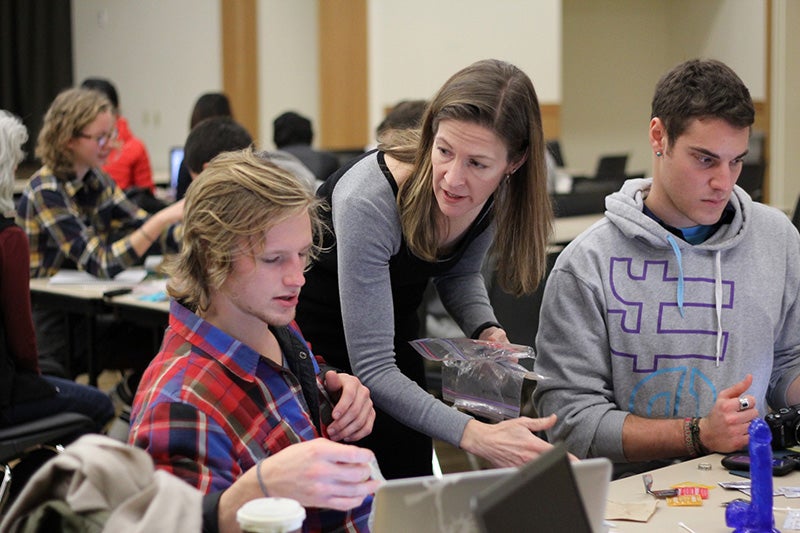 Above: Kiersten Muenchinger, director of the Product Design Program, works with students to input data in a spreadsheet during an exercise for the "Epic Challenges" class, designing the Next Generation Condom. The resuls were highlighted in the July 2014 issue of Men's Journal. Photo by Jack Liu.