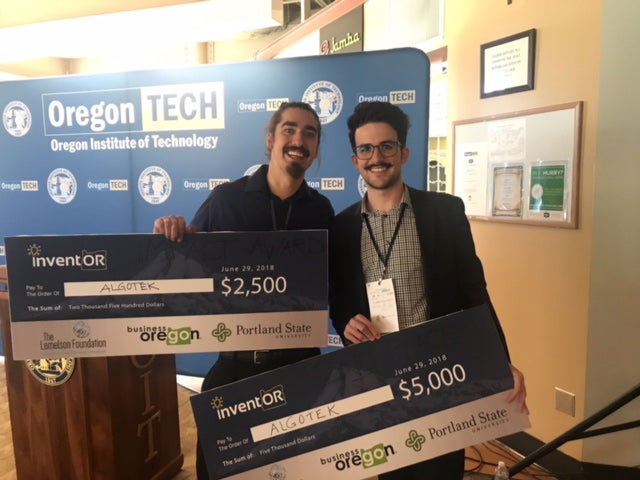 Justin Lebuhn (L) with David Crinnion (R) at the InventOR competition, June 29, at OIT in Klamath Falls, OR.
Just out of their graduation robes and caps, new Product Design alumni David Crinnion ('18) and Tanner Stickling ('18) took second place and $5,000 at InventOR's recent Collegiate Challenge for their startup called AlgoteK. InventOR is a statewide invention and prototyping competition to encourage students to develop solutions to problems they encounter in their communities and translate those ideas into potential sustainable businesses.
Competing against 21 other student teams from 11 colleges and universities across Oregon, Crinnion and Stickling, along with current Environmental Studies students Justin Lebuhn and Tyler Young, also earned the Impact Award, a $2,500 prize for the business idea with the most potential positive impact. AlgoteK is a plastic replacement company that uses algae-based polymers to create products that are 100% biodegradable and environmentally safe, from the raw materials through to disposal. Teams were judged on the quality of their ideas, the strength of their pitches, and the viability of their prototypes.
The quartet formed AlgoteK and are working hard to get the company launched as part of the Summer 2018 startup cohort at the Regional Accelerator & Innovation Network (RAIN Eugene), a business launch program and workspace in Downtown Eugene. The cohort, selected through a highly competitive application process, is participating in a 16-week program that offers intense training and mentoring to early growth-stage companies.
Kiersten Muenchinger, Head of the Department of Product Design in the School of Art + Design at the UO, is a mentor at RAIN. The Product Design program offers studio courses that support students in developing product-based businesses. AlgoteK was supported through one such studio, PD485: Design Entrepreneurship, taught by Muenchinger in spring term, as well as through independent study coursework since last summer when they started the venture through the Sustainable Invention Immersion Week. So, the final InventOR competition, held in June, represented the culmination of a year of honing ideas and developing and refining prototypes.
"We strive to help our students build ventures and careers in many ways, no matter how their aspirations develop," said Muenchinger.
Learn more about AlgoteK and see their initial pitch video.
To learn more about the Product Design program, visit pd.uoregon.edu.