Thinking he was just one in a crowd, University of Oregon undergraduate student Alexander "Zander" Eckblad figured his chances were slim when he submitted his product design project into the inaugural Oregon BEST Red List Design Challenge.
On Sept. 12, Eckblad, a senior from San Francisco, received the second-place award for his prototype of nontoxic, plant-based cellulose nanofiber insulation. The prize comes with $5,000 and help from Oregon BEST (Oregon Built Environment and Sustainable Technologies Center) to potentially move Eckblad's product into the marketplace.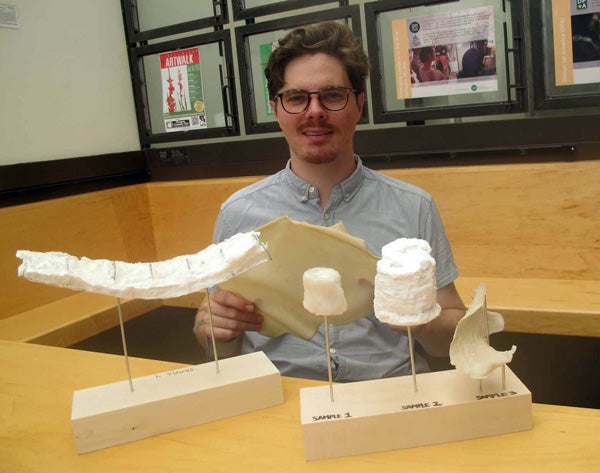 The $10,000 first-place award went to Sukita Reay Crimmel of Claylin LLC for her Ready-Mix Earthen Flooring, which is made from a blend of Oregon clay soil, sand, pigment, and chopped straw that is hand-troweled smooth and sealed with a blend of beeswax and oils.
Oregon BEST and the International Living Future Institute announced the winners during Oregon BEST FEST, a regional "cleantech" innovation conference that brings together university researchers, entrepreneurs, and business leaders to foster collaborations that lead to environmentally clean technology solutions.
"I'm honored. I did not expect this at all," said Eckblad, who graduated from The Urban School of San Francisco, a private high school. "When I entered my first submission, I thought, well, I'm just one in many—a kid from the UO. It has turned out to be a great experience, from learning, in general, to how to connect with people."
Eckblad said that just out of high school he participated in a two-week trial admission program at a California art school because of his interest in product design, but it wasn't a good fit. He'd heard of the UO's strengths in materials science and product design, so he came north.
When he learned about the UO Product Design Program, an undergraduate degree track in the School of Architecture and Allied Arts, during his orientation in IntroDUCKtion, he knew he'd found the right place to study, he said. The open collaboration and support in the program, he said, is fabulous.
"I am still learning in the Product Design Program—how to connect with people and how to convey my ideas. All the professors have been really helpful," he said, giving particular thanks to Kiersten Muenchinger, associate professor and director of the program, and Wonhee Jeong Arndt, assistant professor and a Product Design Program faculty member.
While in an experimental materials course taught by Jeong Arndt, Eckblad said, he was reminded of an article he had read while in high school about the potential uses of nano-crystalline cellulose. In doing his homework, he learned that Oregon State University researcher John Simonson, a professor of wood science and engineering, was experimenting with that very material.
A meeting with Simonson led to some time in his lab, working with OSU graduate student and lab technician Jenna Schardt. Also helping was the UO's Carl A. Stiefbold, a senior instructor of science laboratory education in the biology department.
Eckblad's insulation uses nano-crystalline fibers, a material, he says, that is inexpensive and readily available in Oregon. Potentially, he says, logging and paper manufacturing plants that now sit idle could be repurposed to produce nano-crystalline fiber and cellulose products, which could be used for a variety of products, from insulation to biomedical devices.
"It's all natural," he said. "The crystalline is harder than steel. The fibers have a stronger tensile strength than Kevlar. It is a crazy strong and cheap material."
The insulation Eckblad created, noted Oregon BEST, has the potential to be three times as effective as fiberglass insulation at one-eighth the cost.
Muenchinger holds the Tim and Mary Boyle Chair in Materials and Product Studies at the UO, while Jeong Arndt and Simonson all hold faculty memberships in Oregon BEST. The UO has 49 faculty members participating in Oregon BEST, an independent, nonprofit established by the Oregon Legislature that partners with the Oregon Institute of Technology, OSU, Portland State University and the UO.
A video about the project is available on YouTube.
Story by Jim Barlow