Product Design Program undergraduate Sonja Ellicott will be awarded the Ray Hawk Award at the University Awards Presentation on Saturday, May 16, in the EMU Ballroom.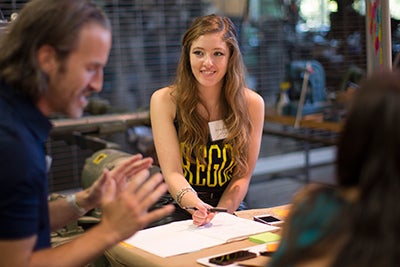 Above: Sonja Ellicott participates in Design For America's national five-day Design Leader Training at Northwestern University in August 2014. Photo courtesy Design for America.
The Ray Hawk award is presented to a senior member of Friars Honorary Society who best exemplifies the essential qualities of: leadership in university life and promise of later leadership as a citizen; high scholastic achievement; service to others and the university; and contributions to improving the quality of undergraduate life at the university," according to the website about the award.
"Sonja has been the studio director of UO's chapter of Design for America, and has single-handedly made that club a strong interdisciplinary organization for all UO students to be able to work on design solutions to social problems in Eugene and beyond," said Kiersten Muenchinger, director of the Product Design Program.
Ellicott is interested in prosthetics, healthcare innovation, and human-centered design, and upon graduation hopes to pursue medical device design. She has served as vice president of the UO chapter of the Industrial Designers Society of America since March 2014 and was secretary of the chapter for a year prior. As a business minor she is active in the American Marketing Association and was a finalist in the 2015 Nyenrode Case Competition. She earned a certificate in sports product merchandising from the UO Sports Products Program in 2014. 
Her research projects include providing research and design assistance on a UO project for the Bill & Melinda Gates Foundation. She has also researched state-of-the-art interior mapping and the Smart Campus concept while working as a user experience/user interface (UX/UI) designer at the UO's Infographics Lab, where she has been employed as a designer since August 2013.
Ellicott earned a certificate in sports product merchandising from the UO Sports Products Program in 2014.
Established in 1910, Friars Honorary Society is the oldest honorary society on the UO campus. Membership is composed of faculty members and students who have completed at least three years of study. Criteria are contributions to the university, potential for community leadership, and commitment to the university as alumni. Prospective members are nominated by the active membership.