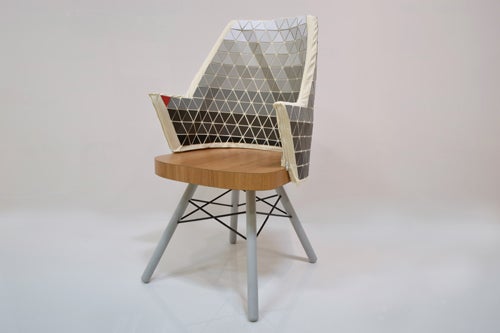 Consumer Reports calls UO product design student Katie Lee's café chair "one of the most inventive uses of laminate you might ever see." Judges for the "Wilsonart Challenges..." — a student design competition — agreed, naming it the winner in the 2013 contest.
Lee and six other University of Oregon design students who were finalists in the competition had their chair designs displayed May 18–21 at the International Contemporary Furniture Fair (ICFF), North America's showcase for contemporary design, at the Javitz Center in New York, New York, in Wilsonart's booth, #2248.
Their designs are the results of a product design studio, led by Assistant Professor John Arndt, to produce a Northwest café-inspired chair for "Wilsonart Challenges...." Wilsonart, a longtime manufacturer of decorative surfaces, seeks to foster the careers of emerging designers in North America. The competition asks students to create a unique chair using Wilsonart Laminate to answer a specific design challenge.
Lee's design and those of the other finalists — all UO Product Design Program students — were displayed at the ICFF. Lee's chair, "6 Shades of Grey," is an eclectic mashup of new materials and classic chair elements, creating a unique interpretation of the typical café chair found in coffee houses and tea salons.
"I have never seen laminate used in this way. By combining laminate tiles with canvas, Lee developed a completely new material combination that she then used to upholster the arms and back of her chair," says Alison Pulver DeMartino, Wilsonart director of marketing communications.
Lee chose a contemporary treatment for the high-pressure decorative laminate, the material required to create the chair. The repeated triangular motif of laminate tiles and canvas for the arms and back gives the chair a versatile, modern look. "Based on our tough countertop tests, the chair should hold up well over time, especially against stains, heat, and high impact," Consumer Reports said in its review of the chair.
Wilsonart chose the UO Product Design Program last fall to host the 2013 Challenge.
"UO was selected because of Kiersten Muenchinger," says Grace Jeffers, design historian and materials specialist who manages the competition for Wilsonart. Muenchinger, the UO Product Design Program director, came to UO from the California College of the Arts (CCA) to start the UO program in 2008.
"We first spoke when she was at CCA in San Francisco. I was impressed with her knowledge and her enthusiasm," Jeffers says. "The fact that she won the IDSA (Industrial Designers Society of America) teacher of the year award cinched the deal. We knew we liked her before; after that there was no question. We were also excited about the cross-disciplinary interest in sustainability at UO. We followed her to UO."
Jeffers also says she feels "fortunate to have the opportunity to work with Assistant Professor John Arndt, who led the class. Studio Gorm (Arndt's professional studio) is a rising star in international design circles, and his teaching approach is as thoughtful and well crafted as his work. Having managed this project for nine years I have come to realize that the professor is the 'secret ingredient' who simultaneously leads and pushed their students. A competition like this is quite a burden on these professors — I have been told it is equivalent to teaching three classes, not one."
The competition unfolds as a one-term studio course each year. Arndt's class offered opportunities to examine, experiment with, and utilize laminate, a material known predominately for its use in countertops. The students were taught about laminate, its history, technical capabilities, current market trends, and sustainability issues as well as the history of chairs as decorative art forms.
This year's café theme was chosen because of the popularity of coffee houses and tea salons in the Pacific Northwest and the rich design history found in these shops.
"Wilsonart and I worked very closely to develop the design brief," Arndt says. "They have their material focus to use laminate to make a chair, and we have our interests, material experimentation, innovation, and a hands-on design process. We tried to come up with a theme that was relevant to design and culture in Oregon, the café culture, and also something that was relevant to contemporary design issues — a material-based design process with a focus on lightweight and innovative construction and design. Also, this is a studio course that takes place in the workshop, so the focus is really to design with the materials, do a lot of research and experimentation to see what the materials can do."
The original café chair, "No. 14" by the Austrian Thonet company, was the first mass-produced bentwood dining chair in the 1800s. The Wilsonart competition gives special consideration to lightweight and innovative use of materials, two qualities chair No. 14 was praised for.
Oregon's chilly winter environment — and its subsequent cozy café culture — inspired her design, Lee says. "Imagine running into a warm cafe in Eugene or Portland on a gray rainy day. You are seeking comfort from the hot coffee in your hands, from the chair you sit on and from the environment you sit in. A local artist's painting hangs on the wall, the furniture may be choice vintage pieces or mismatched thrift store finds, and yet the space is curated to have a feeling of newness. I wanted to create a chair that reflected the essence of these cafés."
For her part, DeMartino was impressed by the way that students melded contemporary views into their chairs. "One thing that amazes me is the reflection of today's design, craft and art trends in the students' work."
Lee's approach was multilayered. "My design evolved from experimenting with materials, by combining materials that interested me, cutting them into shapes and arranging them into patterns. Through adhering laminate triangle tiles to cotton canvas, I created a new material which I then used as a 'pelt' draped over the backrest of the chair form. The red triangles on either side of the chair arms are my favorite details in this design. The red triangle is an homage to the iconic Wilsonart sample chip. It almost looks like the tip of the arms were dipped into a bucket of red paint."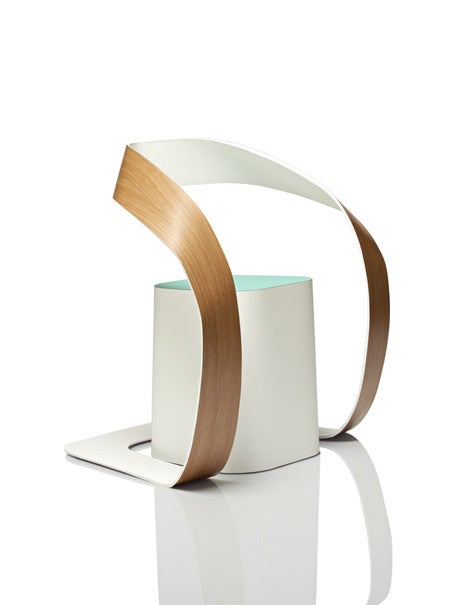 Along with Lee's chair, six other colorful café chairs produced in the studio were shown in New York. The other students showing their chairs at ICFF were Tyler Baum, Adam Horbinski, Justin Mellott, Justin Merrill, Jordan Millar, and Simon Ratti.
Wilsonart generously provided a variety of supplies for the students' projects, Muenchinger says, including "the laminate material, adhesive, an expert in the history of chair design, an expert in laminate fabrication, expertise from our local Wilsonart reps to ask questions throughout the studio, professional photography of all of the chairs, and national-merit design jurors who came to Eugene to judge the results." If that wasn't enough, Muenchinger adds, "They also buy the space at ICFF. They also give us $5,000 to help fund the studio, and $6,000 to fund travel expenses for students to present their work at the fair." The Product Design Program supports additional travel costs for the students.
The design blog Core77 helped judge the chair design competition.
The UO Product Design Program was established in 2008 with a focus on sustainable product design and is part of the University of Oregon's Green Product Design Network, a collaborative partnership with green chemistry, product design, business, and journalism and communication. The University of Oregon's product design students and faculty members are regularly recognized for design excellence in competitions and awards. Achievements include awards given by Wilsonart Challenges (2013), the Land Art Generator Initiative (2013), Industrial Design Society of America Design Excellence Awards (2012, 2013), Interzinc Design Challenge (2009-2012), Oregon Manifest Design Challenge (2011), Ascent Solar Technologies Innovative Design Competition (2011), and Seoul International Design Competition (2010). To learn more, visit pd.uoregon.edu.
Story by Marti Gerdes