The eighty-five flags gracing the ceiling in the "Track Town Studio" this term aren't mere decoration. They set the tone for the product design and architecture students collaborating beneath the banners, helping them gauge how and where to display 175 flags from participating countries in the 2014 International Association of Athletics Federation's (IAAF) World Junior Championships.
"When we hung the flags in the studio, the space began to embody the international character of the event that the students are designing for," said co-instructor Sebastian Guivernau, whose work credits include helping create the Nike Camp Victory experience for the 2012 Olympic Trials in Eugene. "When you walk by the studio, it has a unique identity and energy. We're not going to do a project about branding and work in a studio that has no identity."
Collaboration is at the center of the studio, which is the first instance that students from the Product Design Program and the Department of Architecture have worked together toward a shared vision. Students in the Track Town Studio are developing an integrated design package that includes the flag display and world-class pavilion.
From July 22–27, 2014, athletes from 175 countries will participate in the track and field competition at Hayward Field. The biannual event will host athletes from around the world, many of whom will go on to compete in the 2016 Summer Olympics in Rio de Janeiro.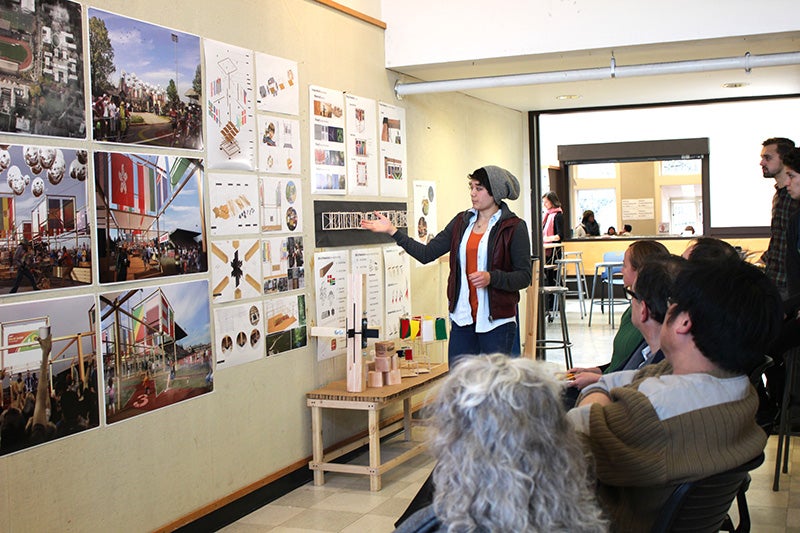 Above: Hana Hiratsuka goes over details of her team's project as reviewers and students look on. Photograph by Emerson Malone.
"When this opportunity came up for the IAAF competition, it seemed like a natural fit for product design to help out [with architecture] a little bit," said Trygve Faste, UO assistant professor of product design and co-instructor of the studio.  "It's work that's a little bit bigger than what product design normally does and a little bit smaller than what architecture normally does."
Instructors Faste and Guivernau say that active teamwork from different disciplines is one of the most important lessons taught by the studio. In the professional world, this exchange of ideas is known as "cross-pollination."
"That's what creative agencies that foster innovative working environments do—set the stage for cross-pollination between disciplines, which more often than not makes things better," said Guivernau, an architect at Portland's ZGF Architects firm. "[This studio] reflected a more realistic picture of how collaborations happen in industry. That's the model we have tried to replicate in the classroom."
The students welcome the opportunity to work across disciplines. "What drew me to [this course] was the scale of the project and the collaboration aspect, which were really exciting," said architecture student Benjamin Bye. "I thought it was exciting that it was for Eugene and something important for Eugene."
The formation of the studio traces back to January 2013 when representatives of Track Town, an organization that hosts track and field events across the Willamette Valley, asked faculty members in A&AA for assistance with coordinating specific architecture, product design, and other aspects of the event. The merger between the two departments was approved in mid-August, just before the 2013 fall term.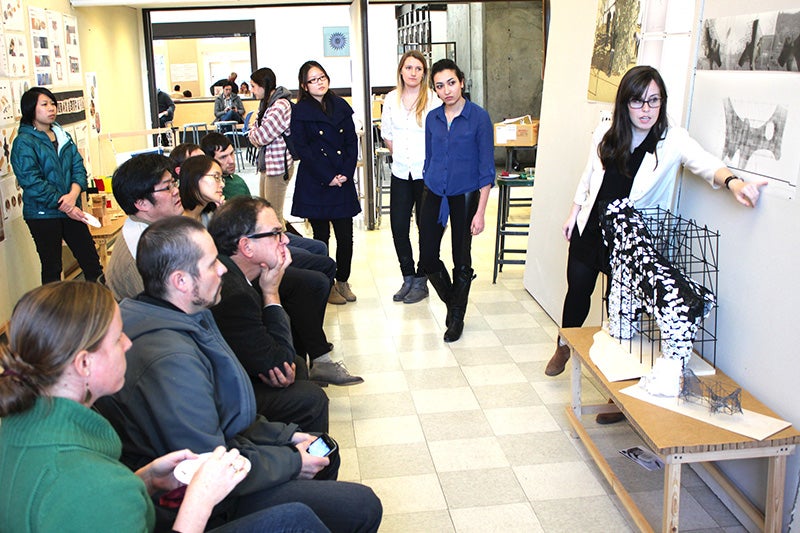 Above: Josie Baldner explains her team's efforts to reviewers including Peter Keyes (center) and Kyu-ho Ahn (left of Keyes), both professors in A&AA. Photograph by Emerson Malone.
Students are divided into groups of four, each group consisting of two product design students and two architecture students. The product design students are primarily concerned with developing a flag display to represent the 175 participating countries; the display will be in or around the perimeter of Hayward Field. The architecture students are developing concepts for spaces and structures for the IAAF event.
"Each group has a holistic vision for the event," said Faste. "In some groups, those two responsibilities are closely intertwined because the flags are either displayed on or through the pavilion or somehow connected to the structure."
Guivernau said the potential to work on a local project of massive scale helped draw students to the studio. 
"Everyone's taking it on with a constructive attitude, which is great. Students have been open to a collaborative process that encourages experimentation," he said. "We can't do anything alone as designers. You cannot produce excellent work—especially creative, innovative work alone. That rarely comes from one person."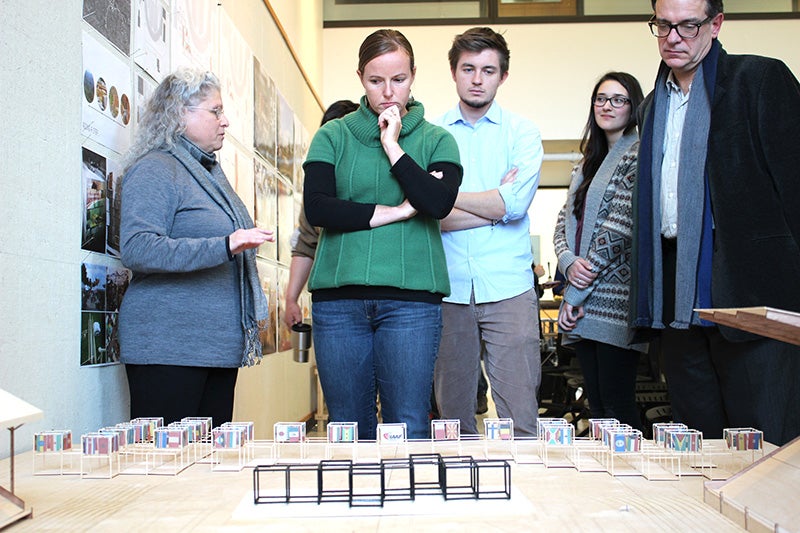 Above: Architecture department Head Judith Sheine (from left), Becky Radliff (center) from Track Town, and architecture students Emilio Todescato and Samantha Youssefi join Associate Professor Peter Keyes in reviewing pavilion concepts. Photograph by Emerson Malone.
These pavilion concepts include personalized locations for food vendors and information kiosks. The aesthetic of the pavilion must represent the community of Eugene. To do this, groups approach their projects differently: Some are exploring a concept based on Eugene's cross-country and track community. Others emphasize the historic merit of Hayward Field and its track athletes. Another group is focusing on the Pacific Northwest with a lumber-themed structure.
"They're actually incorporating raw lumber and standard lumber cut pieces into their concepts," said Faste. "Basically, they can just utilize this product of the Northwest to construct it."
Many projects aim to reinvent the World Junior Championships as a sporting event with minimal environmental impact. The Council for Responsible Sport used the 2008 U.S. Olympic Trials in Track & Field in Eugene as a case study for sustainable sports events. With its record achievements in recycling and composting waste, saving several thousand gallons of fuel and sparing CO2 emissions, this became the standard by which other sustainable sports events are measured.
Architecture student Bye has assisted his team in conceptualizing an international food fair. Inspired by the green Olympic trials from 2008, Bye's team incorporates sustainability with the use of "pods," kiosks constructed with rented and reusable scaffolding. These pods can be designated for food vendors and a recycling and composting center.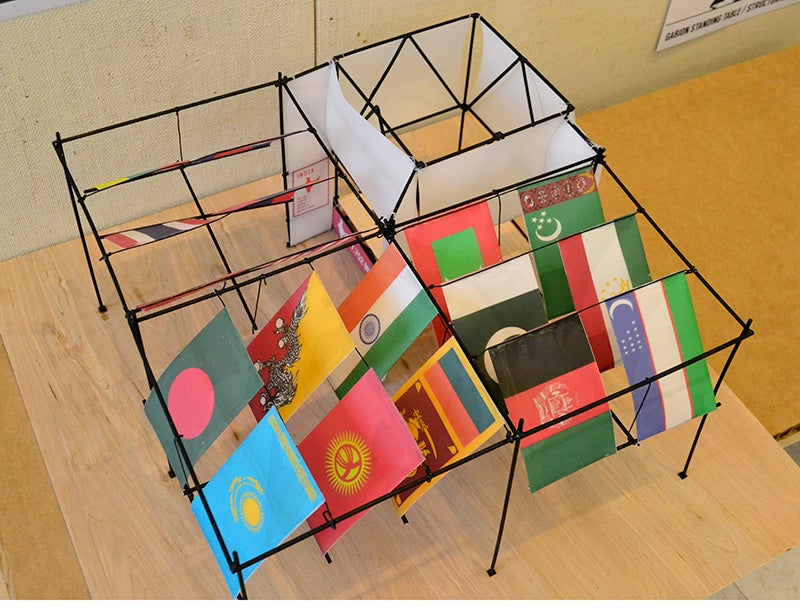 Above: Students in Track Town Studio developed an integrated design package that includes a flag display. Photograph by Marti Gerdes.
"At the Olympic trials … everything was compostable," he said. "Everything was recyclable and green. We want to bring that into our project by using materials like reclaimed wood and pushing that compost and recycling center idea."
Students receive productive feedback from industry leaders and field experts such as AHM Branding, the agency hired by Track Town to craft the identity of the event, and Gallagher Designs, a design agency that collaborated on UO's Football Operations Center, the Hatfield-Dowlin Complex. The professional response helps tailor the projects for the client's vision. 
During review week on campus, representatives from AHM Branding, Gallagher Designs, and the client, Track Town, critiqued each team's concept. The students' work may well end up influencing the World Junior Championships.
Faste said the studio is good practice for students who want to continue either practice as a career, because product design and architecture professionals frequently work together.
"Our philosophy has sort of been that working collaboratively across disciplines is a growing trend and it's becoming more and more vital in the workplace professionally," he said. "We look at this as a great opportunity for students. … That negotiation that happens between two groups is a valuable thing to be exposed to."
Susan Sokolowski, an adjunct professor and innovation director for Nike, Inc., will teach another Track Town-related studio during winter term 2014 in which students can learn how to manufacture gear and design garments.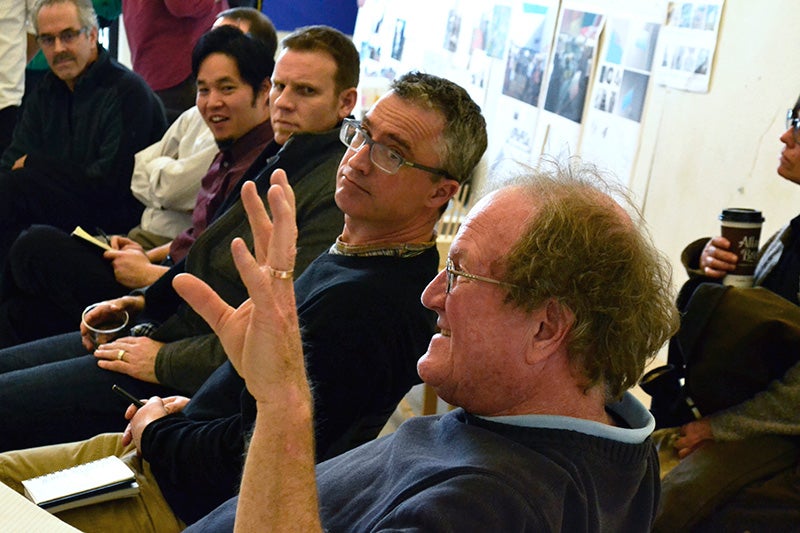 Above: John Curtis (far left), product design instructor, Brook Muller (second from right), associate dean for Academic Affairs in A&AA, and other reviewers listen as architecture Professor Don Corner (right) provides feedback. Photograph by Marti Gerdes.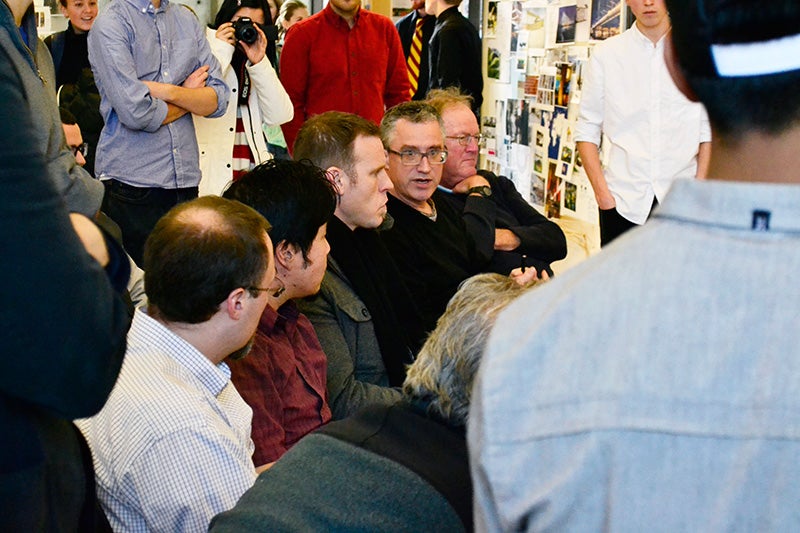 Above: Students packed the room during the review to hear what project team members and reviewers had to say. Here, Associate Dean for Academic Affairs Brook Muller responds to a comment from a student. Photograph by Marti Gerdes.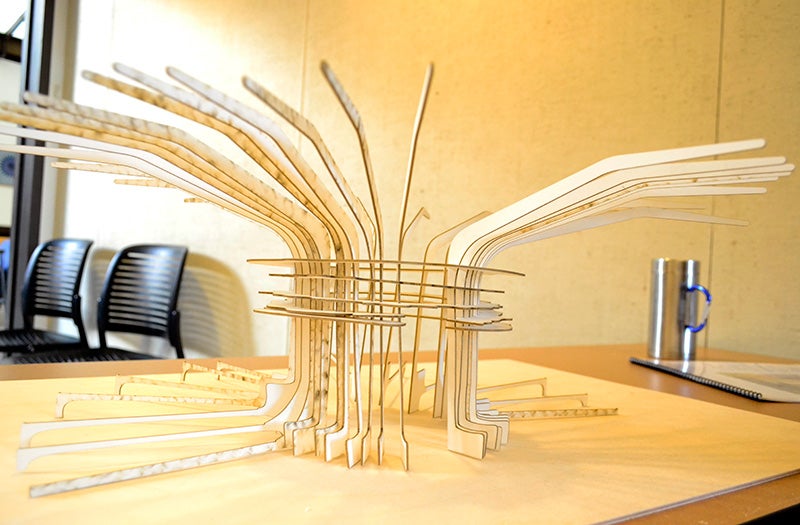 Above: One of the concepts for the event pavilion. Photograph by Marti Gerdes.