What do Hasbro toys, Scandinavian Airlines service trays, John Deere lawn mowers, virtual reality headsets, Eli Lilly medical devices, and MGM Las Vegas water features all have in common?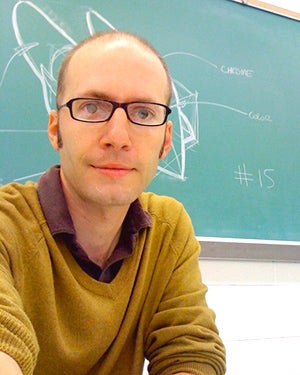 Above: Assistant Professor Trygve Faste
Trygve Faste worked on their design.
Faste, assistant professor in UO's Product Design Program, has created a variety of products for all those companies and more. His designs have been featured in designboom, Core77, Dwell, Sight Unseen, The Seattle Times, LA Weekly, GRAY, and many other print and web publications. His furniture and painting work have been exhibited internationally. Both students and faculty colleagues give him rave reviews.
Now, the Industrial Designers Society of America (IDSA) has recognized Faste with the 2015 IDSA Young Educator of the Year award, presented in recognition of the contributions of younger faculty members who have dedicated their careers primarily to the education of the next generation of designers.
"Trygve has impacted this program and our school in profound ways and in short order," A&AA Interim Dean Brook Muller wrote in Faste's nomination for the award. "He is a gifted educator who brings rigor, powerful conceptual thinking, enthusiasm, and organizational skill to the studio and classroom."
Student testimonials concur. Chris Lau, BFA product design '15, stated in Faste's nomination that  "there have been times I have been on the brink of tears while watching how easily Trygve can translate his thoughts to paper and how just a few strokes of his pencil can speak volumes."
Product design undergraduate Sam Selbie wrote that "On the first day of my drawing class with Trygve, he did a sketching demo that had us in awe, glancing at each other mouthing 'Is this real life?!' and 'Can I just be him?' What sets Trygve apart from the many other talented professors I have had is his humility and selflessness. Never have I met someone more willing to share his talent and passion so freely."
Added Collin Lafayette, BA product design '14, "His positive attitude pushes students to do their best work and stay passionate about their projects. The way he runs his classes parallels the expectations of a professional level design studio."
And from Chase Holenstein, BA product design '15: "Professor Trygve Faste is Jedi. He's like Obi Wan Kenobi and Luke Skywalker COMBINED. But instead of wielding a light saber he slashes Copic markers … to guide young designers in their quest to use the force for good."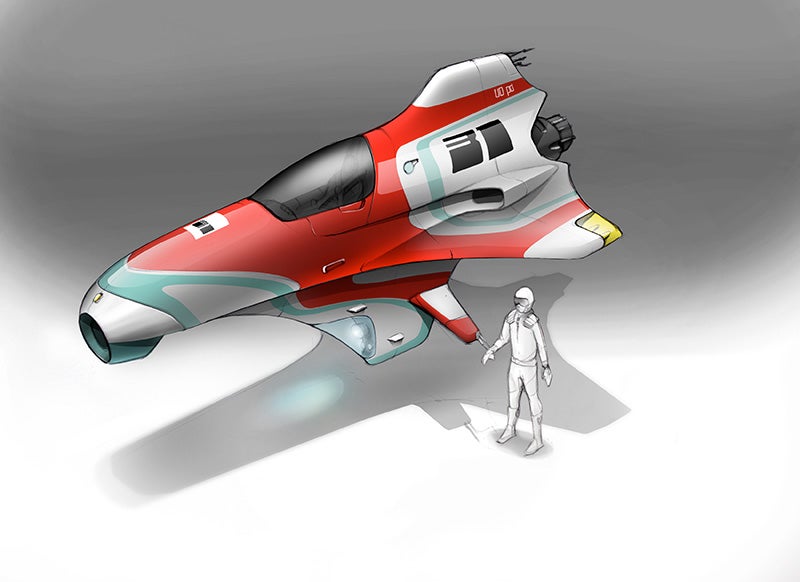 Above: A drawing example that Faste completed during in an in-class demonstration on perspective and rendering using hand sketching and Photoshop. The class was PD 410 Digital Drawing.
Faste joined the UO faculty in 2010 after working as a design consultant, in-house designer, and artist, then teaching at California State University, Long Beach. At UO he has been a primary force in the development of the Product Design Program, creating and redeveloping design drawing courses, and teaching senior studios tied to sponsored projects, such as working with electric car company Arcimoto, and international design competitions.
Faste's blend of professional practice and academic experience "extends beyond teaching a range of courses and includes his research at the intersection of art, design, and science [that] has led to research collaborations exploring materials, form, and the impact of nature to shape and create," colleague Jason Germany, assistant professor in the Product Design Program, wrote in Faste's nomination.
Kiersten Muenchinger, Product Design Program director, praised Faste for furthering his students' capabilities for independent success after graduation.
"Our students have developed into entrepreneurs under his studio direction, and because of their success we are now launching an entrepreneurial senior studio initiative. Trygve is the catalyst for this launch," says Muenchinger, who won the Young Educator award in 2011.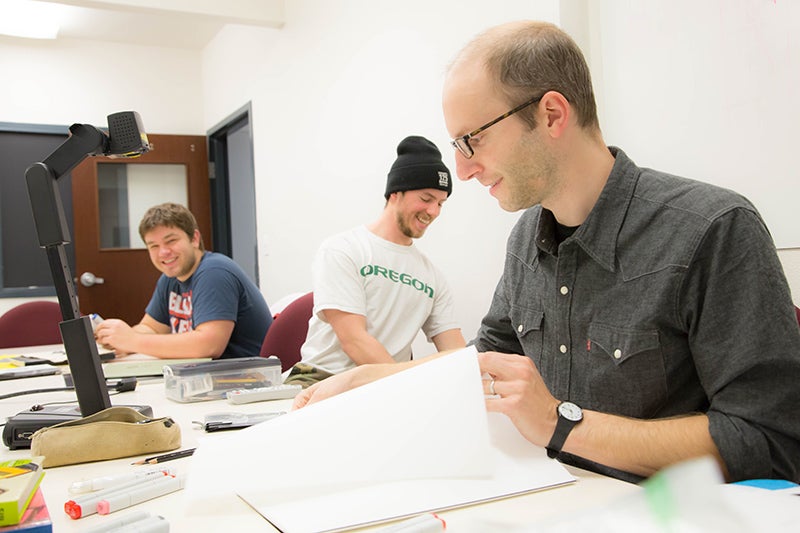 Above: Trygve Faste, assistant professor in the Product Design Program, conducts a drawing demonstration for his UO class.
John Arndt, associate professor and the Product Design Program's acting director for 2015-2016, noted that Faste's professional work "explores the boundaries between art and design, which also helps our students to understand that the field of design is not a narrow specific practice but offers many possible directions when they leave school. … He is loved and respected by his students. They learn solid skills in his various drawing courses and a great understanding about the overall design process in his lectures. His topical studios address relevant issues from low-tech energy production, automotive design, and tools for survival, to name just a few."
Faste also taught a young designers workshop on technology-based toy design to 25 international students for the Industrial Design Alliance Congress at Tatung University in Taipei in 2011. He was selected for the position as an expert in the combination of play and manufacturability needed for toy design.
His research at UO has received grant funding from UO and the Oregon Arts Commission.
Faste holds an MFA in painting from Cranbrook Academy of Art in Bloomfield Hills, Michigan, and a BA in studio art and mathematics/computer science from Whitman College in Walla Walla, Washington.
The award was announced at the ISDA International Conference in Seattle on August 19.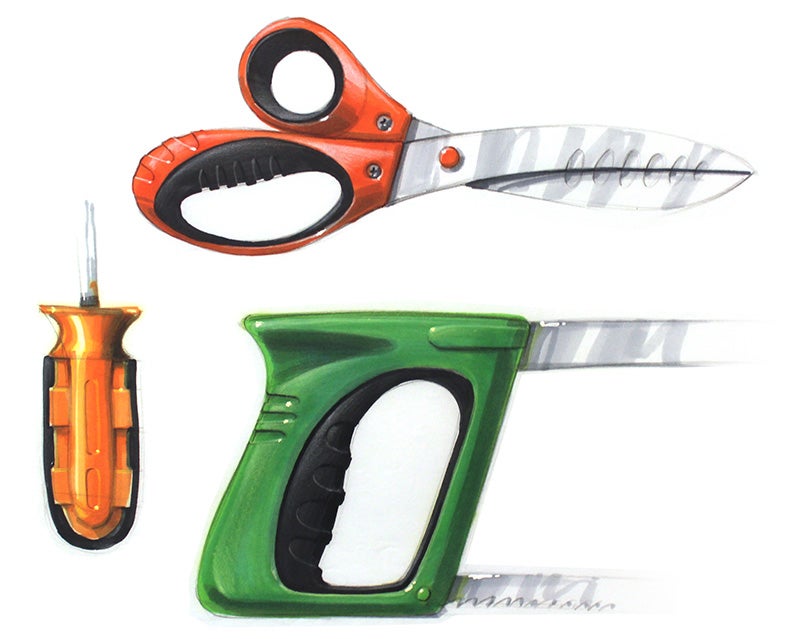 Above: Brian Gillis, associate professor in the Department of Art, said he "wished all Triple-A students had the ability to take Trygve's drawing classes. He has had an avid drawing practice since he was a young boy and because of this has ended up being truly exceptional." This sketch was a demonstration in class on materials and shading.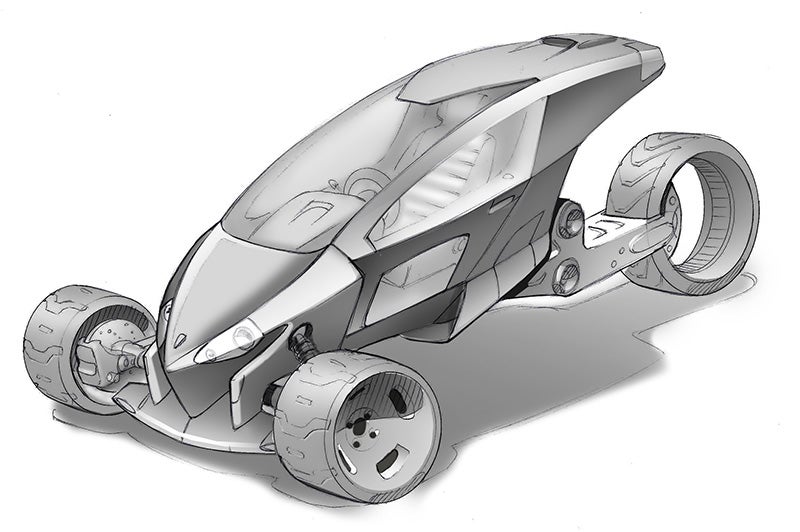 Above: A drawing done by Faste in a class on shading. Gillis says of Faste that "though his work is very contemporary, and his thinking is fresh and resonant in this way, he is in many ways a throwback craftsman from another era, with such remarkable fluidity, facility, and sensitivity."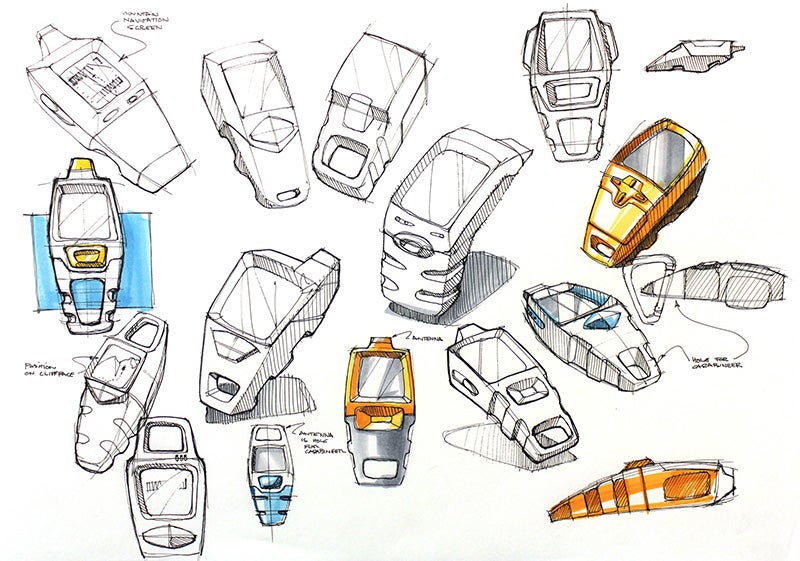 Above: Faste completed these "quick sketches" during demonstrations on materials and shading for PD 223 and PD 323.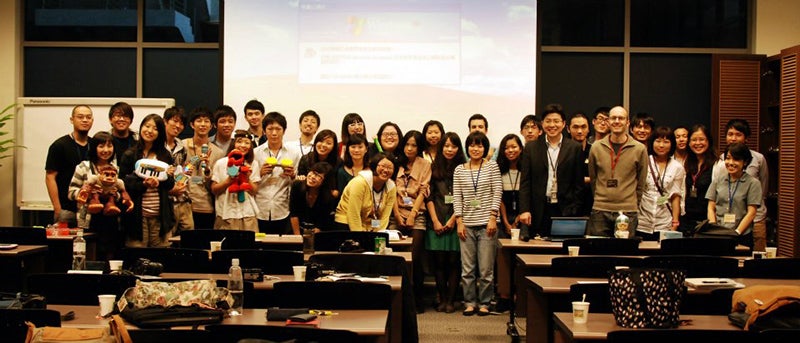 Above: Professor Faste with designers at the workshop on toy design at the Industrial Design Alliance Congress workshop in Taiwan. Many of the participants are holding toys that inspired their designs.