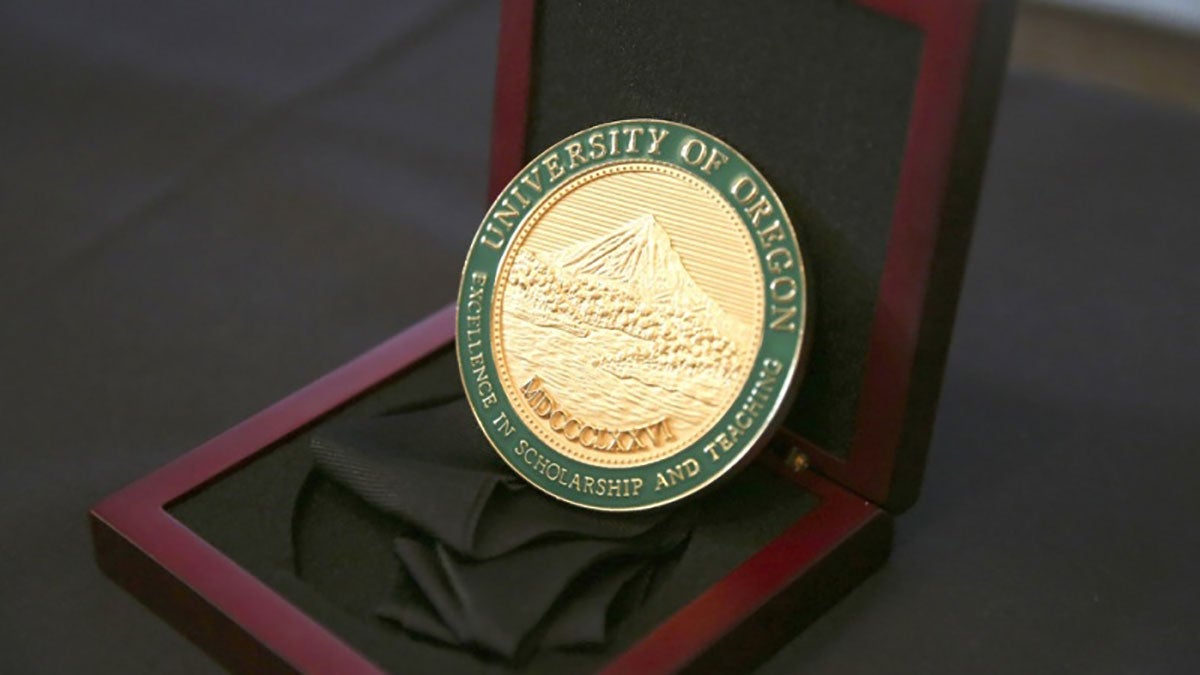 The University of Oregon recently announced 15 faculty members across campus received the 2019 Fund for Faculty Excellence awards. Two of the awardees teach in the College of Design: Associate Professor of Product Design Wonhee Arndt and Eleonora Redaelli, Associate Professor in the School of Planning, Public Policy and Management (PPPM).
Wonhee Arndt: Shaping Design Discourse
Arndt, who has taught at the college since 2008, has made international contributions to the field of product design. She has inspired designers from Singapore to Norway to Eugene and is an influential advocate for Shaker design principles, which draw on simplicity, utility, and honesty.
"The contribution Associate Professor Arndt has made to the world of design discourse is remarkable and unique," Kiersten Muenchinger, former head of the Department of Product Design, wrote in her nomination.
Arndt has also led many students to show at some of the most prestigious invitational design exhibitions such as the International Contemporary Furniture Fair in New York and Salone Satellite in Milan, Italy.
Having received a Masters of Design from the Netherlands' Design Academy Eindhoven and a BFA in Sculpture from Seoul's Kookmin University, Arndt has gone on to exhibit her own work at Sight Unseen Offsite, Design Within Reach, and the Bellevue Art Museum. With her partner John Arndt, fellow associate professor of product design, she founded Studio Gorm. As a solo designer and as Studio Gorm, Arndt has garnered countless awards and grants including Wanted Design's American Design Honors and a grant from the Royal Norwegian Consulate in New York to support Furnishing Utopia, a design project and collective of artists led by Studio Gorm at the Hancock Shaker Village in Massachusetts.
In Wanted Design's awarding statement, they said "As a group, they [Furnishing Utopia] successfully created a diverse collection of objects strongly tied to the central thematic idea, but more importantly, they were able to ignite a communal idea exchange and a global discussion on issues relevant to design."
The Industrial Designers Society of America recognized her as one of 2014's Top 10 "Women in Industrial Design," and in 2017, Metropolis Magazine named her "one of the five rising Asian American women in design in the U.S." The work of Studio Gorm has been featured in the publications Dwell, Dezeen, Fast Company, Wallpaper*, and the Los Angeles Times.
Eleonora Redaelli: Where Culture Meets Policy
Redaelli's work on cultural policy and arts management education has sent her around the globe, from visiting professor and scholar positions at King's College London, Shandong University in Jinan, China, and the Tswhane University of Technology in South Africa, to working in Italy's cultural sector as a planner in the provinces of Milan and Lecco.
In 2008, Redaelli received a PhD in Arts Education, Arts Administration, and Cultural Policy from The Ohio State University and went on to coordinate and teach in the arts management program at University of Wisconsin-Stevens Point. She joined the College of Design in 2013 as an assistant professor.
"Dr. Redaelli has been a prolific scholar in her field," wrote nominating Professor Rich Margerum, Head of the School of Planning, Public Policy and Management. "She has made significant contributions to the field of arts management through her research on creative placemaking, theories of art, and its relationship to professions that influence policy and places."
In addition to publishing research in leading journals in the field—including the Urban Affairs Review, Urban Geography, Journal of Arts and Cultural Management, International Journal of the Arts in Society, Policy Review, and Cities—Redaelli co-authored with Jonathan Paquette Arts Management and Cultural Policy Research (2015) and Connecting Arts and Place: Cultural Policy and American Cities (2019),both with Palgrave MacMillan press.
Redaelli is also a member of one of two teams presented with the inaugural Tinker Hatfield Award for Innovation. She is working on the Albina African-American Cultural Heritage Conservation project, which will focus on how to preserve the cultural heritage of the historic Portland neighborhood.
Recipients of the University of Oregon Faculty Excellence Awards can choose to receive a salary supplement of $20,000 over the next academic year or $26,600 to support research.
Read more about the university's 2019 award recipients at Around the O.