Students in the adaptive design studio had a specific vision and goal: to enable the USA wheelchair rugby team to compete at its highest potential using innovative products designed just for them.
Refining and redesigning athletic wear for adaptive athletes is becoming a noted specialty at the UO in Portland thanks to the unique curriculum launched four years ago in the Product Design Program. The studio—Adaptive Products: Enabling Athletes with Disabilities—was first offered to fifth-year bachelor of fine arts product design students in winter 2012.
The unprecedented course was a collaboration between professional Nike, Inc., designers working as adjunct instructors and UO faculty members. They included adjunct instructors Wilson Smith, III (BArch '80, and current Nike, Inc. design director), Bob Lucas (former Nike innovation designer), then-A&AA Dean Frances Bronet, and Product Design Program Director Kiersten Muenchinger.  
Students in the studio were given the opportunity to work with nationally recognized adaptive athletes to design products specific to the athletes' physical challenges. The studio strengthened the collaboration between Nike and the UO Product Design Program to develop gear for athletes who use prosthetic devices and wheelchairs. The course has continued each year since, bringing innovative designs to world-class athletes with physical challenges and developing stronger ties to the adaptive athlete community overall.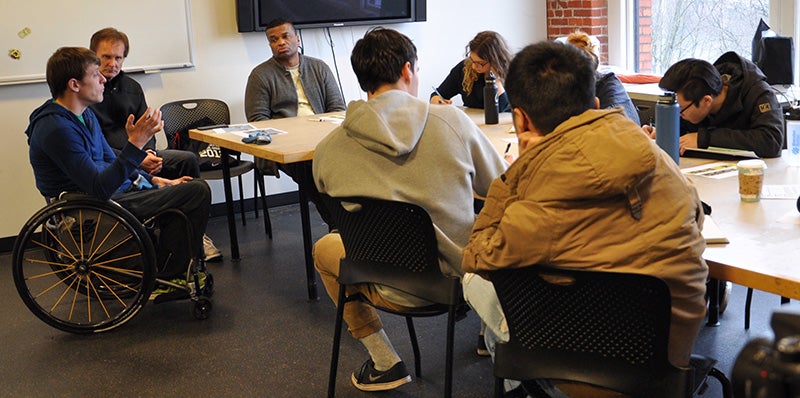 Above: Adaptive Products students in the winter 2016 studio meet with wheelchair rugby athlete Seth McBride. Photo by Sabina Poole.
 
The studio tests students' problem-solving skills on multiple levels. The students get the opportunity to understand first-hand the challenges and difficulties faced by individuals who are setting athletic precedents and breaking down stereotypes. This dialogue allows product modification and prototype development so the resulting products can enable athletes to compete at their highest potential and with greater safety and comfort.
For winter term 2016, Smith added Bruce Kilgore and Matt Rhoades to the team of instructors. This superstar cast of leaders in athletic design brings significant creative accomplishments: Smith created Air Jordan 16 and 17, Kilgore is known for Air Force 1, and Rhoades led Nike as the brand's first global creative director. Product Design Program alumna and former adaptive product student Lizz Hampton, BFA '13, also served as an instructor assistant.
The instructors partnered with rugby wheelchair athlete Seth McBride, a world-class athlete, 2014 National Geographic Traveller of the Year, and captain of the Portland Pounders wheelchair rugby team. McBride is also on the US National Paralympics wheelchair rugby team.
"We will be working with wheelchair rugby athlete needs for the Portland Pounders wheelchair rugby team in preparation for the Paralympics in Rio '16," Smith said.
McBride visited the class to talk to students and discuss players' needs, focusing on five product concepts: improved gloves, improved professional-caliber athletic under garments that protect the back while helping ease breathing, sleeves that stay up comfortably, shoes that reduce "spasticity," and sleeves for amputees that serve as a protective layer or as a layer for a prosthetic to cling to.
The projects will be considered for further development and potential use at the 2016 Paralympics Games in Rio de Janiero.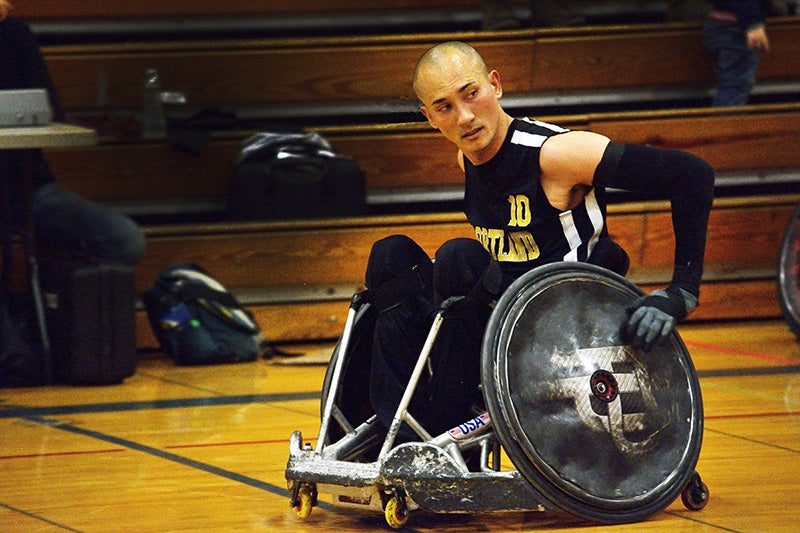 Above: Will Groulx, a player on the Portland Pounders team, speeds down the court. Photo by John Herman.
 
During the term, students had access to wheelchair rugby team members during practice sessions. They also attended games.
"We desire to incorporate the prototyping of these identified soft-goods projects through the White Stag Innovation Lab," Smith said. "Our hope is to eventually create projects that can be utilized toward the eventual gold-medal contention of the favored USA Paralympics wheelchair rugby team."
Students worked late and arrived early at the studio throughout the term, toting materials including fabrics and notions as well as equipment ranging from sewing machines to wheelchairs and wheelchair components. Their work will culminate in a final project and presentation March 11 that incorporates research into markets, users, environmental aspects, materials, manufacturers, trends, and color.
Student Matt Poppelaars was particularly impressed with the opportunity to work directly with the athlete end-user.
"Seth offered a reassessment of our solutions and gave ideas and helpful feedback about the designs," Poppelaars said, adding that through collaboration with the athletes, students were able to create more meaningful designs with potential to meet the needs of wheelchair rugby team members.
A series of fabrics and fabrications worn on the torso of the player, Poppelaars' project aims to improve breathing by eliminating restrictions to the player's chest cavity in the highly aerobic game of wheelchair rugby.
Allowing students access to team practices and games was critical to the design process, said Poppelaars. Attending a Pounders game, in particular, was "the best way to solve problems" as it proved "an experience of the actual situation, the game, what the players are going through."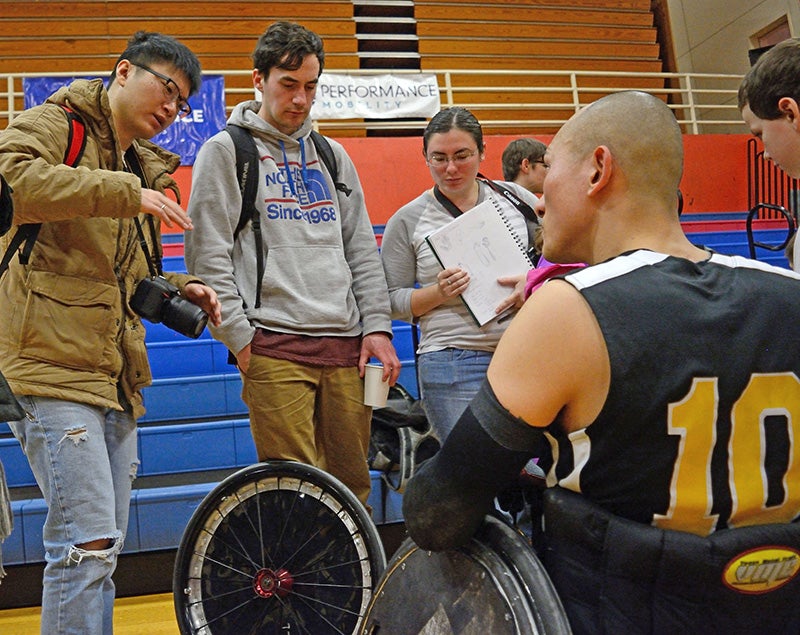 Above: Students listen to Groulx and other players talk about equipment needs during the students' visit to watch the Pounders. Photo by John Herman.
 
Student Becky Chierichetti is designing a glove to enable a player to both pull up and push down on wheelchair wheels, a necessity for players with varying degrees of locomotion torso control. Chierichetti's glove is made of a stretchy understructure fabric that is self-sealing and contains an exoskeleton for form and stability.
Student Shane Moss is designing a glove crafted to address hand torsion, flexibility, and grip. His intent is to help players keep their fingers and hands open in a crucial concave position to hold, catch, and pass the ball. His one-wrap, one-strap system lets users put on the glove without assistance.
"Having Seth pick up and handle my glove ended up being so important as I saw how he would use it, and what intuitively he would define as the top and the bottom," Moss said. "After that initial test and simple trying on, I modified my design to work with what the player did spontaneously."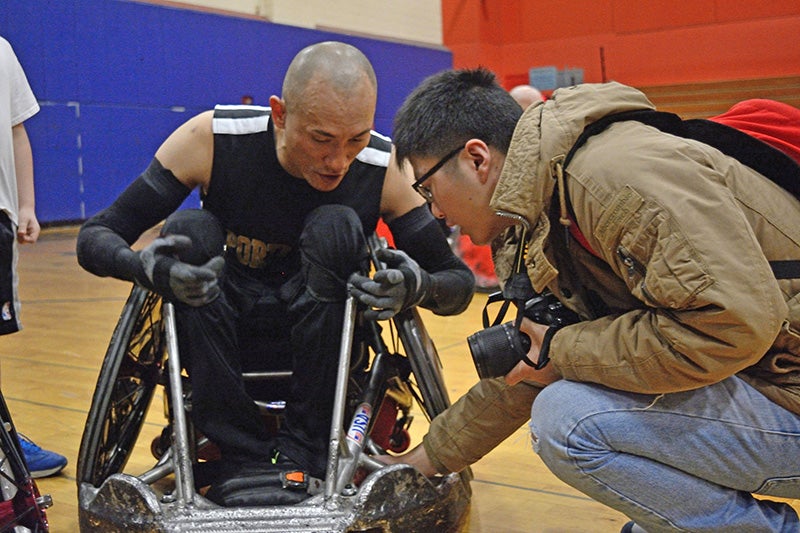 Above: Groulx works with student Jinlong "Jason" Yuan on a design question. Photo by John Herman.
 
The studio also connects students with leaders and innovators in athletic wear, opening up the possibility of financing to move a design into production.  
The students say they thrive in an environment where they receive one-on-one instruction and feedback from designers and professionals with years of success and experience.  
Poppelaars raved about his connections with the instructors and how it is adding to his experience in Portland. The option to take a fifth year of classes in the Product Design Program in Portland is just that, an option. "This fifth year [in the bachelor of fine arts curriculum] has almost eclipsed all the previous years," Poppelaars said. "It is extremely valuable, the amount I have learned in this year."
Students taking the fifth-year option "have been treated more like professionals rather than students," he said, "and been given opportunities and connections to amazing and remarkable people in the field. The instructors are Nike people, and when you get to work with professionals like Wilson Smith and Bruce Kilgore and Matt Rhodes and they talk to you about your work and critique your work, you have to take what you've learned and apply it. These guys are killing it in the [sports product] industry and everything they say you take for truth—they know what they're doing!"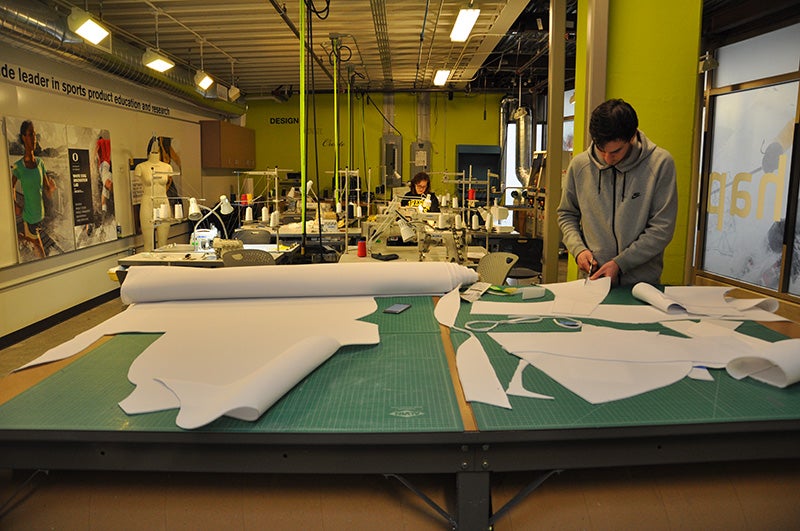 Above: Matt Poppelaars works in the White Stag Innovation Lab. Photo by Sabina Poole.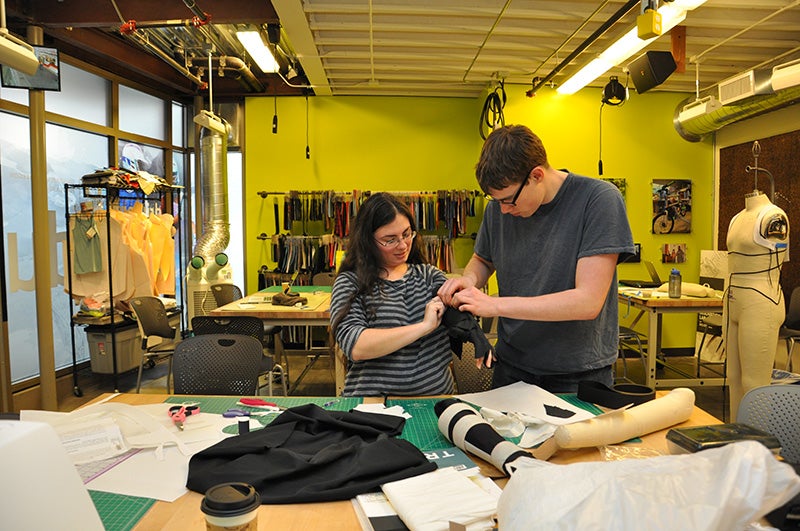 Above: Becky Chierichetti gets a helping hand from Shane Moss, both students in the Adaptive Design studio, in the White Stag Innovation Lab. Moss was pinning Chierichetti into her glove/sleeve project as she works on the fitting and measurements. Photo by Sabina Poole.