Kiersten Muenchinger, associate professor and head of the Department of Product Design in the School of Art + Design, and her cross-campus UO team have been awarded VentureWell's 2018 Sustainable Practice Impact Award for achievements in sustainability education. VentureWell, a not-for-profit organization supports emerging science and technology inventors, innovation, and entrepreneurship.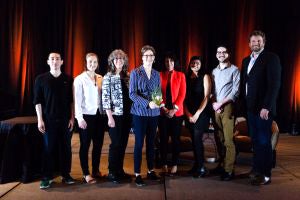 The UO team includes:
Julie Haack, assistant department head and senior instructor in the Department of Chemistry and Biochemistry
Kate Harmon, undergraduate program manager and instructor in the Lundquist College of Business
Mark Blaine, professor of practice in the School of Journalism and Communication
Presented during VentureWell's annual OPEN conference in Austin, Texas, the award honors an individual, company, or institution that works to develop clean technologies, implement sustainable practices, or provide exceptional educational opportunities to university students. VentureWell has provided grants to the department to support students who start product-based business ventures with a focus on sustainability, and two students from the department have served as VentureWell University Innovation Fellows.
"University of Oregon's program is a prime example of what can be achieved through a proactive coordinated approach," said VentureWell president Phil Weilerstein. "Through strategic collaborations across university departments and within the local community, they have created a model, high-impact educational program with critical sustainable design and business principles at its core."
Some additional strategic collaborations the Department of Product Design is involved in include the UO's Innovation Hub at 942 Olive Street in Downtown Eugene, which serves as an innovation center with an emphasis on environmental sustainability and is home to the:
RAIN Eugene, which is the local branch of the Regional Accelerator and Innovation Network (RAIN), a collaborative program to help create companies and jobs in the southern Willamette Valley offering intense training and mentoring to early growth-stage companies in and around Eugene.
The Product Design Launch Lab, which is a suite of design studios and services connecting UO's expertise and students in product design with entrepreneurs inside and outside of the university.
Muenchinger, who has been recognized for expanding the design program across the Eugene and Portland campuses, joined the Department of Product Design in 2008 as its founding director. She researches and teaches about the intersection of materials, manufacturing, and design with a focus on sustainability tactics and metrics. As a Fulbright Fellow in Teaching and Research, she spent a year teaching at Hong Kong Polytechnic and researching Kansei design—an approach that focuses on how emotion drives consumer choices.
Read the VentureWell article to learn more about sustainable education and Muenchinger and her team's work.
By Sharleen Nelson