UO product design students captured the top two spots at QuackCon, the country's first collegiate sports and technology hackathon competition that synthesized engineering, programming, and athletics to create innovative sports product designs in a 36-hour blitz.
A team from the inaugural class of the new Sports Product Design Program, in the School of Architecture and Allied Arts, won first place. Their prototype chest-band device, Shadow Trainer, would provide real-time visual pacing data for runners. Team members Alex Hill, Drew McGrath, Garrett Tollette, Kodi Whitfield, and Jacob Winkler shared the first-place $2,500 prize.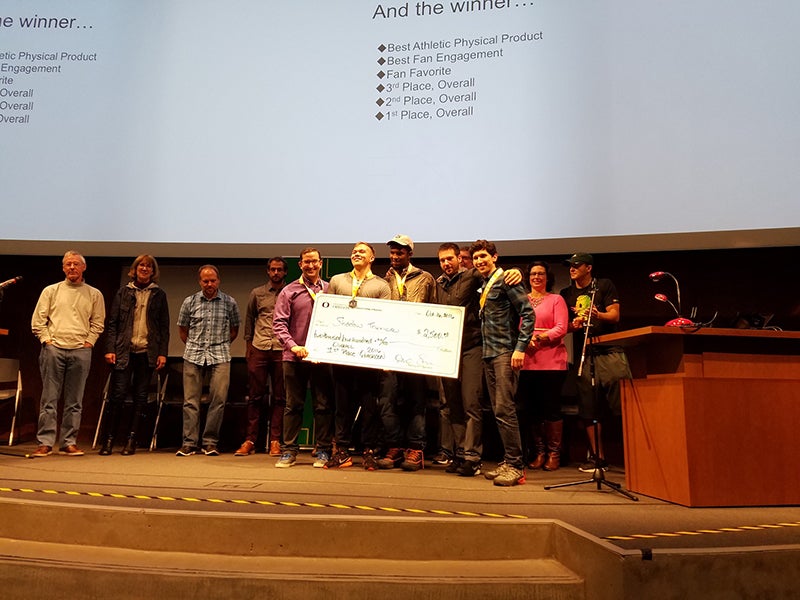 Above: (from left to right, holding check) Drew McGrath, Garrett Tollette, Kodi Whitfield, Alex Hill and Jacob Winkler hold the $2,500 check presented to them for their team's prototype, Shadow Trainer, on Sunday, Oct. 16, during the QuackCon finale. Photo by Emerson Malone.
A team of UO undergraduate students placed second with Wing Snap, a mechanism that allows track athletes to easily switch between cleats and street shoes. Their second-place win included a $1,250 prize shared by product design undergraduates Nick Cantrell, Josh Lyman, Tin Le, Lauren Emick, and general science major Alex Netto, vice president of finance in the UO's Entrepreneurship Club.   
Teams from 14 universities in nine states in the US and Canada participated in the competition, including from Princeton, the University of Texas at Austin, North Carolina University, Drexel University, and elsewhere.
QuackCon was organized by the Lundquist Center for Entrepreneurship at the Lundquist College of Business, in collaboration with the UO computer science student group HackTownUSA, the UO Entrepreneurship Club, and University Innovation Fellows. Generous financial support for the event was provide by UO alumni Dr. Richard and Allison Sudek. Global design company IDEO and hackathon sanction organization Major League Hacking provided additional resources.
The QuackCon environment—intense collaboration in a popup incubator space in the UO's Macarthur Court—is similar to that found in the sports product design industry, said Susan Sokolowski, director of the UO Sports Product Design Program housed at the UO in Portland.
"There are athlete problems to solve, research and ideation of new product concepts, deadlines, and a competitive environment," she said.
The students embraced the fast-paced design collaborations and welcomed feedback from the judges, including two-time Olympic gold medalist Ashton Eaton, Olympian and Duck football wide receiver Devon Allen, and IDEO's design lead and mechanical engineer Jason Wilkins, among others.
Allen—who competed in the 2016 Summer Olympics—quickly "saw utility" in Shadow Trainer, Winkler said. "He seemed to get it right away."
Shadow Trainer uses data from an accelerometer and GPS to project a digital avatar that represents the runner's personal record. "You're racing against time but [Shadow Trainer provides] a visual representation of your personal best," Whitfield said.
Shadow Trainer "is a great example of serving the athlete with a unique product solution, utilizing technology that has not been fully optimized yet," Sokolowski said.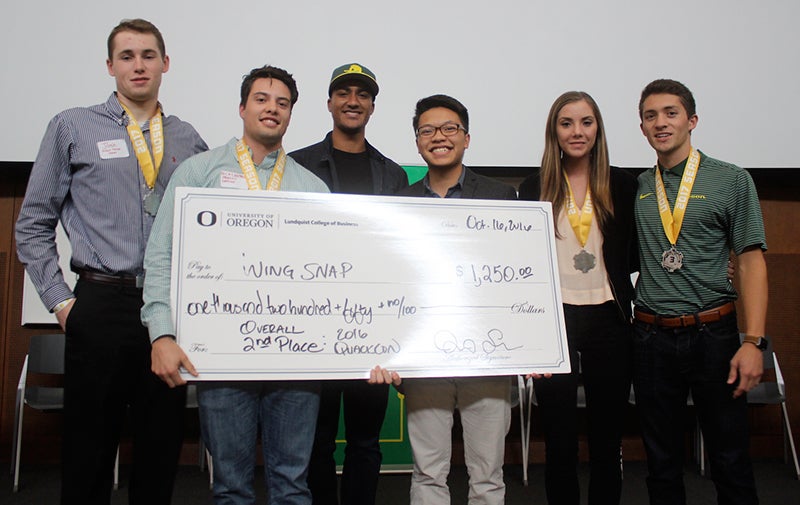 Above: UO product design students (from left) Josh Lyman, Nick Cantrell, QuackCon judge Ashton Eaton, Tin Le, Lauren Emick and Alex Netto placed second in QuackCon for their prototype WingSnap and received $1,250. Photo by Emerson Malone.
Second-place winner Wing Snap would protect cleats on track shoes, which wear down quickly if they're used on any surface other than a track. But swapping to street shoes can be a hassle.
"It's very inconvenient to take off shoes when you need to go off the field," said Wing Snap team member Tin Le, a junior product design major. "Most of the time people don't even bother, so they would do a 'penguin walk' instead," which is awkward. Wing Snap makes swapping shoes back and forth a literal snap.
Comments and reaction from Allen and other athletes helped guide design adjustments as the hackathon progressed.
"Ashton was helpful in providing feedback for aesthetics and what would make it attractive to him at the professional level," Cantrell said.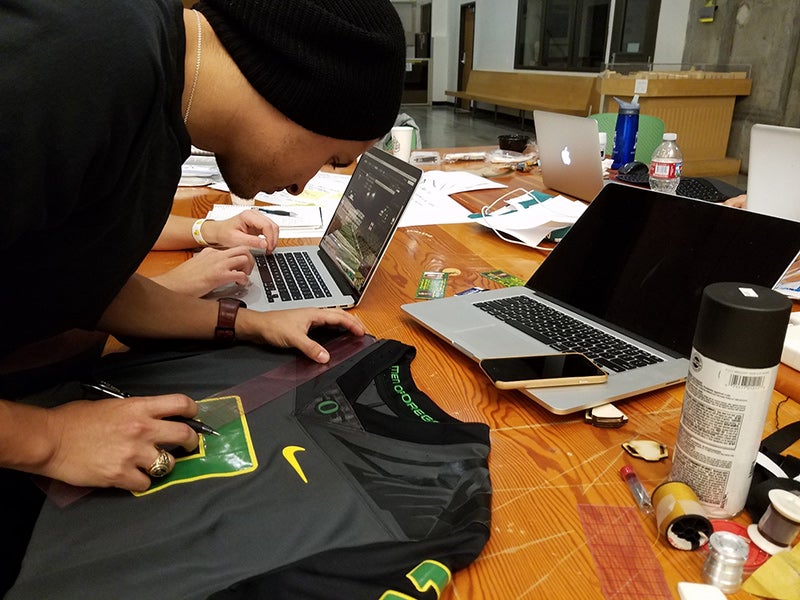 Above: Graduate student Irving Perez marks on a Ducks football jersey where to stamp out holes on the shoulder for the LED strips underneath for the Icarus design prototype on Saturday, Oct. 15, during QuackCon. Photo by Emerson Malone.
Sports Product Design team members also had a second prototype, Icarus, "a fan-engagement" device for football jerseys that uses captured performance data to light up LEDs embedded in the jersey as a player runs across the field.
Icarus, developed by Kinsey Johnson and Irving Perez, would include a mobile app so fans could follow players' performance in real time.
"When a player is running at a faster speed, the lights will turn on and look like the wings of a jersey," said Perez, a sports product design graduate student.
Allen said the UO football team was the perfect place to launch Icarus, Perez said. "He wasn't worried about the weight or anything. He thought it was cool."
The teams' design ideas had been incubating with students since the previous week during the Sports Product Design Research Methodology and Innovation Process Studio course. The course, said Sokolowski, focuses on design theories and methodologies including business, research, historical and field research, and materials and manufacturing as they apply to sports product design.
Wing Snap team members are keen to forge ahead on their prototype.
"We're going to pursue it, based on the feedback from both the athletes and the business accelerator people who talked to us about how to patent it and further it," said Cantrell. "In the next few weeks we'll get a physical concept. It's very easy to do, but not in 36 hours."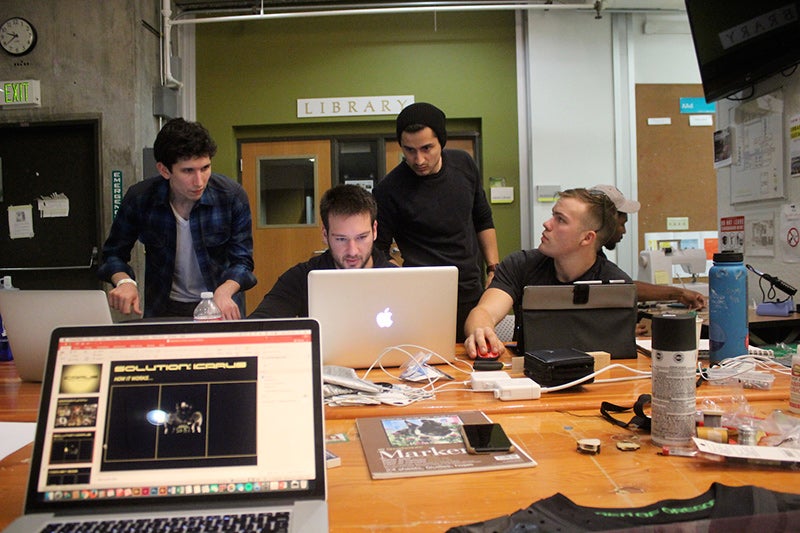 Above: (from left) Graduate students Jacob Winkler, Alex Hill, Irving Perez and Garrett Tollette work on the presentation for the Icarus and Shadow Trainer prototypes. Photo by Emerson Malone.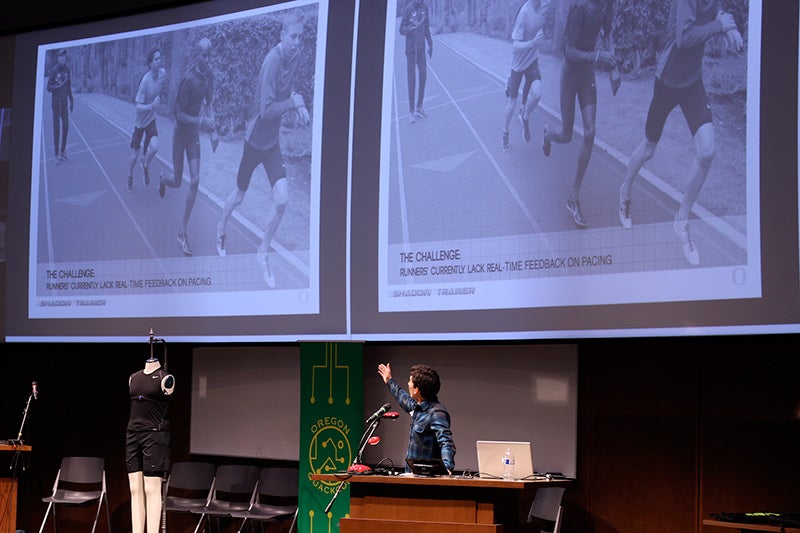 Above: Jacob Winkler, a graduate student in the Sports Product Design Program, presents Shadow Trainer during the final judging presentations of QuackCon on Sunday, Oct. 16. Photo by Emerson Malone.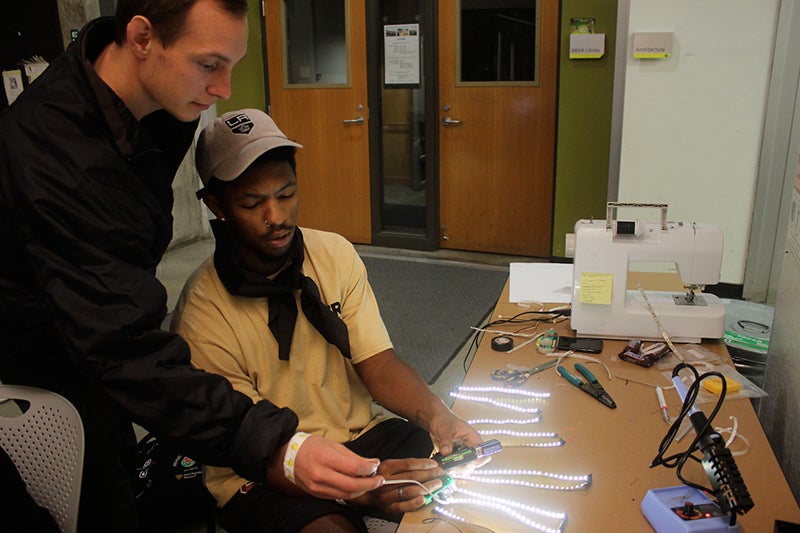 Above: Undergraduate product design major Kinsey Johnson (left) and graduate sports product design student Kodi Whitfield (right) inspect the LED strips for the Icarus design on Saturday night, Oct. 15, during QuackCon. Photo by Emerson Malone.