Product design, sustainability, and entrepreneurship all come together permanently under one roof May 10 when the Downtown Innovation Launch Lab officially opens in Eugene. The festivities begin with a ribbon cutting at 3 p.m. and remarks by Eugene Mayor Kitty Piercy and UO President Michael Schill, followed by tours including featured work by building occupants.
A unique partnership among the University of Oregon, the Eugene Area Chamber of Commerce, and local government, the Innovation Lab is a set of design studios and services connecting the UO's expertise and students with entrepreneurs inside and outside the university.
With the May grand opening, the UO Product Design Program officially joins the Lab, which has been home since February to the Regional Accelerator & Innovation Network (RAIN) and the Tyler Invention Greenhouse, which builds on UO strengths in green chemistry and nanoscience.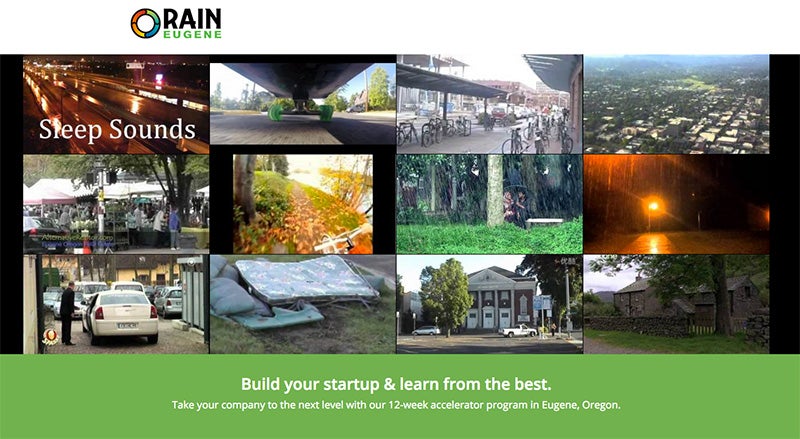 Above: Image from the RAIN website. RAIN is part of the Downtown Innovation Launch Lab, which the UO Product Design Program has joined. A grand opening for the lab is set for May 10.
The collaborative spaces at the Innovation Lab, 942 Olive Street, provide 12,800 square feet of flexible space for training, education, and support. The Product Design Program space is in the west side of the Lab along Olive Alley and includes a design studio and a 3-D print shop.
"As a design program we are not just trying to train talented designers who are ready to enter the work force but innovators and entrepreneurs who have a broader set of tools and are engaged with a local network to help them bring relevant and meaningful products and ideas out into the world," John Arndt, acting director of the UO's Product Design Program, said in an email interview. "The new Olive Street space will afford some of these relationships but also its downtown location will open up opportunities to connect with the community and local business."  
Product Design's involvement in the Lab will "entice and showcase people who enjoy artistic creativity, who enjoy creative risk, and who enjoy physical creation," states the Product Design Program grant proposal to help fund the space. "Product Design will hold classes for students of all ages, stage design exhibitions, and host international designers in this sweet space."
Arndt noted that the downtown location not only will engage students directly with critical questions about sustainability, design innovation, and entrepreneurship, but will also do with a greater degree of community involvement.
"The relationship between the building partners, green chemistry, (green product design) and RAIN (entrepreneurship), will have an influence on projects being worked on and potential life for projects after a class is completed," Arndt said.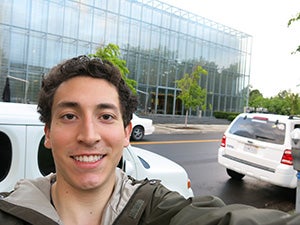 An array of innovation-related courses, seed grants for new business ideas, on-campus hackathons, and other initiatives for entrepreneurially minded students have cropped up recently at UO.  The activity includes a multidisciplinary group of five students — including Product Design Program undergraduate Nick Capaldini — who were named 2016 University Innovation Fellows by the National Science Foundation-funded Epicenter organization. Along with Capaldini in product design, the UO team includes students in chemistry and human physiology.
The UO team joined 150 other Innovation Fellows from forty-seven schools recently at a meetup in Silicon Valley that featured workshops and visits to the Google campus and Stanford University's Hasso Plattner Institute of Design. The fellows underwent several weeks of online training and on-the-ground activities prior to the meetup, and brought their ideas back to campus.
Capaldini said there's a need for more programs at UO that meld entrepreneurial thinking and innovation.
"More and more students are getting involved but many still do not know much about innovation," he said. "If all UO students knew about the full range of opportunities they had for funding, mentorship, and more, I think the amount of student innovation on campus would double — and that is one of the big things we hope to do."
Capaldini, who also serves as vice president of external affairs for the UO entrepreneurship club, says his experience at the recent training events has shaped his focus to be the best leader he can be and to help students see the value of collaboration.
"The reason most startups fail is due not to a lack of resources but a lack of leadership. I believe this is the same issue that initiatives on campus or the community face," he said. "Students on campus are largely compartmentalized by major and are rarely given the chance to work with those of a different major. My ultimate goal is to promote more collaboration between students of diverse majors."
Andrew Nelson, UO executive director of RAIN activities and a professor of management in the Lundquist College of Business, agrees.
"Sustainability isn't distinct from entrepreneurship and product design," he said. "Rather, I think we'll find that RAIN accelerator companies and product design projects alike benefit from the close interaction. UO students are hungry for these programs."