Donald Morgan's "Grave Bed" (2016)
The Ford Family Foundation has announced the 2020 fellows for the Hallie Ford Fellowship, one of the most prestigious visual arts awards in Oregon: Natalie Ball, Iván Carmona, and Donald Morgan.
Ball is an art alumna (BA Art, Ethnic Studies '05) and Morgan is an Associate Professor of Art.
The annual fellowships are unrestricted and come with an award of $35,000. Awards go to "Oregon visual artists who have demonstrated a depth of sophisticated practice and potential for significant future accomplishment. Their work furthers the conversation of contemporary art in the 21st century," according to the fellowship website.
Natalie Ball's "When I Go Missing, North Star" (2019) 
Morgan said that the award will help him complete two ongoing monochrome bodies of work, one inspired by literary Westerns (in yellow) and the other by the Egyptian Book of the Dead (in red).
"It will allow me to complete a couple of bodies of work that are technologically really demanding," said Morgan, who mostly does sculptural work, but has re-engaged with drawing during the pandemic. "There are certain aspects I need to outsource for fabrication, and I can't afford to do [those] on my own."
Several Art faculty have won the award in the past including Tannaz Farsi, Anya Kivarkis, Mike Bray, and Jack Ryan.
"Part of what's great about the award is I get to humbly join the ranks of all these other great Oregon artists," Morgan said. "It's enormously gratifying to be included in this illustrious group."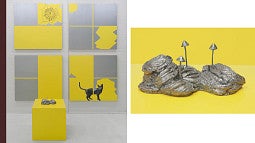 Donald Morgan's "Hard Edge Hallucination" (2014)
Ball told the College of Design the fellowship will help to continue her reseach in building a visual archive of work that employs gesture, materiality, and narratives. 
"It felt amazing to get the call directly from the foundation and Hallie Ford's descendent saying I was chosen as one of the 2020 Fellows. It was reassuring knowing my line up of strong women references helped strengthen my application. During this time of continued social unrest and a global pandemic, it was a huge relief and empowering to know I can continue to advance my studio practice," Ball said. "And to be acknowledge within my home state, a place I am connected to before it was a state, a place I was birthed from since time immemorial, is always a good feeling."
Read more about winners Ball and Morgan at the Hallie Ford Foundation website.