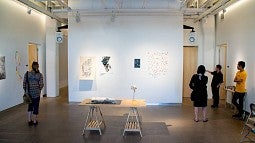 On May 31, ten internationally recognized artists gathered to discuss their art practices and relationship to research at 510 Oak for the launch celebration of the Center for Art Research (CFAR), a center for experimentation and exchange rooted in contemporary art practice.
The School of Art + Design's new 510 Oak building in downtown Eugene buzzed with activity as artists and arts professionals, local community members, UO faculty, students, and staff gathered to attend artist presentations, see the "Studio Notes" exhibition, and tour some faculty studios. Prompted by CFAR Director and Professor of Art Brian Gillis to address the question "How do you approach, work within, or define research in your art practice?", each artist had five minutes to describe how they conceive of research.
An initiative based in the UO Department of Art, the new Center for Art Research tackles the place and value of artists and artmaking in the context of a research institution. The premise of the launch event was to examine the 'art' and 'research' of the CFAR's title.
For some, like Portland-based artist Pat Boas, new ideas emerge from looking at and reading about other artists' work. Avantika Bawa, another Northwest artist, identified frequent international travel as essential to her working process, experiences that deeply inform her minimalist installation projects.
For others, traditional research methods lay the groundwork for making art. Associate Professor of Art Tannaz Farsi's research into the social and political histories of Iranian women is critical to the development of her multifaceted installations. Professor of Art Carla Bengtson collaborates with biologists and chemists in her exploration of intraspecies communication with animals like the Western Fence lizard to create objects and performances.
Jessica Jackson Hutchins, whose work has appeared in the Whitney Biennial and Venice Biennial, challenged the use of the term research and its traditional connotations, in relationship to artmaking. "My work has been in defiance to that. My work is about unknowing," Jackson Hutchins said. She and UO assistant professor Sylvan Lionni made the case that artmaking should be a more unfettered and open-ended process, one that resists the logic of "research."
Instigating debate is at the heart of CFAR's mission. As Gillis said in his remarks, "we want CFAR to…afford artists the chance to do something they might not otherwise be able to do, and in doing this, provide the public opportunities to participate in the aspects of art practice that are speculative and propositional."
While the center is directed by the faculty in the Department of Art, Gillis noted, it's sustained by the contributions of individuals and institutions from around the world. A generous gift from Robert Gamblin (BS '70), artist and owner of Gamblin Artist Colors, Co., and his wife Catherine Kumlin, who were in attendance, provided seed funding for the center. Alumni Cheryl Zahniser and Gail Neuberg have also provided substantial support for the new center. A dinner at Party Downtown to thank partners and stakeholders followed the public event.
Grants and fundraising will build on those crucial investments to grow CFAR's scope and activities. The launch sets the stage for future programming dedicated to art practice and a public forum to share art's—and artists'—most urgent questions.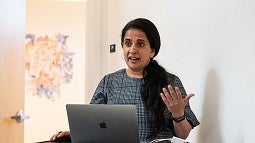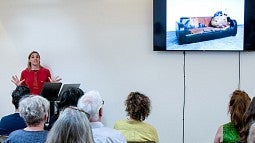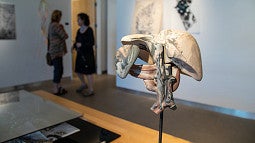 Above: Artists Avantika Bawa (top left) and Jessica Jackson Hutchins (top right) discuss their work. Petrified Endocrine by Brian Gillis.