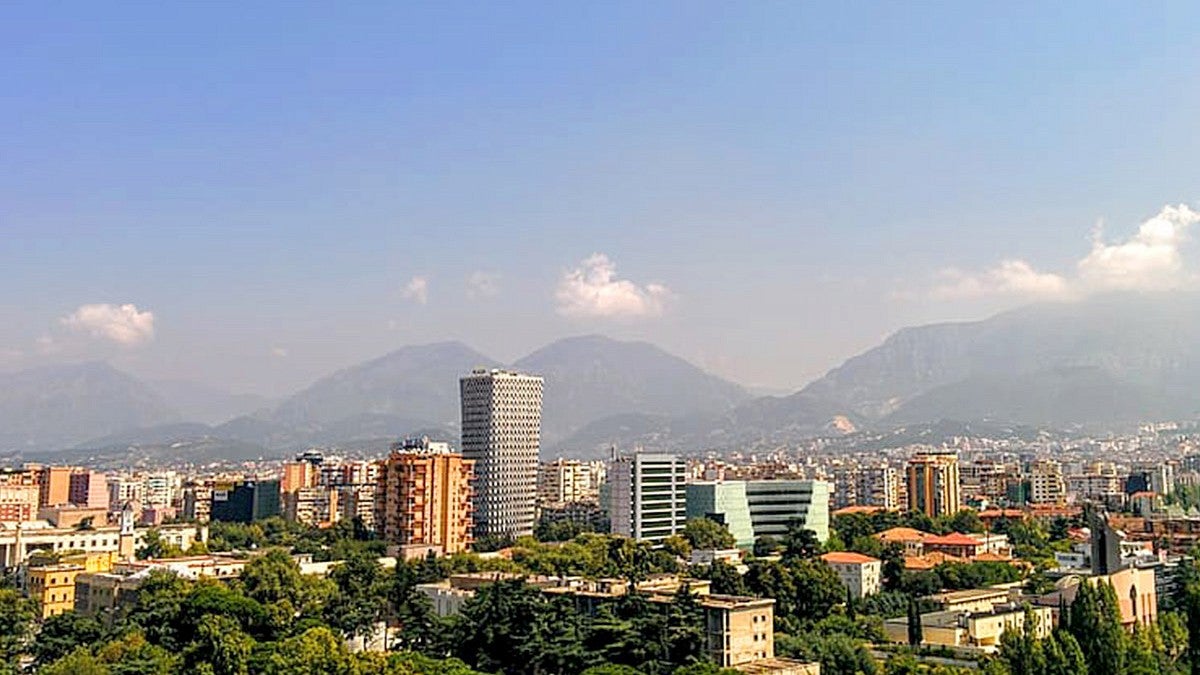 Associate Professor of Product Design Kiersten Muenchinger traveled to Tirana, Albania, for Tirana Design Week
In September, between earthquakes and studying communist furniture in museums, Associate Professor of Product Design Kiersten Muenchinger spent two weeks as a Fulbright Specialist in Tirana, Albania, presenting her research and running a workshop at Tirana Design Week.
"The people who were there were just amazing," Muenchinger recalled. "It was the coolest cadre of international designers I have ever been in."
From engagement in the international design field to collaborating with other academics on a European design journal, Muenchinger says she's brought back to the School of Art + Design much of what she learned at the design week hosted by Polis University. 
This is the second Fulbright program Muenchinger has participated in; she won a Fulbright Fellowship in Teaching and Research and spent the 2015-16 academic year researching design innovation and teaching at Hong Kong Polytechnic.
From September 18‑30 (Tirana Design Week runs for two weeks), Muenchinger gave a keynote lecture titled Belief and Sustainability, which explored how sustainable design drives people to believe a product is sustainable.

Kiersten Muenchinger hosts a "Sustainable Spoon Project" workshop (left); Muenchinger (far right) with designers and academics at Tirana Design Week
Muenchinger also taught the workshop "Strategies Vs. Metrics: A Sustainable Spoon Project to a group of Albanian undergraduate and graduate students. Students had to design a spoon, carve a spoon of foam and do a virtual model using Rhinoceros 3D software. They then had to analyze it for three different potential environmental impacts.
At a PechaKucha event at a bar in the heart of Tirana, Muenchinger presented several projects under the umbrella of "Non-Normative Design," including the Position One shooting glove and the Prison Blues apparel line.
"I have never done that before," Muenchinger said of presenting in a bar. "It was pretty great. It's a very open format—not the pressured stakes of academia in that environment. There was a lot of laughter."
And yes, this all took place between earthquakes, the first one hitting during a coffee session at the end of the first week. "Everyone bolted, "Muenchinger said. "There was coffee all over the floor." 
One of her favorite parts of the program was taking a historic architecture tour of Tirana. "It's absolutely the best way to start a trip," she said. "It provides a sense of place, history, aesthetics, and a chance to chat with other people about it."
Muenchinger also was able to examine communist furniture design at Bunk'Art, a 1970s underground fallout shelter turned history museum and contemporary art gallery.
"The curve of the arm of one armchair was the thing that excited me the most," she said. "I'd love to find the molds, as it looks like a steam-bent wood-production piece."
Muenchinger will stay in touch with the international faculty she met in Tirana, including working with them on the Forum A+P, the premiere design journal of the Balkans.
The Fulbright Specialist Program also reinforced for Muenchinger an important academic and creative value for students.
"The work we do is international," she said. "It's not local to Eugene; it's not local to Oregon; it's not to the U.S.—It's international work. We want the students to see themselves as international participants."