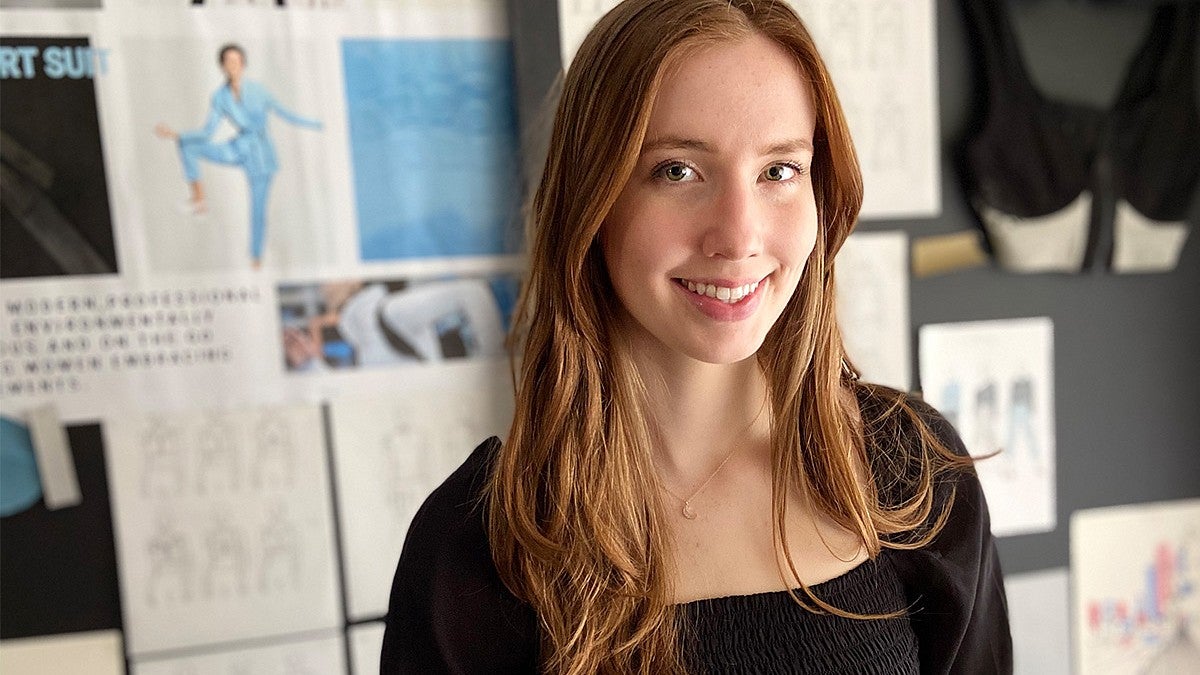 The annual Woolmark Performance Challenge has named Master of Sports Product Design student Carly Conduff (class of 2021) the winner of a three-month paid internship with Helly Hansen in Oslo, Norway. Conduff is one of three international winners from a group of 1,350 participants who sought to tackle innovative product solutions for the sports and performance market using Australian Merino wool.
"It's been a dream for a long time," said Conduff, who began working on her entry in winter 2020.
For the 2020 competition, The Woolmark Company partnered with technical clothing brand Helly Hansen, and tasked participants to create apparel "for ocean racing and the harsh and demanding landscape in which it is often performed."
Conduff decided to create apparel for female athletes in the Volvo Ocean Race, one of the world's most intensive sailing races, which spans the globe. Using Merino wool, she created a three-tier system of apparel to go under the athlete's dry suits to provide better support, strategic insulation, and protection from the jostling that happens aboard a sailing yacht.
"The Woolmark Performance challenge provides a great opportunity for student designers to think big and invent new ways to use merino wool for sport performance products," said Susan Sokolowski, director and founder of the Sports Product Design graduate program. "Carly's entry was clearly innovative and embodied the creative process we use in Sports Product Design to solve problems for athletes. We are so excited for Carly and her opportunity with Helly Hansen—it will be a fantastic learning experience."
Conduff said the win is especially rewarding as the onset of the pandemic in spring 2020 made the competition even more challenging as classes and communication moved online.
She says she was drawn to the extreme race from the beginning and wanted to focus on female athletes and research their specific needs. Via video calling and email, Conduff consulted with several professional sailors, including Abby Ehler, Sara Hastreiter, Carolijn Brouwer, and Annie Lush. She discovered that some competitors were still using gear designed for male-bodied athletes.
"There were still product needs that weren't being met," Conduff said. She wanted to hear from these athletes about what it felt like to be aboard the boat, what the current apparel felt like in action, and how it could function better.
"Conduff wanted to hear from these athletes
about what it felt like to be aboard the boat,
what the current apparel felt like in action,
and how it could function better."
Through her research process, Conduff discovered that she needed to improve thermal insulation because female athletes have a higher rate of heat loss than their male counterparts. She also fine-tuned the apparel for impact protection according to the movements of these athletes on their vessels and created a bottom layer of supportive undergarments.
Conduff also had to do a deep dive into Merino wool, a fiber with which she did not have much prior experience. She says the Woolmark Challenge provided a library of educational modules on the fiber.
"My inspiration was derived from historic uses of wool," she explained.
The process was also an intensive professional development experience, including one-on-one meetings with judges such as Peter Bona of Hugo Boss and Borre Akkersdijk of BYBORRE. Conduff also did a live Q&A with the judging panel, which included Øyvind Vedvik of Helly Hansen, Birgit Galhlen of The Woolmark Company, and Tom Waller of Lululemon.
"Carly's presentation was impressive, leveraging insights from professional sailing athletes and introducing innovative ideas on how the functions and benefits of wool can meet the needs of sailors," said Vedvik in the Woolmark Challenge announcement.
Conduff is the first UO student to win the challenge, which had its inaugural year in 2018. Sports Product Design Alumnae Olivia Echols and Christel Thue Høgsted were finalists in 2018 and Sarah Klecker was a finalist in 2019.
Learn more about the challenge and Conduff's project in the FashionUnited story, "Winners of Woolmark Performance Challenge 2020/21 announced," and the HYPEBEAST story, "Woolmark Teams Up With Helly Hansen to Fuel Innovation for the 2020 Performance Challenge."