Degree Requirements | Required Courses | Partners
---
Degree Overview
Sports Product Design at the UO in Portland
Sports Product Design is the creation of innovative sports product through research and design. It is a focused experience in research, ideation, materials, creation, development, production, and validation specific to sport products. The master of science in sports product design prepares designers to be key members and leaders of multidisciplinary development teams within the more than 800 sports product companies located in Oregon and beyond. The degree also focuses on innovation methodology, athletic performance, sustainability, and sports product marketing and branding.
The Department of Product Design has included the design of sports gear in their curriculum since the program started in 2008; winning their first national student design award for their Oregon Manifest bicycle design and prototype. The department has also pioneered adaptive products, while working in partnership with local athletes to manifest their full sports potential.
Entering students equipped with conceptual problem-solving abilities, knowledge of materials and production, strategies for emotional product resonance and relevance, and entrepreneurial skills will have their designer's toolboxes enhanced with a deep, specific study of sports product methods, tools and technologies, human physiology, biomechanics, and perception.
The University of Oregon's sports product design master's degree program is developing the next generation of innovative designers to inspire athletes around the world to play harder, run faster, and push the boundaries of the sport. Students who graduate from this program will be capable of making strong contributions to the sports design culture of Oregon and the world at large.
---
Degree Requirements (64 Credits*)
The curriculum requires:
49 credits in Sports Product Design
9 credits from Human Physiology and Journalism
6 credits minimum of electives (UO graduate-level courses). Graduate-level courses may also be taken at Portland State University (PSU) through a joint campus agreement.
*PD 510 courses Soft Goods Theory (2 credits) and 3D CAD (2 credits) are skill-building courses that students may need to take in preparation for studios. Discuss these courses with your advisor.
---
Required Courses
Courses in Sports Product Design
49 Credits Total
SPD 610 Sports Product Business
SPD 650 Sports Product Materials and Manufacturing
SPD 684 Sports Product Design Research Methodology and
Innovation Process Studio
SPD 685 Product Design Studio I—Apparel
6 Credits
SPD 686 Product Design Studio II—Footwear
6 Credits
SPD 687 Product Design Studio III—Equipment
6 Credits
SPD 688 Sports Product Design Innovative Project Strategy Development Studio
6 Credits
SPD 689 Collaborative Creation and Launch Studio
9 Credits
---
Courses from human physiology and journalism
9 Credits Total
HPHY 631 Human Performance and Sports Products
HPHY 632 Human Biomechanics
J 616 Intro to Strategic Communication Marketing
4 Credits
Electives (these are just some examples)
6 Credits Total
SPD 606: Special Problems
J 624 Strategic Communication: [Topic]
MGMT 625 New Venture Planning
MGMT 635 Opportunity Recognition
*Master of Science students in the Sports Product Design Program at UO will be assigned a faculty advisor when they start their first term in the program.
---
Apply: MS in Sports Product Design
---
Student Spotlight: Ezra Ende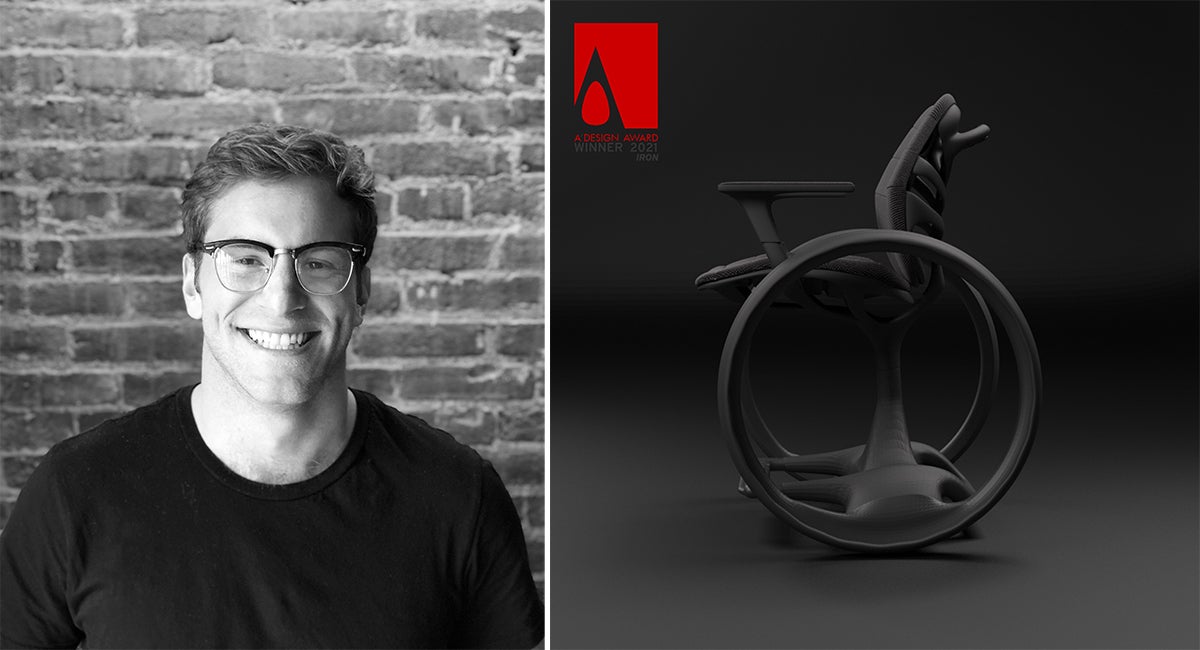 As a designer specializing in gear for MMA athletes, Sports Product Design student Ezra Ende (class of 2021) never expected to design a wheelchair. But after engaging with senior communities in Professor Susan Sokolowsk's course on universal aging—made possible by a Tinker Hatfield Award for Innovation—Ende learned that the mobility tool needed updating. Ezra created the "Glide" wheelchair to improve overall user comfort and the ease and safety of the footholds. His design recently won the international A'Design award for the "Differently Abled and Seniors' Assistance" category.
---
Faculty Spotlight

Associate Professor Susan Sokolowski 
Professor Susan Sokolowski, founder the Sports Product Design program, remembers playing soccer as a kid in ill-fitting gear.
"I was a Title IX athlete, and always wondered why I had to wear boy's and men's uniforms," Sokolowski said.
Sokolowski's desire to design gear specifically for female-bodied athletes led her to research and teach inclusive design for female-bodied firefighters, disabled athletes, aging populations, and more. Her dedication to underrepresented groups has resulted in more than 40 patents.
---
Partners
Industry partners for sports product design provide special opportunities for students. They fulfill a number of critical roles as part of our dynamic learning environment. Some of the ways we engage our industry partners include having them serve as instructors, advisors, guest reviewers, lecturers, and mentors for students. Here are some of our partners.